"In the last 10 years, I had 3 miscarriages. I lost them all before my second trimester could even begin. This time, when I crossed that mark and the scans showed that everything was looking good, Nagesh and I were filled with excitement and joy that our wish was finally coming true. We prayed every day that this time nothing would go wrong. But God is testing us yet again. Our baby was born prematurely and right now, she is struggling to even take a breath."
-Swathi, mother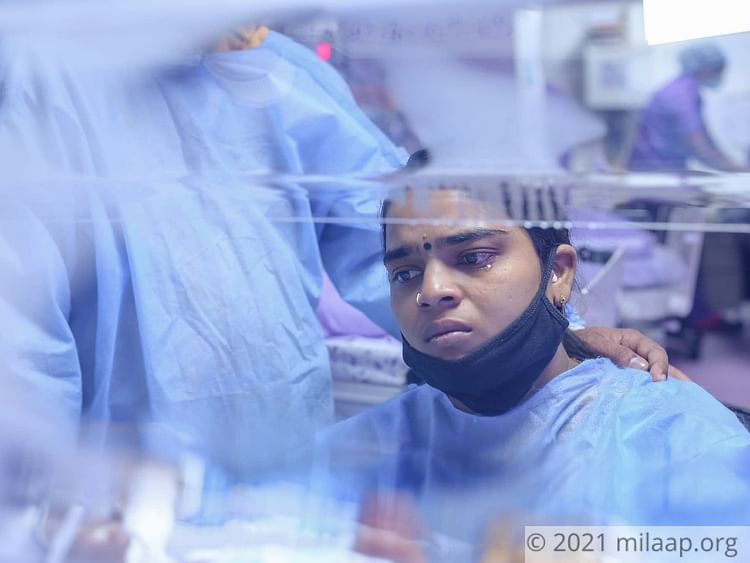 Born weighing only 790 grams
Swathi's baby girl was
born prematurely at just 27 weeks.
She weighs only 790 grams and her lungs are extremely underdeveloped. As a result,
the little girl is struggling to breathe and surviving on mechanical ventilation.
"Right after our baby was born, she was taken to the ICU. When we saw her for the first time, we were terrified. We saw how fragile she was and we were scared to even touch her. It was the doctors who gave us the confidence and hope to keep fighting. She is our only hope. She is all we have!" - Nagesh, father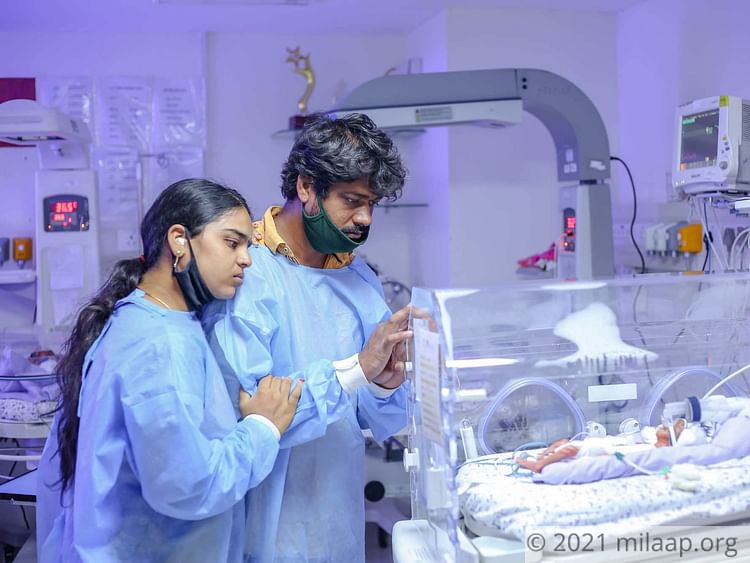 This is probably their only chance at becoming parents and they are terrified to lose their little girl
Swathi and Nagesh get to see their baby for only a few minutes each day, and in those few minutes, they experience a flood of emotions.
They feel sad, cursed, scared and helpless, yet on the other hand, they feel hopeful and blessed.
This is probably their only chance at becoming parents and they are terrified to lose this little miracle too.
The baby needs prolonged NICU stay and supportive care for at least 6 weeks to recover.
She needs to gain weight and requires treatment so that her lungs can fully develop, but the cost of the entire treatment is way beyond what they can afford.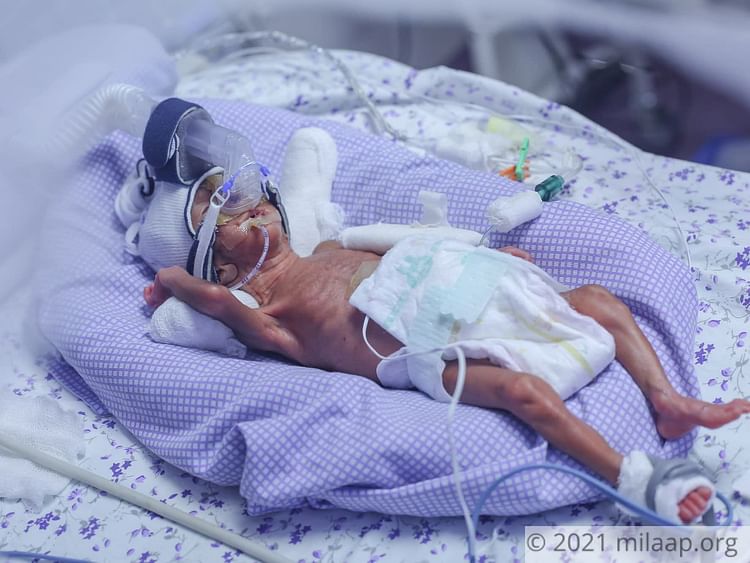 Only you can help them save their baby
Nagesh is the only earning member in the family. He works as a daily wage labourer and does odd jobs in a nearby pharma company. His monthly income was enough for the family of two, but now, it is merely enough to pay for a single day's treatment cost for his baby.
The treatment will cost him more than 10 lakh rupees, an amount this poor labourer can never arrange.
Without the NICU care, Nagesh and Swathi's little girl won't be able to make it. Help these parents save their newborn baby. Your generous contribution can help them. Click here to donate.