Latest Update -
From Nov2018 till date Dhyan Foundation has rehabilitated 20K Cattle rescued at Indo-Bangladesh border by BSF.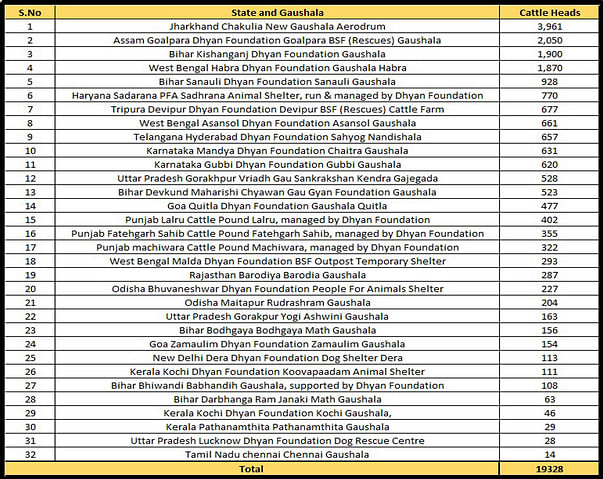 Dear Animal Lovers,
Goal Of this Campaign -
Dhyan Foundation has taken up the MASSIVE task of helping the Border Security Force (at the Indo-Bangladesh border) in rehabilitating cows, bulls and calves of all age groups which were rescued from being illegally transported to slaughter houses across the border to Bangladesh.

From December 2018 to date, appox 5,000 cattle have been rescued by BSF at the Indo-Bangladesh Border, of which approx 2,000 Cattle have already been rehabilitated in Dhyan Foundation Gaushalas or other verified gaushalas in nearby states.Currently, we are holding about 3,000 more cattle in temporary shelters near various border posts along West Bengal, Meghalaya and Tripura border.
We are working with 12 battalions in West Bengal and Tripura. Everyday 30-40 rescued cattle are joining the family.
Inhumane Treatment of Animals and Illegal Cattle Smuggling on Indo-Bangladesh Border -
Every year, lakhs of cows/bulls are illegally smuggled into Bangladesh where they are turned into shoes, belts and for beef consumption. As per Indian Govt records, following are the details of cattle seized by BSF of Indo-Bangladesh border in the past years : Year Cattle seized by BSF

2012 1,20,724

2013 1,22,000

2014 1,09,999

2015 1,53,602

2016 1,46,967

(Upto Oct,16)

Cattle number which pass through the border number is very high. As per records, close to 15 lakhs cattle are illegally smuggled through Indo-Bangla border every year.

Cattle are starved for days, tortured and beaten while in transit from various Indian states to the border for the purpose of smuggling.
Thousands of cattle are made to cross this border to reach Bangladesh where these innocent beings land into slaughter houses and are brutally slaughtered.
What we NEED -


Capital Expenditure requirements are:
Vehicles for transporting cattle from BSF outposts to gaushalas. Average Cost per truck per pick up is in excess of Rs 20k. One truck per pick up accommodates no more than 15-18 cattle. We need 2 trucks to cut down the cost of logistics. Per truck cost is approx Rs 16.50 Lakhs i.e. 33-35 lakhs for 2 trucks. Third party Quotes available on request.

Shed Construction -
Sheds required to accommodate approx 3000 cattle from scorching sun/rain. A 100 x 20 feet shed cost is circa Rs 2 lakh to 2.5 lakh. We need at least 20 sheds on urgent basis. Overall, funds required for this is Rs 45-50 lakhs.

Monthly operating expenses: Care & Maintenance (Fodder, vet and salaries etc)
Based on our experience, average cost for care and maintenance comes to approx Rs.2,100 per cattle per month. For 5000+ cattle to date, this amounts to Rs 1.05 cr per month

* All donations made to Dhyan Foundation are exempted from Tax under Section 80G of the Income Tax Act 1961.
Thanks for Your Support !
For more information, +919958888000 or +919830267347
Email us transfer details at info@dhyanfoundation.com
www.dhyanfoundation.com
For further queries contact :-
info@dhyanfoundation.com
About Dhyan Foundation -
Dhyan Foundation is a Non Government, Not for profit NGO, registered in New Delhi vide trust deed (Doc No 2235, Addl Book No 4 on 27/5/2002) . It is a volunteer based NGO. All the volunteers are committed to the cause of protecting and preserving the sick, injured & abandoned animals across India.

Dhyan Foundation is a recognised Animal Welfare Organisation, registered with the Animal Welfare Board of India (an autonomous body under the Ministry of Agriculture).Dhyan Foundation is also an active member of the Goa Animal Welfare Board, Delhi State Advisory Board for Animal Welfare and members of the Committee constituted for Inspection & Supervision of Gaushalas in areas of Delhi.We were awarded the 2018 Best Cow Shelter Award by the Federation of Indian Animals Protection Organisation.

We work pan India and some of our achievements include assistance in rehabilitation of 21,000+ rescued animals from illegal slaughter by other animal welfare organizations. 200+ feeding points across the country, nourishing 6000+ animals daily is an integral part of our projects. The animals rescued have been successfully rehabilitated at 25 permanent and 3 more Dhyan Foundation shelters and other associated gaushalas that are being funded/maintained by Dhyan Foundation.




Thanks for the Support !




Regards

Dhyan Foundation