Having yearned for years to have a child, Kayalvizhi couldn't wait to see her newborn. But when she woke up post-delivery, the baby was nowhere near her. She didn't know what was happening; she was in pain, physically and mentally. A week later, when she finally saw him for the first time, she was traumatized. Kept in the incubator, barely visible under a mountain of wires and tubes, her little boy was fighting for life.
Born pre-term, the baby is suffering from respiratory distress syndrome. He needs prolonged treatment in the NICU, to survive. But his parents can't afford it.
Her water suddenly broke in her 8th month of pregnancy...
No matter how many doctors they consulted, or how many temples they prayed in, Kayalvizhi and Mariyappan couldn't have a child. Engaged as farmers in a small village in Salem, Tamil Nadu, they ached for a baby's laughter to light up their lives.
"When I was told we were going to have a child, I was overjoyed.

He was going to be the first child in all of our families. Suddenly, our poverty was all forgotten. We felt like the world was at our feet

. I was pampered, and taken very good care of. And yet…during my 8th month, my water broke! I was told my baby was critical…" – Kayalvizhi, mother.
Born pre-term with under-developed organs, baby is battling death
Kayalvizhi underwent surgery that very day and gave birth to a baby boy. Born pre-term, the baby's organs were under-developed and he was suffering respiratory distress. He was immediately placed on ventilator support in the NICU.
"

Both his lungs were severely infected and under-developed. He's critical and my wife was still unconscious; I didn't know what to do.

When she woke up, she kept asking for him. I couldn't tell her about the baby's condition. But on the 5th day, when he was rushed to Bangalore, I had to tell her. She was in no position to travel, but she begged to see him, and so we went…" – Mariyappan, father.
After two weeks of treatment, the baby is now responding well. With a prolonged stay in the NICU, there are good chances of his survival.
"

In all this chaos, I forgot to get my stitches removed. When I did realize, I also realized we didn't have the money.

I decided I'd worry about that later. But the nurses there rushed me, and treated me. I'm fine…but my boy still suffers.

I haven't had a chance to carry him even once…it's been 15 days

!" – Kayalvizhi breaks down.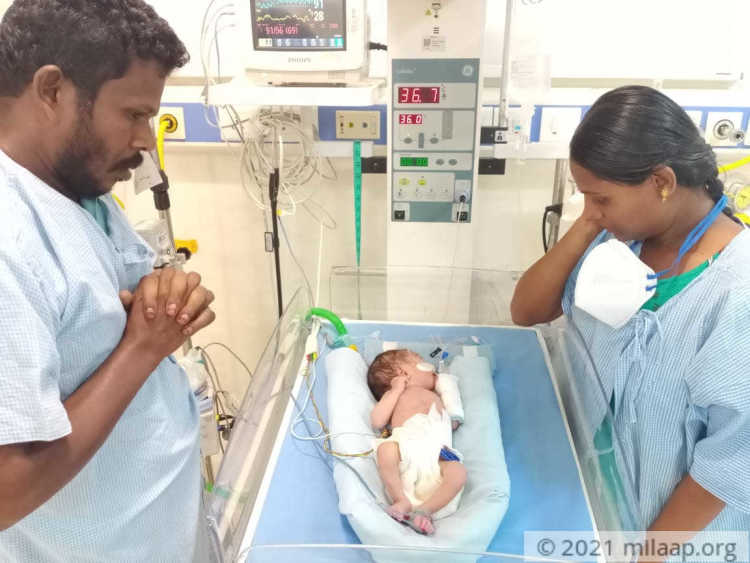 A farmer in a new city, far away from home, Mariyappan needs help
"I earn up to 5,000 rupees a month…you can imagine our situation!

When we first admitted our son, we sold all our cattle and borrowed money from everyone we knew, and barely arranged 1 lakh. We wanted to go prepared! But when we were told it would cost 10 lakhs, we were shocked.

There's no way we can afford it. Please, help us take our son home! Please!" – Mariyappan.
Your generous contribution can help this baby unite with his parents who've been waiting for him forever. Click here to contribute.