Just two months ago, Baashid and Nusrat had no idea about what their life would become in the coming few days. They were happy that a beautiful little girl was born to them. They named her Amaira. They were looking forward to numerous happy days with their two daughters but fate had other plans.
Nusrat is now sitting outside the operation theatre as we speak. Her 2-month-old daughter needs an urgent surgery.
"I had started noticing a mass growing near her tailbone. Initially it was small and we thought that it was an infection. We had taken her to doctors in our village, even they had said that there was nothing to worry," - Nusrat, mother.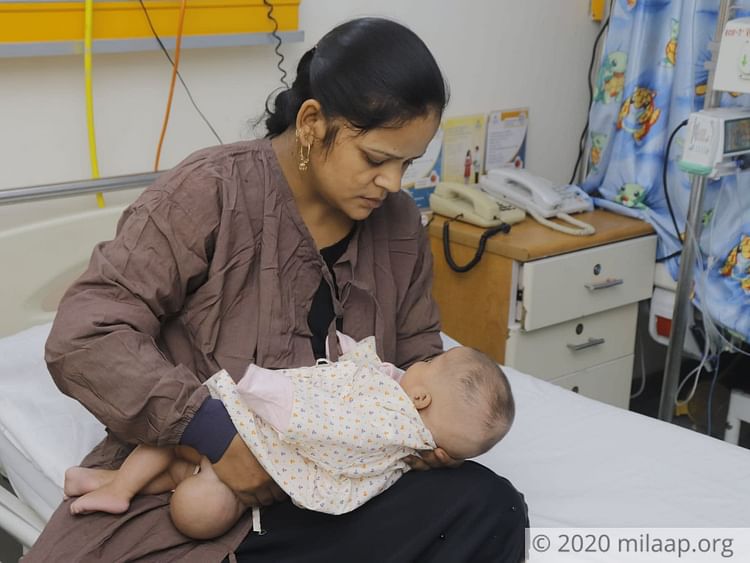 But the mass started growing in size
No one had ever seen something like this before. Nusrat and Baashid were scared and didn't know what to do. The mass near Amaira's tailbone was the size of a small lemon but soon it started increasing in size and now it is even larger than a cricket ball.
"She couldn't even lie down properly and she would cry out in pain even if my hands touched the mass mistakenly for a fraction of second. We decided to go to Kanpur to get her checked. But even the doctors there gave us no hope. They said we had to take her immediately to Delhi," - Nusrat.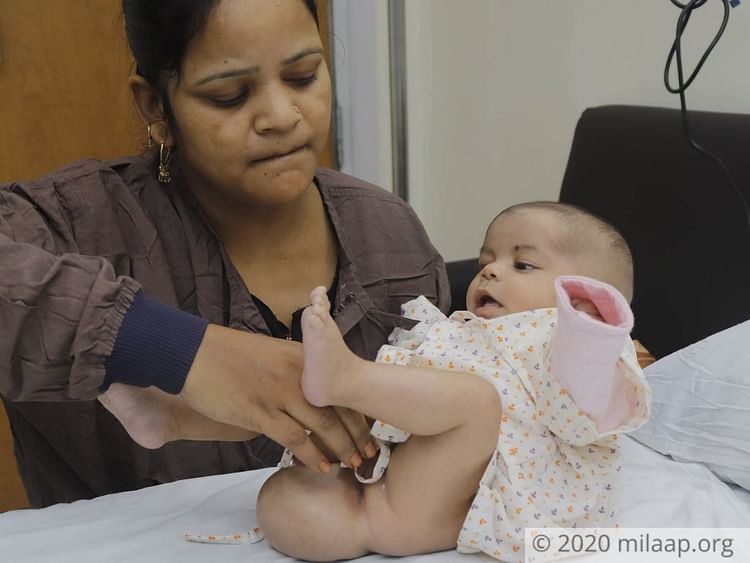 The urgent surgery is her only hope now
Baashid is a daily wage labourer in Farrukhabad, Uttar Pradesh. He has never earned a lot but he was able to take care of his family. Now when he saw his 2-month-old daughter in so much pain, he decided to use up all his savings and send Nusrat to Delhi. He had to stay back in the village to continue work and send the money to Nusrat.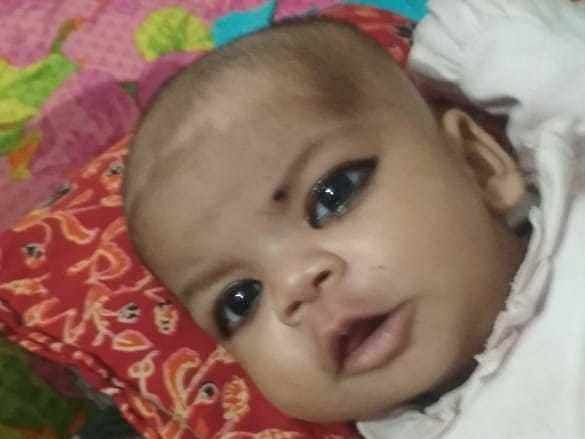 "My brother helped us a lot. My daughters and I are staying at his place. He has been taking us to the hospitals regularly. He has even paid some of the bills. The rest we had to arrange by selling my wedding jewellery. But still it isn't enough. Amaira needs the surgery today and it would cost us 7.6 lakhs," - Nusrat starts crying as she says this. She knows that it is impossible for her brother and her husband to afford that.
Amaira's tumour needs to be operated on immediately. That's the only way she will survive. Doctors have told that any delay in the surgery can even be fatal as there is a chance the tumour is cancerous. So, now is the right time. However, the poor parents are unable to afford it. A generous contribution from your side would save little Amaira's life.