Latest Update: Aarav Singh is on 10-week medication, another 34 days left. The infection in the brain is improving slowly but he is still in ICU. The doctor had suggested completing this antibiotic course. Keep support. Below is the latest pic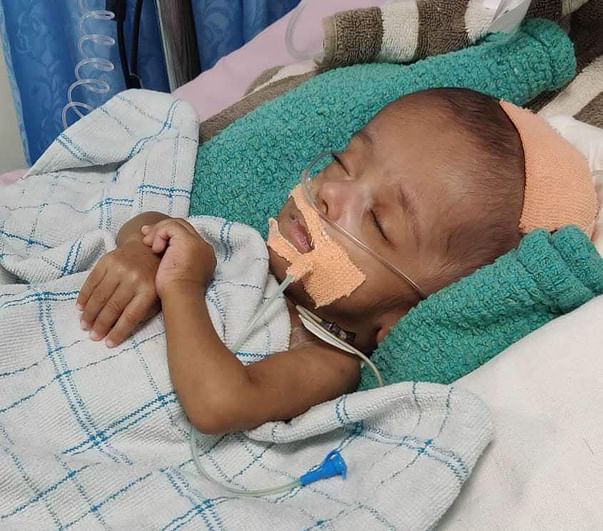 "His body starts shivering vigorously. And even if I try to hold his hands and legs, he just pushes me aside. My 6-month-old baby has been getting seizures every 10 minutes and it's getting worse with every passing day. His head is swelling up, he needs to stay in the hospital for longer . But I don't know if we can afford it," - Pinki, mother of 6-month-old, Aarav.
A dangerous fluid accumulation in his brain is putting his life at risk. The parents are scared that if Aarav doesn't get the treatment soon he will face the same fate as that of his twin.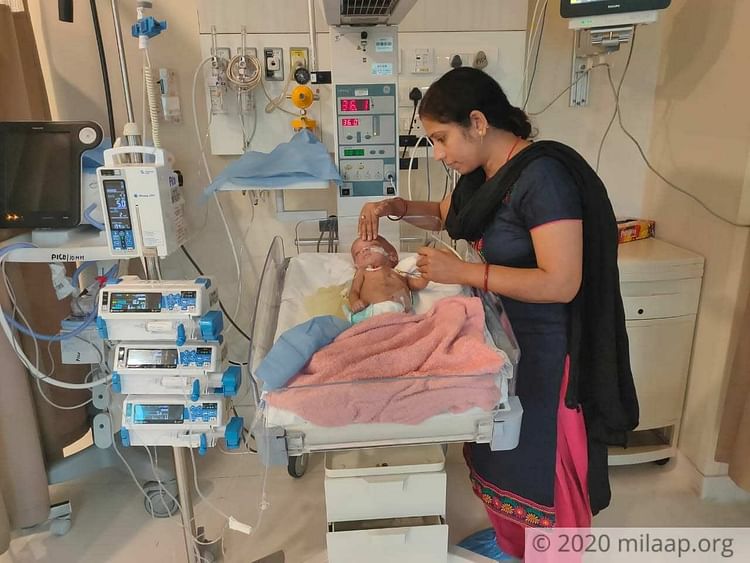 I saw his breathing stop in front of my eyes, can't let the same happen to Aarav
Pinki and Prashant were overjoyed to know that they were going to be parents for the second. Their 8-year-old son was excited too. The couple's happiness knew no bounds when they were told that Pinki was going to be a mother of twins. But their happiness was soon over when the twins were born preterm and were immediately rushed to the NICU.
"Prashant and I couldn't grasp what was happening, it all happened so soon. My sons were born and the doctors said that they were not ready for the outside world yet. They were struggling to even breathe. On the 3rd day, Aarav's twin passed away. I saw it before my eyes - his heartbeat just stopped! I can't let that happen to Aarav, just can't…"- Pinki.
Despite surgery, Aarav's condition is critical
The parents had brought Aarav home. But within a matter of a few days, they noticed he was unable to breathe and was having seizures.
They rushed him to a hospital and the doctors decided to go ahead with the surgery. The fluid was getting accumulated in his brain. But Aarav's condition is still critical - the swelling is still there and so are the seizures.
He needs to stay in the hospital for another month or so. It would cost 20 lakhs. A travel agent by profession, Prashant has used up all his savings for Aarav's treatment. Arranging 20 lakhs is out of the question for this distraught father.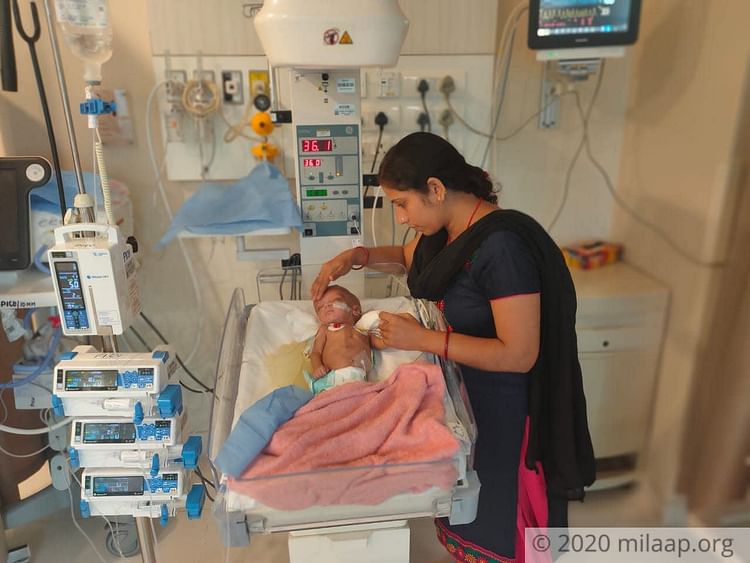 "My elder son keeps calling me, asking when I can bring his brother home. I keep telling him - 'soon'. But in my heart, I know that isn't possible unless I can afford the treatment. I have nothing left to sell, no one left from whom I can borrow. How will I save my son?" - Prashant, father.
With your help, Pinki and Prashant will be able to bring back their baby boy home. They're suffering because of the loss of a child, now only your contribution can save their newborn.