"

I was barely 17 years old, and nothing could have prepared me to hear that my kidneys had failed without any prior warning.

I asked the doctors if there was any medicine or any diet that I could follow to reverse it, but they were equally helpless. I was just not ready to accept that

my days are now numbered. Now, they have put me on dialysis, thrice a week, due to dangerously high creatinine levels in my body

." - Vishal
In just a day, his world was flipped upside-down with his diagnosis
Ashok and Anupa regret taking their son's symptoms so lightly. Even in their worst dreams they could have never imagined that a

minor swelling in his leg would be the first sign of their son's kidney failure.



In October, Vishal's blood counts had unusually fallen but being a healthy individual, the local doctor felt one blood transfusion would be enough to stabilise him. But things started escalating thereafter, when Vishal felt a shooting pain in his abdomen and hypertension. A single visit to the hospital turned out to be a nightmare for this young boy after being diagnosed with

end-stage renal failure.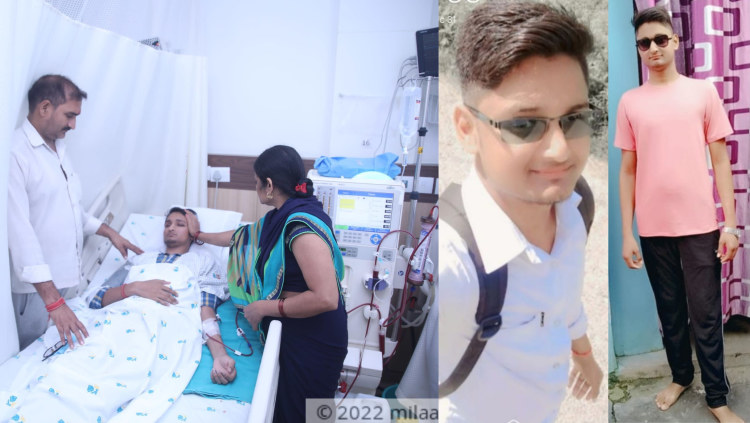 His volatile medical parameters shows how grim the situation is currently
Dialysis is not a long-term solution for Vishal, but just a way to keep him alive artificially. It causes a lot of muscle loss and cramps, along with dehydration.

"Since the past 6 months, my son has been surviving on only 500ml of water, no matter how thirsty he gets. Being a mother, it was becoming unbearable to see him parched during summers and I ended up giving him more water daily. But that grave mistake, almost cost me my son's life. His abdomen retained so much water that all his vital levels of urea, creatinine and potassium spiked, leaving him unconscious." - Anupa, mother
Even after his mother being a donor, they are unable to to afford his kidney transplant
Vishal undergoing dialysis thrice a week has not only put an immense pressure on him physically, but financially too. For the past 6 months, his parents have spent lakhs of their earnings on dialysis, leaving them with hardly any savings for his actual cure - a kidney transplant.

"I've seen people struggle to find a matching donor, but luckily and by God's Grace, my wife was a match for Vishal. We finally had a ray of hope that not everything is lost and that our son can get back on his feet, once this transplant happens successfully. But when we were asked to arrange

10.5 lakhs in the next few days, it felt as if all our hopes were snatched back from us.

Being a farmer, till now, I have spent every single penny on his dialysis just to keep him alive, leaving me with nothing left for his transplant."

- Ashok, father
A lot of complications have come forth, ever since Vishal's kidneys gave up on him. Every other day,
his body is covered in blood clots. He is hardly the same enthusiastic person that he was before, because this disease is eating him up from inside. His education had to be discontinued, bringing all his future ambitions to a standstill.

Vishal will turn 18 in a few weeks but without your help, that may not be possible if he urgently doesn't undergo a Kidney transplant. Please click here to support him.