"It feels like I'm living my worst nightmare, all over again. My bubbly little girl, who would usually be showering me with hugs and kisses, is now laying on a hospital bed as this dreadful disease claims her life. 3 years ago, my baby boy died in my arms of an illness that we didn't detect in time. Will my Sivi have to suffer the same fate?"

- Upasana, mother
A small growth in her liver turned out to be cancerous
About 8 days ago, Upasana came across a lump near her baby girl's stomach. It was rather noticeable too, and she brought it to her husband's attention. Having previously lost a child under similar circumstances, these parents were instantly filled with worry and anxiety at the thought of something happening to their 2-year-old.
"These past two years, we counted our blessings as our baby girl was born healthy and had no problems whatsoever. But I should've known it was too good to be true. As soon as I saw the lump on her body, I felt that unshakeable fear yet again. We took her to a local doctor and through a scan we found out that she had a lump in her liver. On further testing, we learned that she has liver cancer, and I felt like my whole world had collapsed right at that moment." - Rahul, father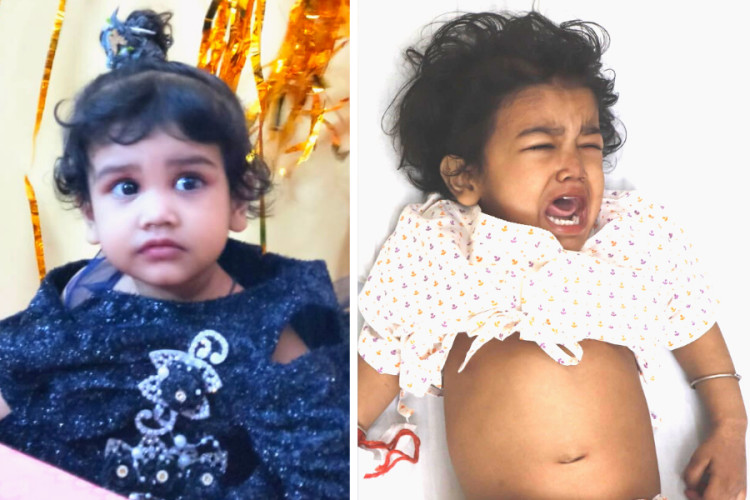 Their firstborn died of an unknown cause
Rahul and Upasana have experienced the fear and sadness that comes with losing a child, once before. In 2018, their 8-month-old baby boy passed away due to an undetermined illness. With Sivi now suffering from a life-threatening disease, they can't help but recall the heart-breaking memory.

At their son's regular check up, they found something peculiar in his scan that required treatment at a bigger hospital. Strapped for cash, the couple took him to a local hospital where they realised he had excessive fluid build-up in his stomach. They suggested he undergo surgery, but that only made things worse. Eventually, he lost the fight and succumbed to his condition.
She needs prolonged treatment and surgery, but her father can't afford it
Sivi can only beat cancer with continued treatment. She needs 12 cycles of chemotherapy, followed by surgery and radiation therapy. It will cost INR 13 lakhs, which is an exorbitant sum for her parents to bear. Rahul works at a small store in their hometown of Jhansi, but he has been unable to work whilst in Delhi for Sivi's treatment. He's exhausted all of his resources, and is now at the end of his tether.

"Sivi is our only daughter, our everything! We can't let her be taken away from us too. We've been down that road before, and it was no less than hell for us. Her condition is severe, and I am struggling to keep her treatment going. The bills are piling up, while I'm running out of money. I don't know what else to do. I just want to save my baby, but I'm failing miserably." - Rahul
With no other option left, these parents are appealing to you for your generous support in saving their daughter from the grips of cancer. They cannot fathom losing Sivi, and your contributions can be of immense help to them. Click here to donate.