Even after a year of hospital visits, you can still hear Rinku's mother sobbing every time he undergoes chemotherapy. Just a glimpse of her and you can fathom the pain this mother undergoes seeing her 31-year old young son bed-ridden with a type of cancer that's rare for someone his age.
"No matter how many times I visit the hospital, I can never get used to seeing Rinku getting chemotherapy. It's a mother's heart that fails to understand why her child has to suffer right in front of her eyes.

With my husband paralyzed at home and my son bed-ridden with cancer, my daughter-in-law is holding our family together at a time when she should be enjoying her married life.

Ma Durga is not listening to my prayers at all! - Sumita, Rinku's mother
Small lumps all over the body turned out to be a symptom of cancer
Last year in January, Rinku's wife got very concerned seeing lumps on his neck and armpits. Every time she asked him to consult a doctor, he would get caught up with work. It was only after frequent night sweats and fever, that he realized he should have acted immediately on those first red flags. After all the tests and biopsy, doctors confirmed it to be a case of Mantle Cell Lymphoma -

an aggressive type of cancer.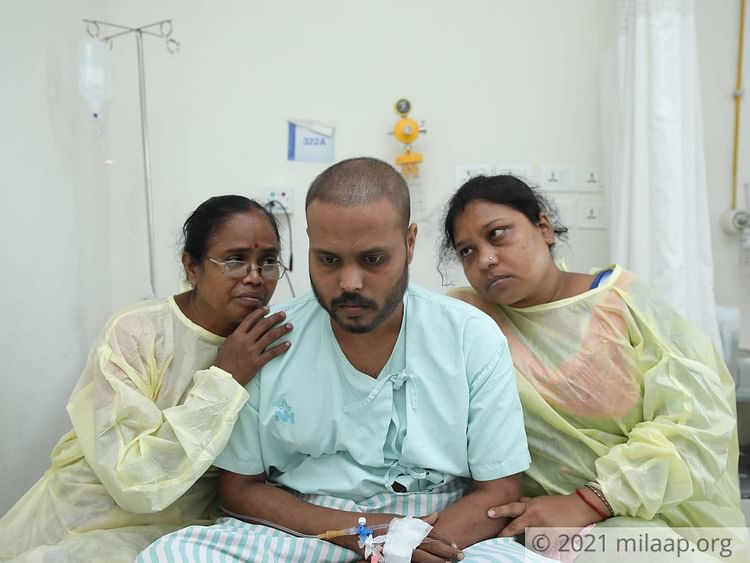 Unfortunately, by now this cancer has already attacked Rinku's white blood cells and so his body is unable to fight infections on its own. By no means, can he delay his chemotherapy and stem cell treatment, otherwise these cancer cells will multiply rapidly, forming malignant tumours. This entire treatment will cost him 9 lakhs, something which they have been struggling to afford for a year. If they are unable to continue it, then it may soon destroy his other organs too.

They were planning a family, but cancer had other plans
In all this, Rinku and his family's pillar of strength has been his high school sweetheart and now wife Dipasha. He credits her for pushing him to put up a strong fight against cancer and never give up. She has kept their plans on hold so that Rinku can get better.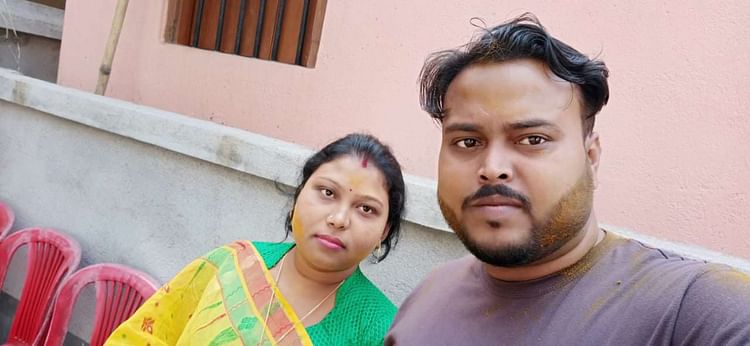 "I have cried in the washroom all alone just so that he doesn't get weak seeing me like this. As much as I try to be hopeful, with every passing day, his condition keeps worsening. From last year his condition has deteriorated to the point that now he gets breathless while trying to just talk over the phone, he loses his balance or keeps vomiting non-stop for days. I'm terrified. I don't want to say it out loud but this cancer is hampering even his basic daily activities. We had planned to start our family last year and now it seems like I can just lose him overnight. All because I don't have money?"- Dipasha, wife of Rinku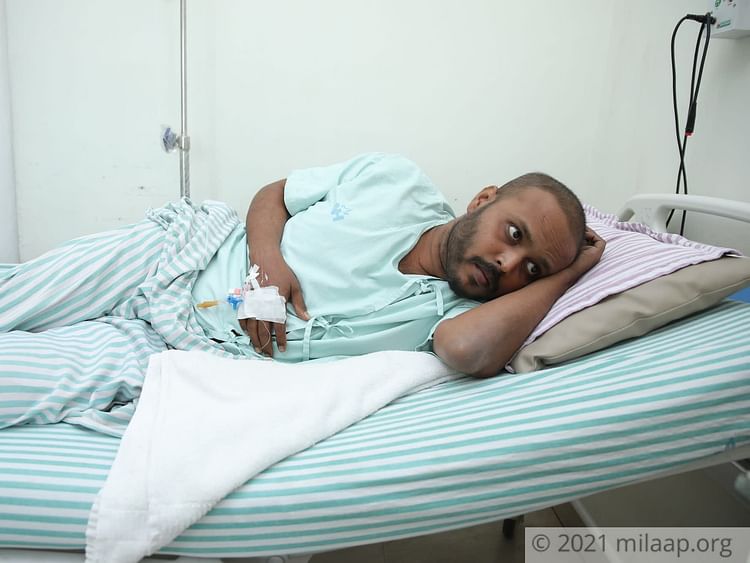 Rinku's cancer has taken away their only breadwinner
"I never had dreams of my own. Every night, I used to sleep with just one prayer, to be able to make my parents' life easier. But now they are struggling even more because of my illness. All this stress led to my father's stroke and now he is partially paralyzed. We have to lock him up alone at home to visit the hospital because without my mother and wife's support, I can't physically balance myself post chemo. All they have seen are just struggles in life. I can't even afford my father's physiotherapy care. At this age, I should be the one taking care of them and not the other way round. I'm terrified, all I think of now is who will take care of my aged parents and wife if I die?"- Rinku

Rinku had to drop out of his school after the 10th standard because of financial issues. Working as an artisan making designs on sarees, his father could barely even make Rs.100 a day. So to be able to fend for his family, Rinku started working as a waiter in marriages at just 16 years of age. Even at the onset of his first symptoms, Rinku had no other option but to still work as a waiter. Due to the lockdown and the seasonal nature of marriages, he could hardly get any work. All he wanted was to rid his family of debts but now he blames himself for adding onto it because of cancer.

Being the sole breadwinner of his family, this cancer has physically and financially drained him of everything. Please help him.