6-year old Riddhima refers to her father's sister as her 'Mumma'. She was just 2 when her own mother passed away due to a haemorrhage and since then her Aunt, Sima, has been raising her. Last year, Riddhima was diagnosed with blood cancer.
"My sister-in-law's sudden death had shocked my brother immensely. I vividly remember him standing outside my house with 2 kids, unable to comprehend how he will raise a 2 and 5-year old all by himself. I had no kids of my own but that day I became a mother, not by birth but solely by heart. God already took away her mother and now he wants to take Riddhima away too. Why is he being so harsh on us?"- Sima, Riddhima's Aunt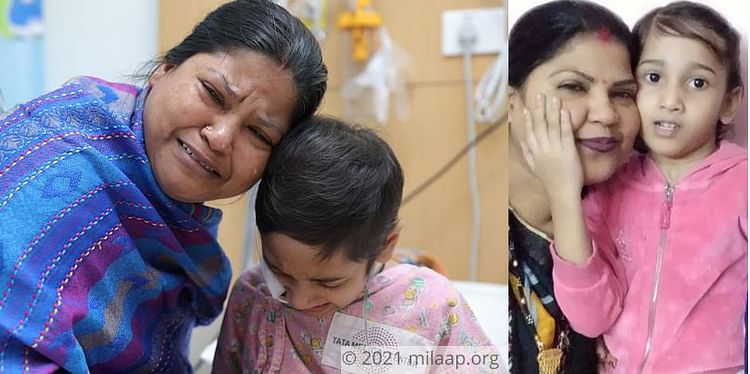 The diagnosis of her COVID and cancer together shattered her father
Riddhima had started having blood clots on all her fingers. The local clinic had given medicines for a mild infection but soon she started running high fevers too.

What seemed like Arthritis earlier was actually the onset of Acute Lymphoblastic Leukemia.

She had to be hospitalized as she would cry out in extreme pain whenever someone touched her swollen fingers.


"I found out that she has

blood cancer and COVID-19 at the same time

. I was shattered, it was the same heart-breaking feeling when I had lost my wife. Such fatal diseases were destroying my baby girl's health together. I couldn't save my wife on time and now time is running out for my daughter too. My family has already been destroyed once and now with Riddhima's cancer, I'll lose everything again. - Nikhil, father
Delay in her treatment due to covid risked her health
Due to COVID, Riddhima's cancer treatment was delayed as she had to be in isolation. She was so weak that her Aunt was beside her the whole time without worrying about herself. She had to be admitted in ICU for a month because her vision got blurry and her condition was critical. She still can't move out of her bed, so has to use diapers instead of the washroom.
Now, Riddhima needs powerful antibiotics that will only work if she has a

Stem Cell Transplant

urgently. But her father has spent everything on her chemo and has been having a

tough time arranging 30 lakhs

being out of work.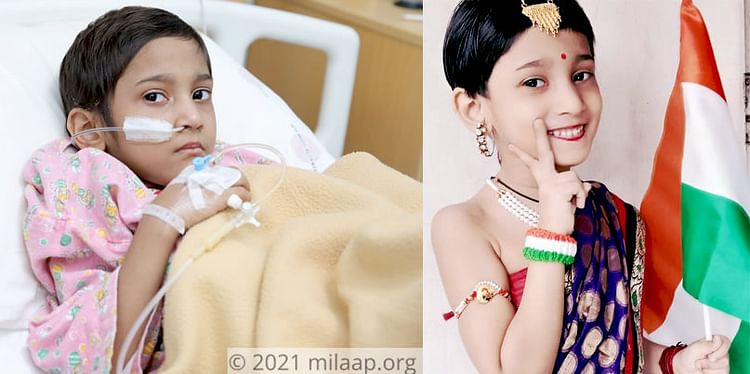 He misses her baby sister but he isn't allowed to visit her at the hospital
Rounak is just 9 and dotes on her baby sister. Luckily he is a match for the transplant. He still misses his mother and ever since she left this world he has been very protective of Riddhima. He calls her 'Tithir' (bird) with love and even after being separated at birth they still share a very strong bond.


"My sister can't move because she has so many wires connected to her body. Once I will give her my healthy cells she will be absolutely fine and then we can play together. She stays with my Aunt and I stay at my Baba's place so I really miss her. Every day she fights with me for not coming to see her in the hospital but I'm not allowed inside due to covid."- Rounak, brother
He sold every penny that was left but it is still not enough
Nikhil used to work as a construction worker at a municipality before he lost this job due to lockdown. He had to sell his late wife's jewellery that she had kept aside for their education. From that amount, he could only manage 3 protocols of Riddhima's chemotherapy but she still needs a transplant to be free from cancer.

Riddhima's house has been missing her giggles and naughtiness ever since cancer struck her. She has her father and brother waiting for her back home who have already suffered from the loss of her mother. If they can't arrange funds they will also lose Riddhima. Please help 6-year old Riddhima by contributing here so that she can beat cancer soon.