"Last week I saw a child die right in front of my eyes, he had the same disease my son has and he died because he couldn't get the treatment on time. I haven't been able to sleep ever since. I am terrified that I might lose my son too, his condition is very critical and I am unable to do anything." -Baloji, father

11-year-old Ram Charan suffers from Thalassemia Major, a severe blood disorder and there is only one cure to save him - a stem cell transplant which the parents are struggling to afford.


All I wish is a normal childhood for him
Ram Charan was just 9 months old when he started falling sick. He had a severe fever which refused to go and soon he was diagnosed with the blood disease. Ever since then he has been undergoing transfusions regularly.


"He never had a normal childhood. Every day he would swallow 5-7 pills and every week we would take him to the hospital for transfusions. It's been 10 long years! He hardly went to school or played with his friends. All I wish for is a normal childhood for my son. I want him to go to school, play without getting tired and not be scared of dying every minute of his life." -Ashalatha, mother
His spleen is growing beyond control, he is in a lot of pain
Ram Charan's spleen is dangerously enlarged. He has completely lost his appetite and it is causing the little boy a lot of pain. He is unable to sit or even get out of his bed. It's been 4 years since Ashalatha and Ranganath have known that their son would eventually need a transplant. They have an elder son who is a perfect match for the transplant but no matter how hard they tried they just couldn't make it happen.

They belong to a very interior village of Andhra Pradesh. Even the nearest hospital to them is 80 kms away. They live in a constant fear that they won't be able to take him to the hospital on time if his health gets worse.


If either of us stops working, we can barely afford food let alone his treatment
"We both are daily wage labourers, we work on other's farms. If either of us stops working, we can barely afford food let alone Ram's medicines. Every day while stepping out I want to pull myself back and just sit with my son, spend some time with him but our situation doesn't let us. We just pray hard to God to keep him alive and okay till we come back. He is a brave child, he takes care of himself so well. But transfusions cannot keep him alive now. My son...he will die if we can't afford this transplant." - Baloji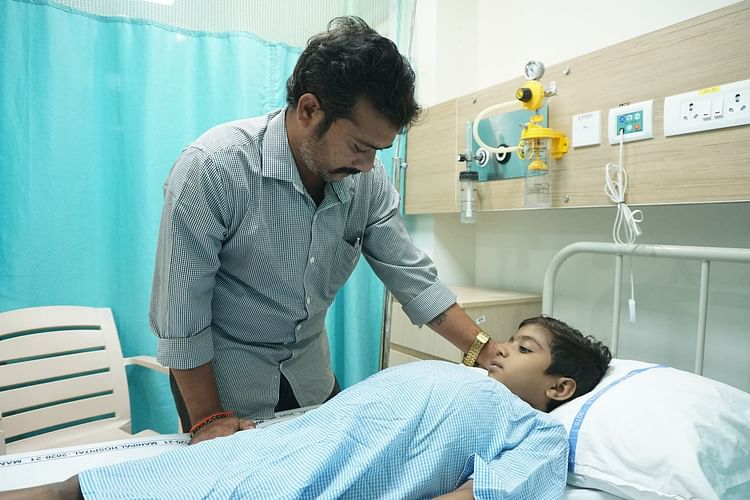 Only you can save this young child's life. He has gone through a lot and with your help, his sufferings can end once and for all. Your generous contribution can give him a chance of living a normal life. Click here to donate.