"Seven times. Over the years, my poor boy has lain on his deathbed, inches away from leaving me and this world, seven times already. And he's only 9 years old! He was so far gone each time that we thought he wouldn't make it, and yet he fought and fought until he recovered.

This time... this time his condition is worse than it has ever been. Try as he might... this time we know he can't fight it alone. We know that if he doesn't get a liver transplant, he will die in the next few days. And yet we're unable to do anything about it!"

— Mangala Gowramma, mother, in tears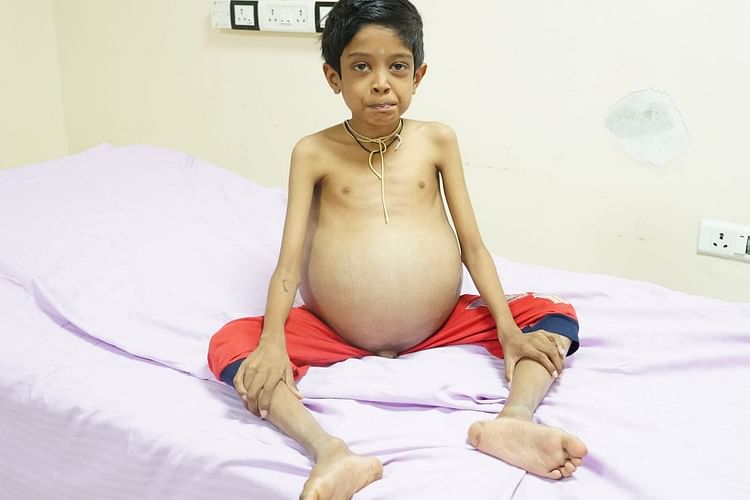 Raghavendra first started falling sick when he was just a year and a half old. Mangala Gowramma had screamed when she walked into the room and saw her baby moments away from unconsciousness, his face a terrifying shade of blue. She scooped him into her arms and ran to the nearest clinic, where she was told it was just pneumonia, that he'd be okay. Unfortunately, that was only the first of hundreds of hospital visits written in this small family's future.
"It was just a week or two after that day when we got the official diagnosis; they told us he had a life-threatening liver disease. Because of it, for the past 8 years we've been fighting day and night to keep our only child alive."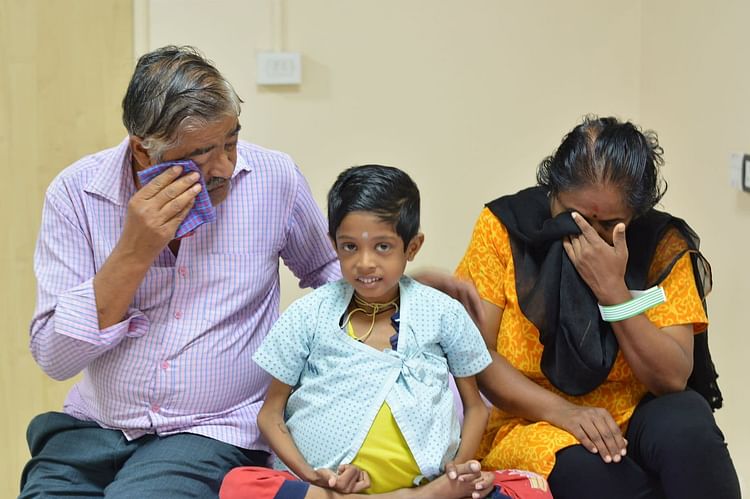 'His stomach could burst any moment! He needs a liver transplant!'
"Apart from constant infections,

one of the worst symptoms is the drastic swelling of his stomach, caused by his dying liver filling his body with a poisonous fluid!

Though it was a big struggle financially, we still managed to take him to the hospital regularly over the years, to get his stomach fluid drained, and for other treatment in general. But this year for months he wasn't able to go to a hospital due to the lockdown, and it severely damaged his already-weak liver! His stomach is so big now it looks like it could burst any moment!

He needs a new liver, and Mangala is a match to be the donor, but just like how he's the sickest he has ever been, we're the poorest we've ever been!

"

— Kumara, father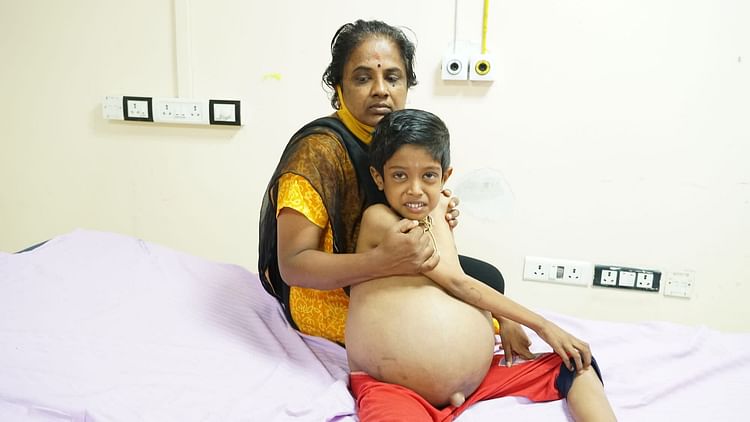 His aunt cancelled her wedding so he could afford medicines
"We used to be a middle-class family, but over the past 8 years we've lost everything. We sold what little land we owned, we sold small silver idols that had been in my family for generations, my sister even cancelled her wedding so we could use that money for his treatment! The lockdown plunged us even deeper into poverty because my husband, an auto-driver, couldn't work anymore.

We're practically on the streets, unable to even afford food and water anymore, living off of handouts from relatives. We had Rs. 1000 to our name when we brought him to the hospital a week ago... but the transplant costs tens of lakhs!

"

— Mangala, sobbing
After years of marriage, Raghavendra came like a miracle into the lives of these parents when they were in their mid-thirties, and they've not had any other kids after him either. Losing him would devastate them beyond description; they'll never be able to recover.