"I told the doctor so many times that something has happened to my baby but he assured me that Radhe is fine. It's been 15 days now and I still don't know what has happened to my baby boy. His face has swollen because an infection has spread to his heart and damaged his kidneys. His heart is hardly pumping any blood on its own. Now, if they don't keep him connected to this ventilator, my son won't survive."- Puja, mother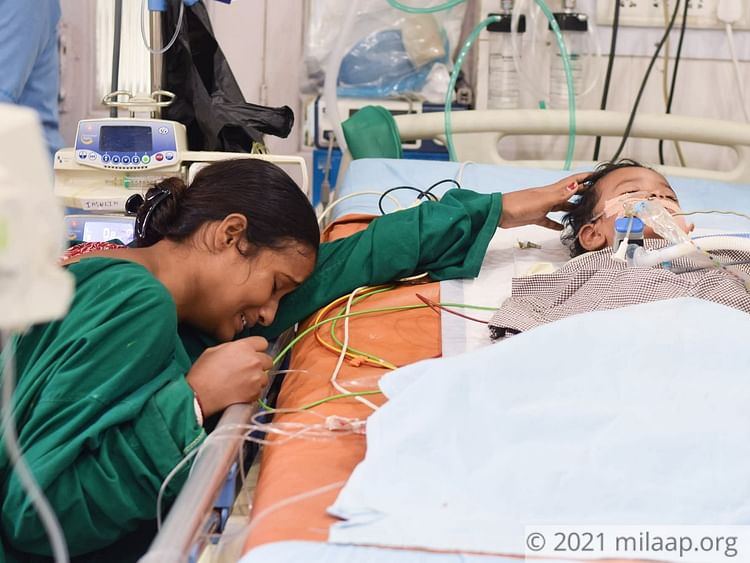 COVID infection has damaged his kidneys and heart
Baby Radhe is just 10 months old and

is on ventilatory support because his heart is unable to pump blood on its own. He has Post-COVID Myocarditis. This virus has led to erratic heart rhythms and with this infection spreading, it can attack all his organs.



A week earlier, his heart was pumping 75 percent blood but now it is reduced to just 20 percent. The intensity of this infection has been increasing every passing day, so much that Radhe has to undergo dialysis because his kidneys have malfunctioned.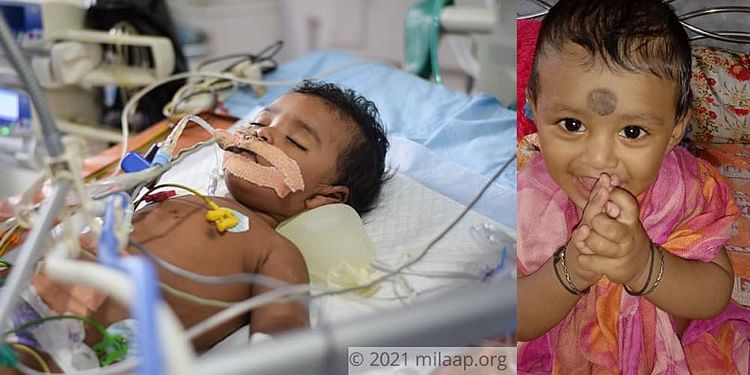 This baby needs ventilatory support to be able to stay alive
Radhe's grandmother, Loki, is the sole earning member of her family. She works as a domestic help and runs a family of 5 all by herself. After learning of her grandson's COVID diagnosis, a lot of families removed her from the job. Now it is becoming extremely difficult for her to manage Radhe's ventilator cost of 8 lakhs.


"My son drives a rental car but due to the lockdown, he has no source of income left. I was hoping for some help from the families I worked for but some of them asked me to discontinue working for them, fearing I'll spread COVID to them. At my old age, I'm just helplessly watching my family crumble with despair, because if we don't keep Radhe in the PICU his infection will lead to organ failure."- Loki, grandmother
This baby is at a risk of multiple organ failure
Radhe's heart muscles are under a lot of pressure to perform. Even after several blood transfusions, his kidneys have failed and if his heart won't pump blood properly, it will not be long before his other organs fail too.


"I pity myself for not being educated enough to understand my son's diagnosis. I can't even pronounce it. I heard about dialysis for the first time when my son went through it. I never could have imagined that at just 10 months, my son will be lying lifeless on a hospital bed with needles and tubes all around just to keep him breathing. I could keep him alive for 15 days but he still needs a month to recover. Only this machine can keep him alive now but I can't afford it's expenses anymore."- Ajay, father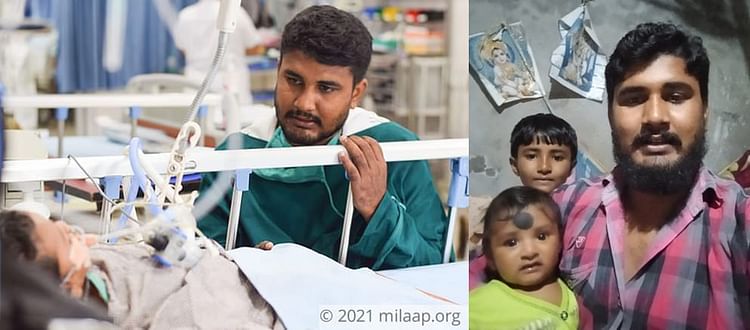 Every day Radhe's treatment costs them around Rs.20,000 approximately. For the past 15 days, they were able to keep Radhe on a ventilator because of the funds contributed by one of the families where Loki worked. But now the bills have mounted to lakhs and even after their best intentions, the family is no longer in a position to help them further.

Radhe's heart can fail anytime if his family doesn't gather 8 lakhs soon. Please help them out by contributing here.