"I am unable to end my little daughter's suffering. She is just 5 years old and her little body has already gone through 2 surgeries. Now, she needs another one…a liver transplant. We have no money. I cannot bear to see her in pain all the time. Her body itches and she keeps scratching all over. Her stomach has swollen up so much. I can't even imagine her agony. I just want her pain to go away." -cries Ramya, Mother of Punya Shree
She started speaking only when she was 3
Punya Shree has never had a happy day in her life since she was 5 months old. She didn't even have a normal growth… she started speaking only after 3 years. She hasn't even been to school yet due to her poor health and discomfort due to itching.


"Her eyes had turned yellow and she had a high fever. She was just a tiny baby then. My wife called me up frantically when I was at work that day. When I rushed home, my wife was weeping with our little daughter in her arms. We took our baby immediately to the clinic. The doctor said it was jaundice. We thought it will be cured in a few days but the fever kept coming back. On further diagnosis, we got to know that her liver is damaged."- recalls Raghu, Father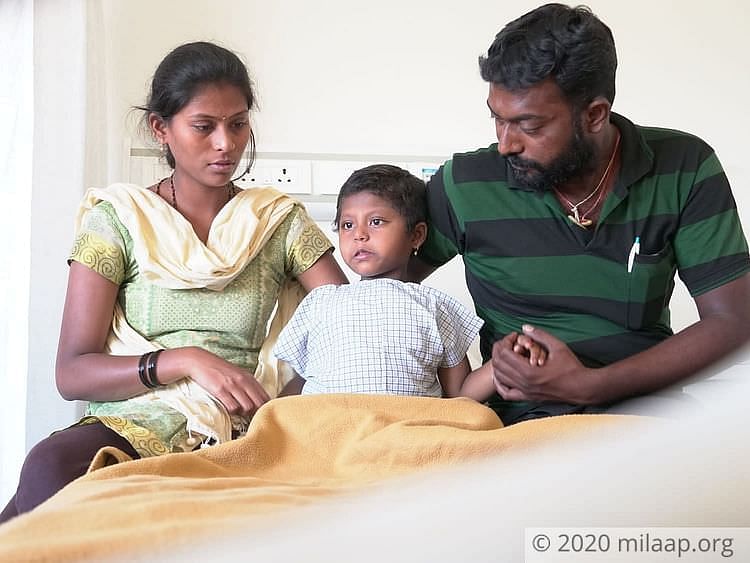 First, it was Jaundice and now her liver has been damaged beyond repair
Punya Shree is suffering from a liver disease called Cholestasis. It's a condition where the flow of bile from the liver is obstructed. Minor surgeries can be done to repair the damaged sections. However, her liver failure could not be revived through those surgeries. Now, the only way to save Punya Shree's life is a liver transplant which would cost around 15 lakh rupees.

Raghu works as an auto driver and earns a meager income of 500 Rupees a day. In the last 1 year, he has already spent a lot on the previous surgeries. He is neck-deep in debt and has no way to afford the transplant.


It's because of my incapability that my daughter is suffering now
"The doctors told me when she was few months old itself, that she would need surgery. It took me an entire year to afford it then. If I could have afforded that surgery immediately, my baby would not have become this critical. Now, I have no time or money to save her."- Raghu, Father