"It happened so fast, that neither of them saw it coming. They had been helping out with the harvest, but just as my nephew stepped down from the harvester, his foot landed on a loose wire. My son, Poovarasan, went to his aid immediately, seeing his cousin flail wildly as the current passed through him. But he too got shocked in the process. Then, only seconds later, sparks erupted from the machine and the hay around them caught fire, scorching them both..."

- Kavitha, mother
The harvesting machine that they operated short-circuited and electrocuted them
22-year-old Poovarasan and his cousin, Sakthivel, had been working together for the past 2 years, making a living by helping farmers in their village during harvest season - they owned a harvester, and would be hired to harvest crops. On February 8, the two had set out to do their work as usual, but tragedy struck when the harvesting machine seemed to have short-circuited.

Both were left with third-degree burns across their bodies.
"They sustained major injuries, and my nephew's legs were even amputated.

My son suffered severe burns on his hands, legs and his stomach. A few of his toes needed to be amputated too.

His condition is so mortifying that even medicines aren't easing his pain. He can't talk at all, and cries relentlessly. I feel so helpless in this situation. My poor son!" - Kavitha
After he was administered first-aid, Poovarasan underwent emergency debridement surgery to rectify the damaged and infected skin tissues. He is due to undergo a skin-grafting surgery on his hands, where he has sustained the worst injuries. Although he has been showing signs of improvement, his condition is far from being better.

He will need prolonged hospitalization and supportive treatment to make a full recovery.
She's already experienced an irreparable loss, once
"When I received the dreaded phone call from the hospital that day, I felt my heart plummet to my stomach at the harrowing sense of deja-vu that it gave me. 7 months ago, I was in a similar situation where I received a phone call telling me that my daughter was no more. I couldn't believe it! It hadn't even been 5 minutes since she'd left the house to buy groceries, and in that time, she was in a collision that killed her instantly. Now, my son..." - Kavitha
Debt-ridden, this single mother is struggling to save her son
Poovarasan is a school drop-out, and started working to support his family at a tender age, while his sister had been in her second year of college when she passed away. Both siblings were their mother's source of strength. After her husband left her when Poovarasan was only 4, Kavitha single-handedly raised her two children and worked as daily-wager, so she could give them the best life she possibly could. But now, with her daughter gone and her son fighting for his life, the light in her eyes is slowly going out too.
"Everything I have done, I have done for the sake of my children, so they could live a good life, and not have to worry about anything, or suffer like me. But it seems like we are destined for only misfortune. My children gave me hope for the future, a future that now looks so bleak. I don't wish for much - I don't even wish for wealth. All I want is for my son to get better. But I have no way to keep his treatment going…" - Kavitha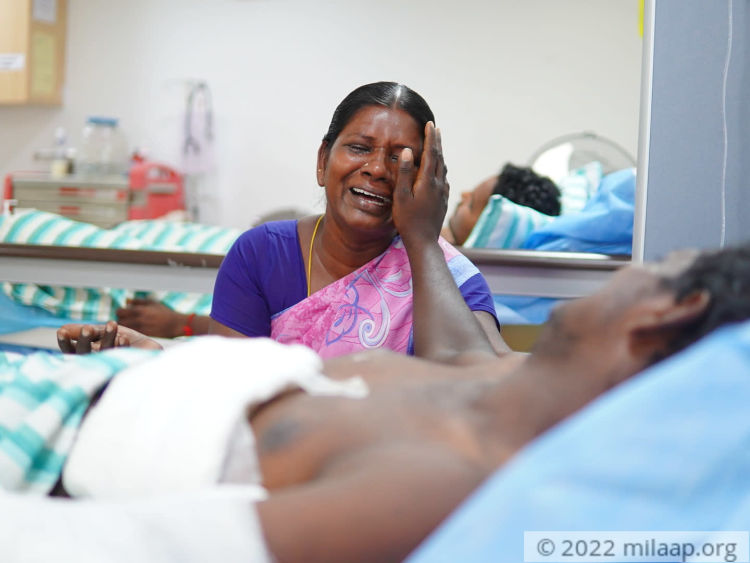 Since her son has been hospitalized, Kavitha has spent over INR 10 lakhs, all in loans borrowed with high interest. Buried under a mountain of debt with no way to repay the borrowed money, no one is willing to lend her any more. Now, she has no other means of affording her son's surgery.


Poovarasan's treatment will cost his family INR 8 lakhs, which is beyond their means. His mother only wants him to pull through this crisis safely. You can make that happen and restore this family's hope through your contributions. Click here to donate.