"I can't bear to even look at her face without flinching in pain. The swelling in her eye is causing her so much discomfort, that she is barely able to see. Her ear-piercing cries stab at my heart and I watch helplessly as she is poked with injections. She has to fight for her life which has only just begun, and here we are scrambling to do all we can to save her. I just want my happy baby back in my arms... "
- Rinky, mother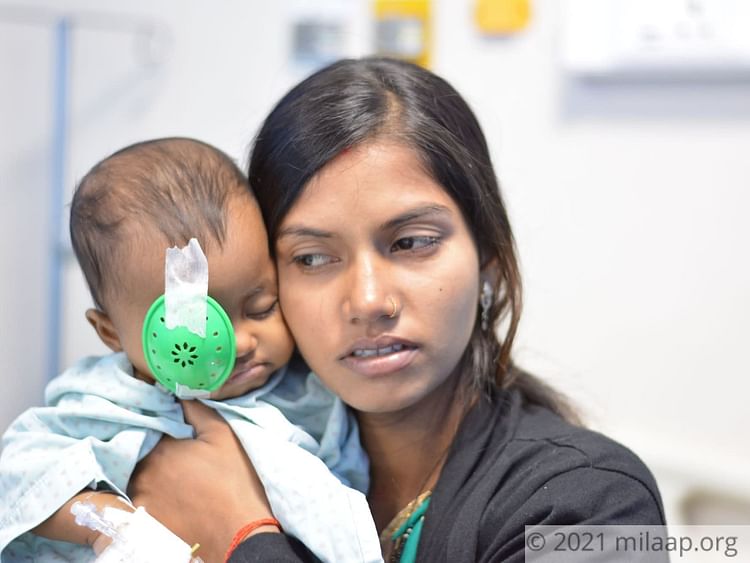 A huge swelling has led to her eye bulging out abnormally
Baby Nithya Kumari was born to her parents a little over a year after they had married. Her arrival had brightened their home and added so much happiness into their lives. But just as Nithya was approaching her fourth month, her troubles began. Her parents took notice of a slight swelling on her right eye that only grew bigger as days passed.


"We consulted a local doctor here who suspected that she had an internal problem, and prescribed some medicines for 10 days. But that only made it worse and the swelling increased rapidly instead of reducing. We were then referred to a bigger hospital and after several tests, we learned that not only did our baby have a severe eye infection but she also had eye cancer…" - Deepak, father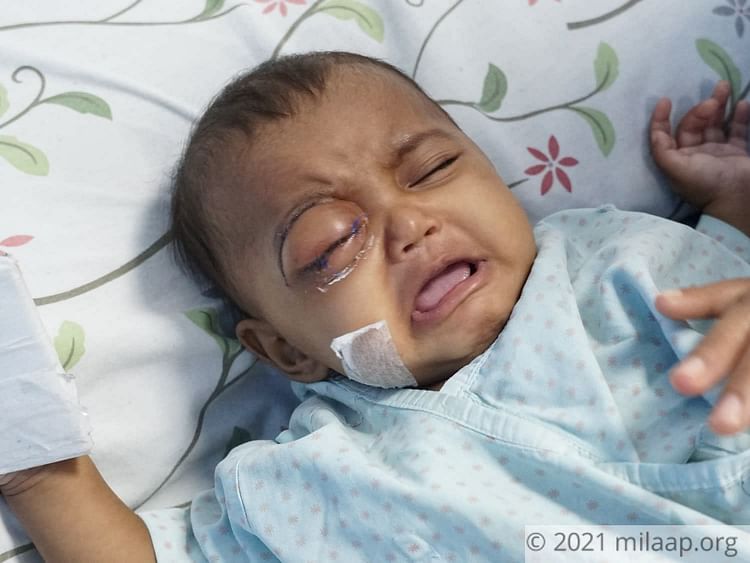 A rare cancer that commonly affects children is threatening to take her life
Little Nithya was diagnosed with

Rhabdomyosarcoma (RMS)

, a rare type of cancer that forms in skeletal muscle tissue. In Nithya's case, it has formed in her eye. Although it can occur at any age, children are more at risk of being affected. It is a fatal disease, but it can be cured with appropriate and timely treatment.

Nithya needs to start her treatment as soon as possible, so her eye and vision can be saved. She needs chemotherapy, a total of 6 cycles for a period of about 8 months, followed by eye surgery and radiation. If her treatment is delayed, the cancer could spread from Nithya's eye to other parts of her body, like her lungs and bones, making it difficult for her to recover.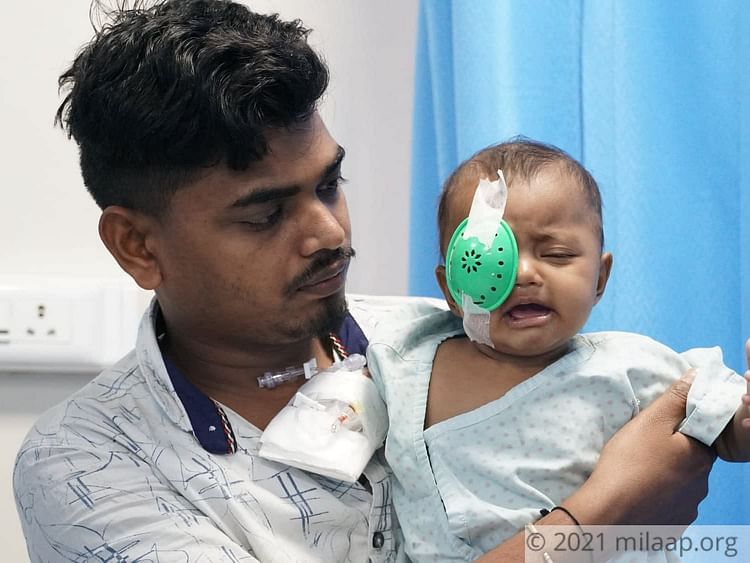 I don't know how it all went so wrong
"I had been so careful throughout my pregnancy. But when at one of my regular monthly check-ups I was told that my baby was a little weak, I was so afraid I was going to lose her. I did everything I needed to do - I ate better, drank more milk and even took all my medicines properly. I was so happy that she was born with an ideal birth weight and no issues. I don't know where things went so wrong. I can't help but blame myself, when I look at my baby.." - Rinky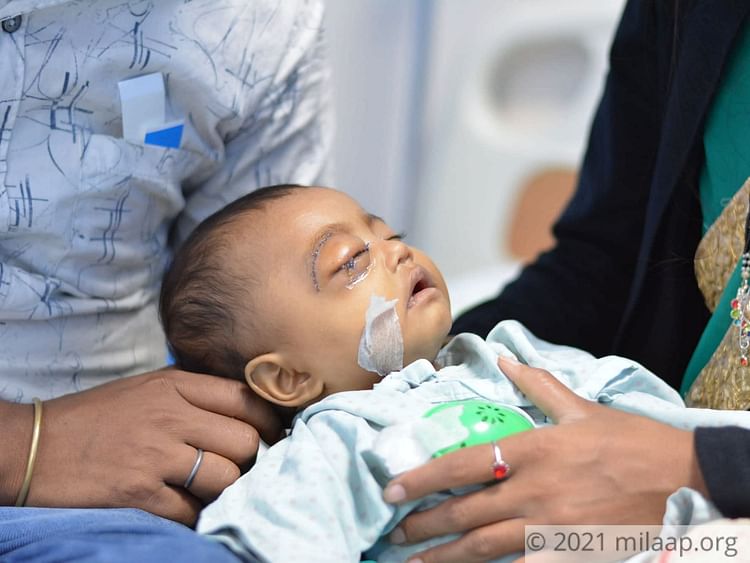 Only a coolie, this father cannot afford his daughter's treatment
Nithya's condition is dire, and she needs to start her chemotherapy as soon as possible or her life will be at risk. But her father, a coolie by profession, doesn't know how he will afford the hefty sum of INR 14 lakhs for her treatment.


"I am a poor man, with nothing to my name. I have spent about 3 lakhs so far by using up everything I had and borrowing from my family and friends in my hometown. I even approached some moneylenders in my desperation and now I am neck deep in debt. I don't know what else to do. We only ever wished to raise our baby well and give her a good life. But all the money I saved up for her future is gone in her treatment, and I still don't have enough to save her..." - Deepak
These parents are at the end of their tether. Their baby is battling a life-threatening condition at just 4-months old and they don't have the means to pay for her treatment. Your contributions can help Deepak and Rinky save their only child. Click here to donate!