"He was extremely cranky and there was no consoling him. He would only quiet down for a few minutes as we tried to lull him and then he was back to crying. His wails were so loud and deafening, and gradually we started to notice the cause behind it. First his eyes started to turn yellow and after a while, his whole body. We never imagined that his crankiness and discomfort would be because of such a dreadful disease."

- Sumi, mother

Kabyaneel was only 3 months old when he was diagnosed with

liver cirrhosis, a late-stage liver disease

. The healthy tissue in his liver is replaced with scar tissue causing permanent damage. As a result, his liver cannot function properly.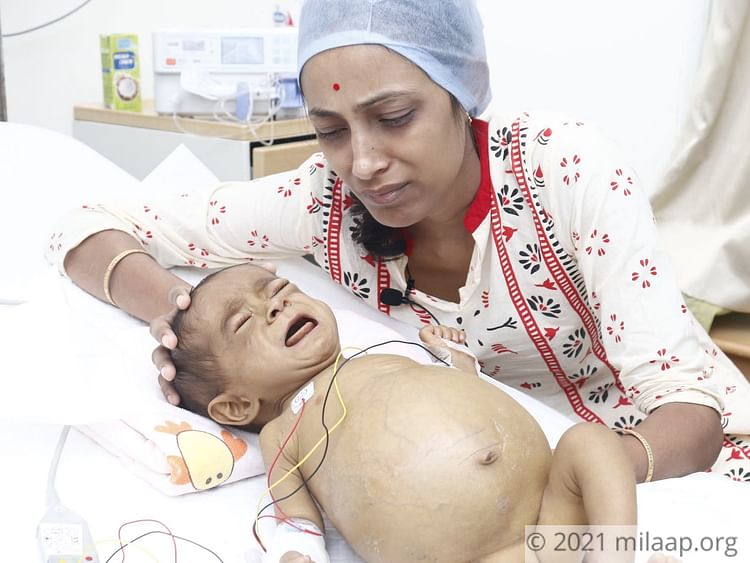 His condition hasn't improved much since his diagnosis
As soon as they sought medical attention for Kabyaneel at a local hospital, Mridul and Sumi were told that their baby's liver was severely damaged and only a liver transplant would see him through. Strapped for money, they knew they couldn't afford this procedure on their own.

Meanwhile, baby Kabyaneel's condition had started to deteriorate, and he had to be shifted to a hospital in Guwahati and Bangalore, before being brought to Delhi for treatment. Slowly, his disease manifested more severe symptoms. With excessive fluid buildup in his abdominal area, his belly started to swell up. The 9-month-old writhes in pain from his protruding tummy and has to regularly undergo a procedure to drain the fluid.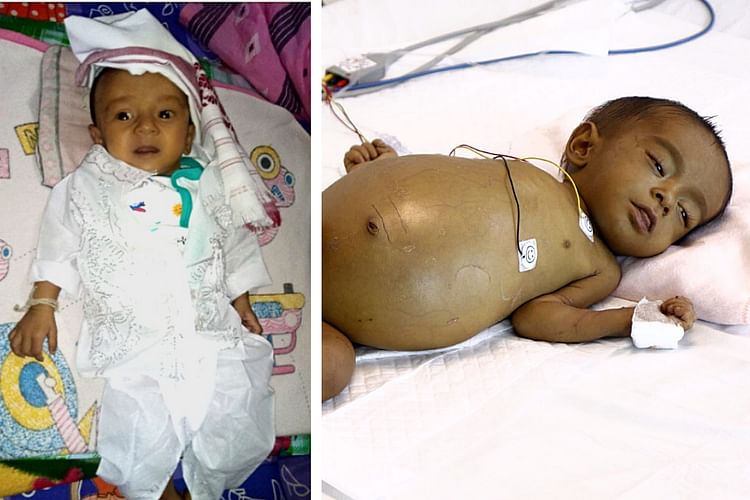 He matched as a donor, but he's still failing to save his son
"We had been searching for a donor for months, but in vain. With each passing day, my son's condition was worsening, and we were nowhere close to finding a donor for his transplant. After my battle with COVID a few months ago and a gallbladder surgery I underwent a while ago, I assumed I wasn't eligible to be his donor. But recently, after tests, I was told I was perfectly healthy and matched as my son's donor. I was so happy and relieved… yet I am still unable to save him because I don't have the money to afford the transplant." - Mridul, father

Only a school office boy, he is already under a lot of debt
"When my wife was only 1 month along in her pregnancy, they found a tumour near her ovary. They advised her to undergo surgery as soon as possible, or we could lose our child. At the time, I had spent everything I had for the surgery, but it wasn't enough. So, I had to approach a financial institution and avail a loan. With repaying my debt and footing my son's medical bills, we're not even left with enough to sustain ourselves. Where will I get 20.5 lakh rupees? My son's life depends on this surgery and I can't afford it..." - Mridul

Mridul works as an office boy at a local school. Most of his hard-earned money has been going towards paying back his pending loan. He even had to mortgage his wife's gold jewellery to be able to afford Kabyaneel's treatment. Debt-ridden, he is now struggling to save his only child.

Little Kabyaneel is in dire need of your help. Your contribution can save his life, and give him a chance to live like a normal child. Click here to donate.