"Right after I got married, I was told that I wouldn't be able to conceive easily and I was devastated at the thought that my chance at being a mother was snatched away from me. Then our son, our miracle, came into our lives. We were so happy to have him with us after 5 years of us trying for a baby. But I never imagined things to turn out this way…"
- Savitha, mother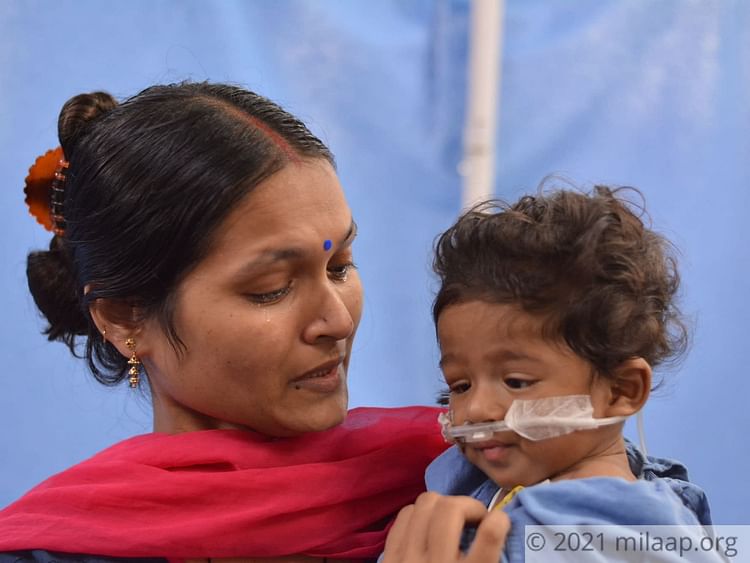 2 days after his birth, his body began to turn blue
"It was only starting to settle in that I was finally a father, when our baby was suddenly rushed to the ICU. One second he was resting peacefully in our arms, and the next second his whole body was turning blue. I was so terrified; I begged and pleaded with doctors to save my child. They told us that there was a small hole in his heart, and he needed to remain in the ICU to recover…" - Rahul, father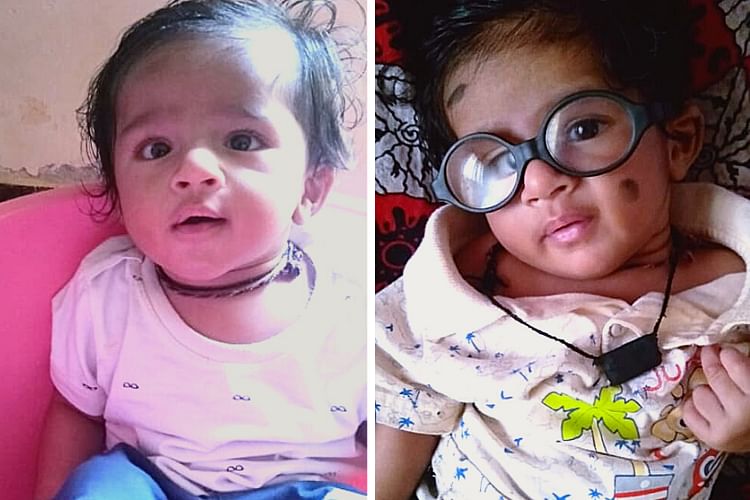 Krithagya before (L) and after (R) his cataract surgery.
He underwent 2 surgeries for a cataract
The family was still adapting to their new life, when trouble struck again. 2 months after Krithigya was discharged from the hospital, his parents noticed that the pupil of his eye had turned white, instead of being black. After a consultation with an eye specialist, they learned that their son had a cataract and would need to be operated. They brought him to a bigger hospital, where he underwent 2 surgeries. At present, 9-month-old Krithyaga needs glasses to be able to see clearly.


Now, a dangerous cancer is plaguing him
A little over a month ago, Krithyaga was diagnosed with

Neuroblastoma

, a cancer found in the adrenal glands above the kidneys. His parents noticed that his stomach had protruded abnormally, and rushed him to a nearby hospital, where they ran several tests that found a cancerous lump in his abdominal area. Krithyaga will need chemotherapy and supportive care to make a full recovery.


"Ever since he was born, there has been one serious health issue after another. Now, cancer - the worst disease that I can even think of - has taken a hold of him. It's so cruel that my child has to suffer so much. Why him? He's so small! Why does he already have to fight for his life that has just begun? I feel like I am being punished, when all I really wanted was to be a mother to a healthy baby. I can't see my son suffering like this!" - Savitha, mother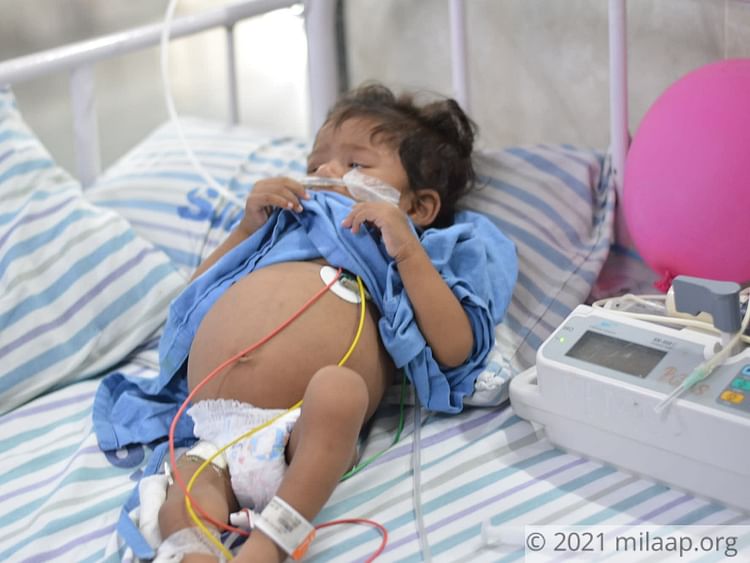 Prolonged treatment can save him, but his poor parents cannot afford it
Baby Krithagya has been in the hospital for almost 15 days now. He's getting rather antsy and cries relentlessly because he is unable to see without his glasses. The hole in his heart still persists, but it is not an immediate threat to his life. Krithagya needs to be administered 7 cycles of chemotherapy over the course of the next 7 to 8 months to beat cancer. But his entire treatment costs INR 8 lakh, a hefty amount for his father, a mere granite factory worker, to bear.


"The past 9 months have been so difficult for us to endure. I pray that no parent has to ever go through this… this constant fear of losing their child, which could become a reality for us. We cannot imagine a life without our son. But I have no money to get him treated. Everything I had, I have used up and I even went as far as to ask for an advance from my employer. That too is gone now. I'm failing to save him and I don't know what else to do. I really need your help." - Rahul
Krithagya needs your help in his fight against cancer. The little boy has suffered a lot already, and only with your support can he be free from his misery. Click to donate.