"Her liver has completely failed, she needs an urgent transplant in the next 15 days or else she won't survive."
8-year-old Joshna suffers from Wilson's disease, a rare disorder in which the body is unable to eliminate excess copper and leads to serious complications. In Joshna's case, the disorder has led to Acute Liver Failure. Only a liver transplant can save her now.
Her eyes turned yellow and her body started to swell
It all started 3 months ago when Joshna complained of severe stomach ache and soon after, she was diagnosed with jaundice. The parents ran from one hospital to another in search of a cure but no medicine was helping their daughter.


"Day by day her health just kept on deteriorating. Her eyes started turning yellow, her stomach and her legs started to swell abnormally. She just couldn't bear the pain and used to cry so much. It took so much time for us to diagnose the disease that now it's too late and her liver is failing." - Nagaraju, father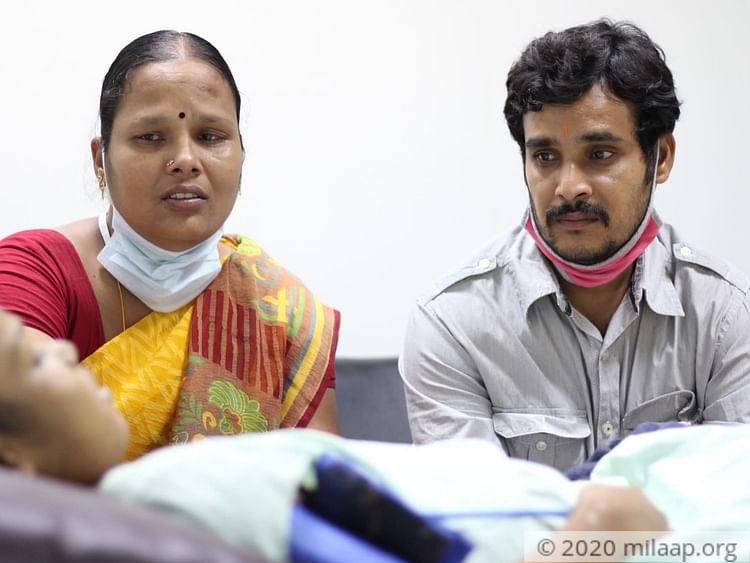 She used to be so full of life, now she is in unbearable pain
"Doctors say that her disease developed slowly over the years but my daughter never fell this sick before, not even once since her birth. I wish there was one sign, just one small sign that something was wrong...She used be a girl full of life. She wouldn't stay calm even for a second, she was that active. Now...I haven't seen her smile in a long time now. She is in a lot of pain and I am unable to help her with that."- Munniamma, mother

The parents had to beg and borrow even to bring their daughter to Chennai from Tirupati for her treatment. They will never be able to afford it without help.


I am just a lift operator, how will I afford it in 15 days?
Joshna is feeling a lot better than before and the swelling reduced a bit too ever since she started taking the right medication for her disease but it cannot save her life.


"I am just a lift operator who earns 7000 rupees a month. With that income only I have to manage my house. How will a person like me ever be able to afford a transplant that will cost lakhs of rupees? She is our only child, she is all we have. Time is running out and I don't know how to save her from this deadly disease." - Nagaraju
Nagaraju is the donor and everything is set for the treatment to take place. The only thing that is stopping them from getting a life-saving transplant is money. Only you can help these parents save their only child. Your generous contribution can save Joshna. Click here to contribute.