Every time Himakshi gets a painful injection, she looks at her father, Sachin, begging him to take her home. He holds her close and tells her she will be fine in no time. Himakshi doesn't know she has blood cancer. She doesn't know that her 'home' for the next few months will be the cancer ward in the hospital. Himakshi (9) is only a child and has gone through so much already.


"I have to lie to my daughter. I tell her we'll go home in 3-4 days, but her fight has just begun! It will take months to get her cured….and only days for this disease to kill her if I can't afford her treatment." – Sachin, father
They had no time to waste – the ambulance saved her life
Himakshi would spend her evenings playing with her brother Bhavesh (7). Himakshi was a happy and playful child. She loved playing with her dolls and her toy guitar. The house was filled with happiness – Bhavesh and Himakshi strumming away and singing their favourite Hindi song. But all of that suddenly changed a month ago.


"One day we noticed she had red spots all over her body. Her feet and hands were swollen…we wasted no time and took her to the hospital. When we found out she has cancer, I took her from Surat to Mumbai in an ambulance to start her treatment. They told us not to waste any time. I had to borrow 8000 rupees from my brother for that… all the way, Himakshi just lay on the stretcher, scared. She didn't know what was happening. I just held her hand and prayed."
Himakshi needs to continue chemotherapy to survive blood cancer. While Sachin was able to start her treatment somehow, he has no means to continue it.
It's the worst of times, and this family can't be together
Himakshi's brother now calls her every other day. He wants her to come back home soon so they can play together again. Himakshi's mother, Vanmala, was finally able to come to Mumbai to be with her daughter. But she can't meet her just yet. She's waiting for her COVID test results.


"My son is with my brother, my wife has to stay away from her until we get the results …I don't know how all of this happened. This is the worst of times for us, and we can't be together as a family."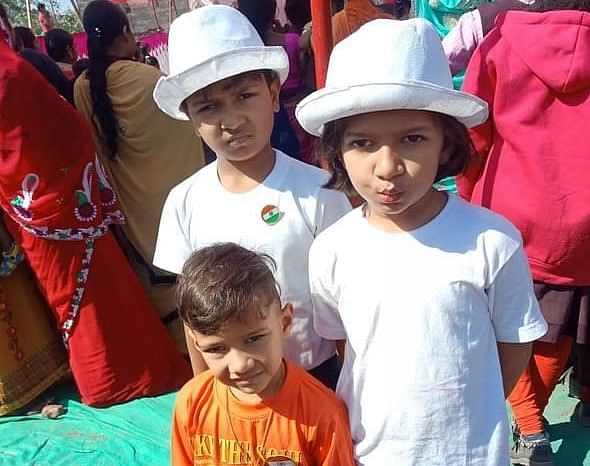 A child with cancer, no work and a pandemic – these parents are helpless
Sachin works as a tempo driver in Surat. He used to earn 10,000 rupees per month, but ever since the lockdown, he hasn't earned anything. Vanmala used to take tuitions for a few children in the neighbourhood. She too had to stop working. Under these circumstances, these parents are struggling to afford the 5 lakhs for their daughter's treatment.


In a new city, with not much left in his pocket, Sachin is helpless. Himakshi can survive with chemotherapy, but she needs your help. Your contribution can save her life.