A week ago, a chubby 4-year-old Dinesh ran and picked up the tumbler of hot coffee kept for his father. He wanted to drink it all up; but only managed to pour it down on himself, and all around. That done, without a pause, he ran to do something else. This has been him every minute of his life; quiet only when he's sleeping. But these days, this child who so loves running around, sits down panting for breath after just minutes of playing. He can't walk for long; and when he cries, he turns blue. He doesn't understand why. Afraid then, he cries all the more. His heart is slowly failing him, and without an immediate surgery, he won't survive. He has already mastered most of what his 6-year-old sister learns in school; and aches to go to school.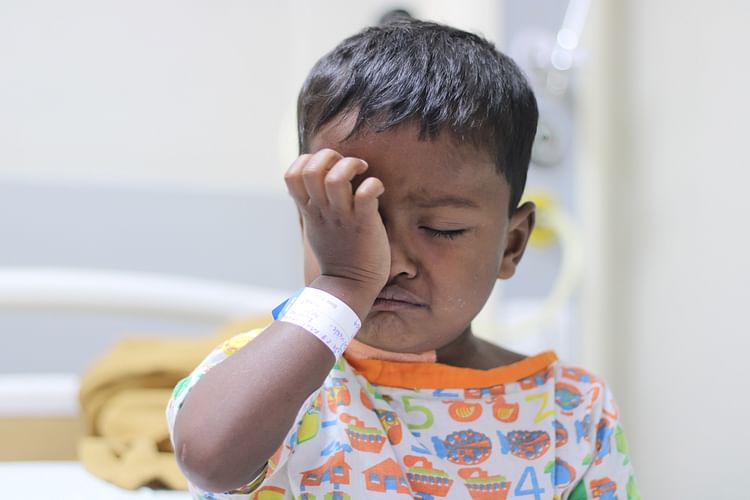 Little Dinesh had his first surgery when he was only 10 months old
"All through my pregnancy, I had been so careful. It was all going well. But just when it was coming to an end, scans revealed my baby had a heart disease. I was devastated. I was praying for him to be saved; and he made it! But

his heart wasn't functioning properly. The pure and impure blood in his heart were getting mixed up

; and he was prone to infections.

He had his surgery when he was only 10 months old, and he made it once more

! Life became normal for him. But it did not last for long." – Deepa, mother.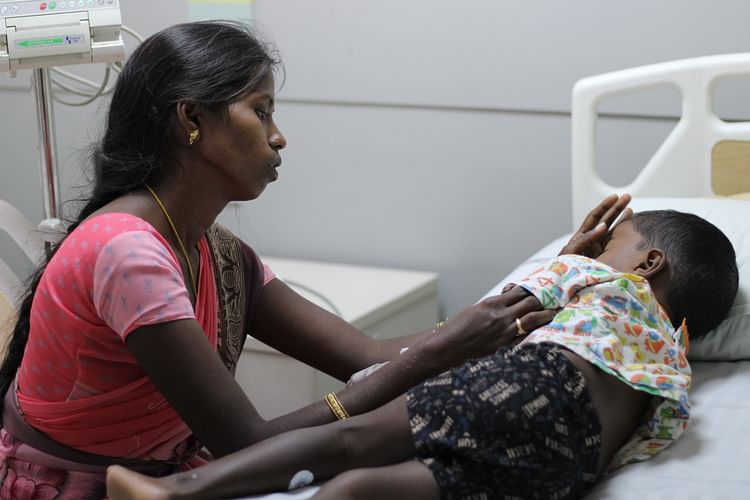 He needs another surgery now, without which he won't survive
At four years now, little Dinesh's symptoms are slowly showing up. He can't eat much, nor can he speak long sentences without taking a break. Running around leaves him breathless. He falls sick often, and takes a long time recovering from it. Dinesh needs a follow-up surgery to cure him of his heart disease, without which it can be fatal.


"When we walked into the hospital for scans and tests again, he shrieked. Somehow, he remembers the last time he was admitted.

He begged me to take him back home, saying he's absolutely okay. I wish I could oblige. But it's a matter of his life now!

" – Deepa breaks down.
The cost of his life is 10 lakhs, and his parents can't afford it.
Settu is a daily-wage labourer who earns no more than rupees 6,000 a month. Leaving his hometown Krishnagiri, he's out in a new city, hoping for some miracle that could help him afford his son's treatment.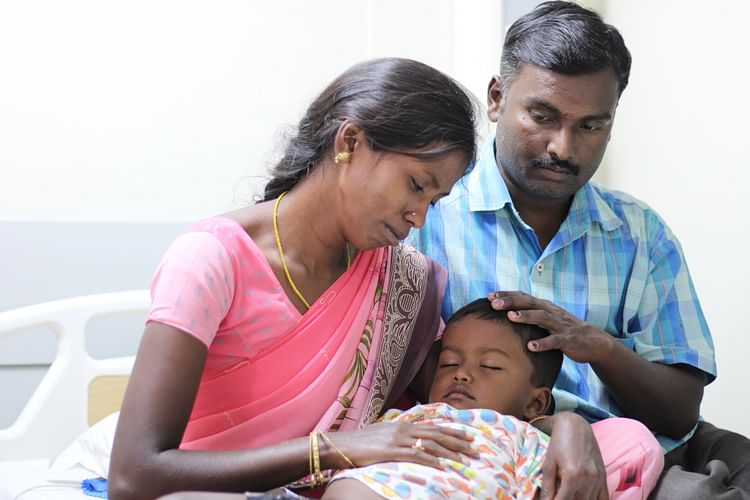 "

I seldom get called for jobs these days. On days there's work, we have two meals. On days there's no work, we skip our meals

, and just feed the kids. It's a difficult life we need. But it had never been this difficult.

All I need is money, to save my dear son's life; and that's the one thing I don't have.

I am in desperate need of help. Please." – Settu, father.
Your generous contribution is the only thing that can let little Dinesh live a long, happy life. Click here to save him.