Sachitra Lilhare struggles to keep her tears at bay, as her son lies in the hospital grappling with a high fever. His upcoming chemotherapy cycle had to be put off until his temperature reduces. The disease that is coursing through the little boy's blood has made him lose his appetite, leaving him looking so fragile that she is scared to even touch him.

Her life changed overnight when her 7-year-old son, Dayitva, was diagnosed with Acute Lymphoblastic Leukemia, a severe form of blood cancer. Every day she wishes she could turn back time to when he was happy and healthy. But the only thing that can save him now is timely chemotherapy, and without proper income, his parents don't know how to pay for it.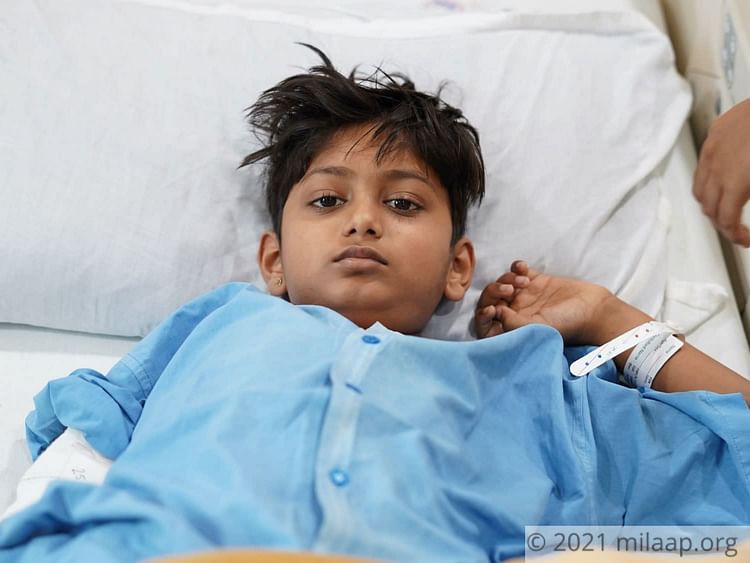 I was completely shattered, how could this happen to my child...
It all started about a month ago. Dayitva had been his usual chirpy and playful self, but suddenly he came down with a high fever that persisted for days. That was only the beginning, and as the days went by, his symptoms got more severe.


"He came to me saying 'Mama, my head hurts a lot'. Then he started throwing up everything he ate, and we saw traces of blood in his vomit. I knew instantly that something was wrong. We took him to our family doctor who said that his condition looked serious and referred us to a bigger hospital. We were asked to get some tests done and from the results we got to know that he had blood cancer. I was shocked and completely shattered. I kept thinking 'How could this happen to my child?' I didn't ever imagine that my family would have to go through such misfortune.." - Sachitra, mother

His platelet and white blood cell count keep fluctuating
From their hometown in Madhya Pradesh, Sachitra and Nandkishor were asked to bring their son to Nagpur to start his treatment immediately. Dayitva has finished one cycle of chemotherapy so far and is showing small signs of improvement. But his regular tests show that his platelet count is low and white blood cells (WBC) count is higher than normal, which is why his temperature keeps fluctuating. He is currently on antibiotics to treat his recurring fever and will need to resume his chemotherapy soon, but his parents are unable to keep up with the expenses.


Dayitva with his parents, Sachitra and Nandkishor Lilhare
Without a job, his parents have no way to pay for his treatment
The only way Dayitva can recover from this disease is if he receives the full course of treatment that he is prescribed. Because of the pandemic-led lockdown, Nandkishor, a private employee, hasn't been able to work. They have spent over INR 1 lakh rupees so far on their son's medical expenses, but that is not enough to save their son.


"I feel so helpless right now, unable to do anything for my son. The only way I can save him is by paying for his treatment, and I can't even afford that. All the money I have spent so far is by borrowing from friends and family. Dayitva needs to continue with his chemotherapy, but I just don't know what to do or how to afford it. Any delay in his treatment can hinder the progress he has made so far, and I'm terrified I will lose my son. But where will I get INR 6.1 lakhs from?" - Nandkishor, father
You are their only hope. With your contribution, Dayitva can get the treatment he needs to recover, and Nandkishor and Sachitra can have their bubbly boy back in their arms. Click here to donate.