"The first time it happened at night. He was just sitting, smiling at something my husband had said, when all of a sudden his face scrunched up and he doubled over. When we rushed to his side and lifted his head... he had fainted, blood pouring out of his mouth!

We pray hard every night, but our son is running out of time. He needs a bone marrow transplant as soon as possible, otherwise he won't survive...

"

— Babu, father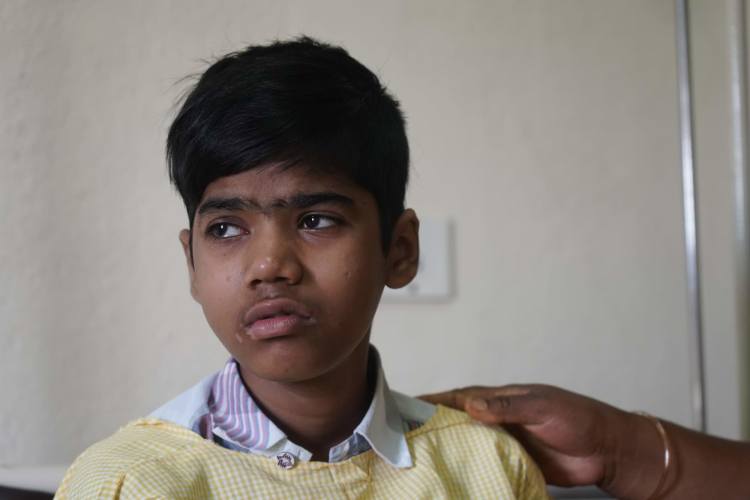 Until 5 years ago, young Dasip was like any other boy his age. But, one morning he developed a stomach ache that just kept getting worse as the days passed. He had problems with digestion all his life, so stomach aches weren't new. This time the intensity and duration were a lot more.
"No matter how many clinics we took him to, they weren't able to give us a proper diagnosis. It went on like that for years! In the meantime, we tried managing his pain with medicines, but we knew only a proper diagnosis could lead to proper medication and, eventually, relief. For a while the best guess was TB.

We had no idea his actual condition was far worse!

" — Jerena, mother
Rare immunodeficiency is killing their poor boy
"Finally in 2019 we came to know Dasip was born with a bad immune system, and that was the root of all the problems he was facing. But the worst part was when they told us he only had 2 options for treatment - either a medicine that cost 17,000 rupees per dose, or a bone marrow transplant that could cost up to 20 lakh rupees! Though both options were far beyond the reach of a poor man like me, it felt like at least I might have a chance with the medicine. So I started working day and night, saving up as much as I could, and started getting him the treatment. But then the pandemic happened..."
The pandemic nearly killed Dasip, cutting off access to medicines
Once the pandemic took over the country, Dasip's family knew the clock was ticking over his head, more so than ever before. Though Babu tried his best, young Dasip ended up missing a few doses of his life-saving medicine.
"During the pandemic, each day I ended up having to take more and more out of the money I had kept aside for his medicine to prevent the rest of my family from going hungry. In September, he became so critical he fainted and started bleeding from his mouth! As I rushed him to the hospital that night, it had felt like he only had 5% of life left in him!"
Only a bone marrow transplant can save him now
Babu is a saree-weaver in his village, and Jerena helps him in his trade. All this couple has ever known is poverty, but they still had each other, and that had been enough. Dasip's condition is more critical than ever. He's so weak that he broke his leg when he slipped and lost balance in the bathroom. Because of his ineffective immune system, he's at a terrible risk of losing his life, if not just his leg, simply from infections.
Over the past few months, Babu has already spent the money he had been saving for decades for his daughter's marriage. They have nothing left; just the hope that someone like you will save them from this nightmare. At the moment Babu is still trying his best to gather more money while Jerena stays with Dasip at the hospital.