"We were supposed to take him back to the hospital this Monday. The doctors told us very clearly that his condition is getting worse by the day, that if he didn't get his treatment in time... that he could die!

But how will I admit him in the hospital for his treatment when I can't even afford to feed him anymore?! I don't even have 20 rupees left in my pocket!

"

— Mareppa, father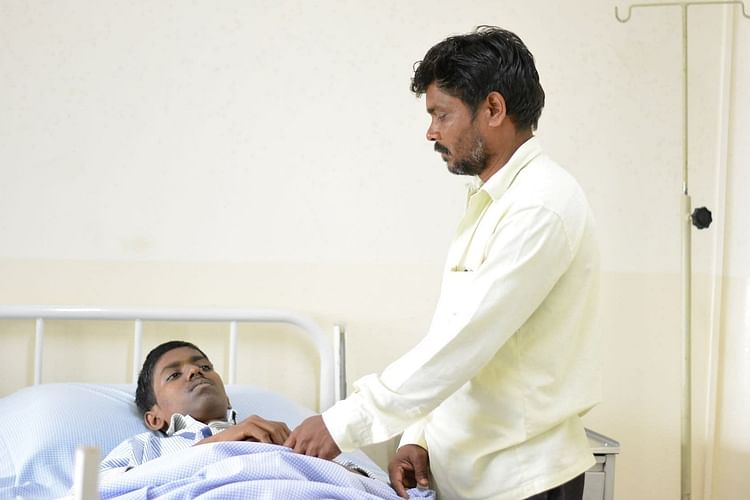 Basanna and Mareppa, the last time he was admitted in the hospital
Mareppa's fight to save his son's life began all the way back in January. 17-year-old Basanna became inexplicably sick over the course of a few days, high fevers and extreme weakness leaving him confined to his bed for the most part. For weeks Mareppa and his wife dutifully took him to their local doctor, who thought that it was dengue perhaps, and prescribed medicines accordingly. But on the 26th he became so sick that he needed to be hospitalized.
"I spent all my savings on his treatment there, only to discover that whatever he was suffering from was far worse than even dengue! The doctor told us to rush him to Bangalore if we wanted him to live..."

— Mareppa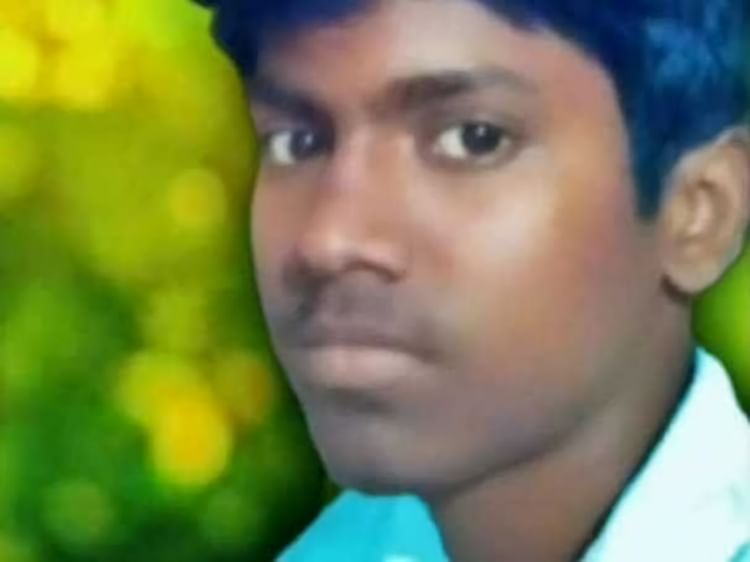 He's been suffering for 8 months now
"

Once we got here we got to know that Basu has an extremely severe blood disease, and needed intensive treatment.

I immediately sold what little land we owned back in my village, and with that money we moved here to Bangalore. Our two other children came too, as Nagamma and I don't really have any other family who would take care of them.

Basu has been in and out of hospitals ever since. Each time we pray that it's the last time but... My poor boy's suffering just won't stop!

It's been 8 months now and I don't know what to do anymore!"

— Mareppa
He cares more about his family than the pain he's in
Even as a child, Basanna was very mature and responsible. Once he stepped into his teens, this became even more apparent. Seeing both his parents struggle to earn money doing manual labor, just so they could feed him and his siblings thrice a day, young Basanna insisted he wanted to open his own mechanic shop to earn extra money. The poor boy had admitted to them that he didn't want to be a burden. If he felt that guilty then, one can only imagine how he must be feeling now, seeing his parents spend every last rupee they have on him.
"I try and tell him not to worry about us, but he's still so quiet and sad all the time.

It's like he cares less about his own pain and sickness, and more about Nagamma and me! If he finds out that we've spent even the money we had kept aside for his siblings' education...

"

— Nagamma, breaking down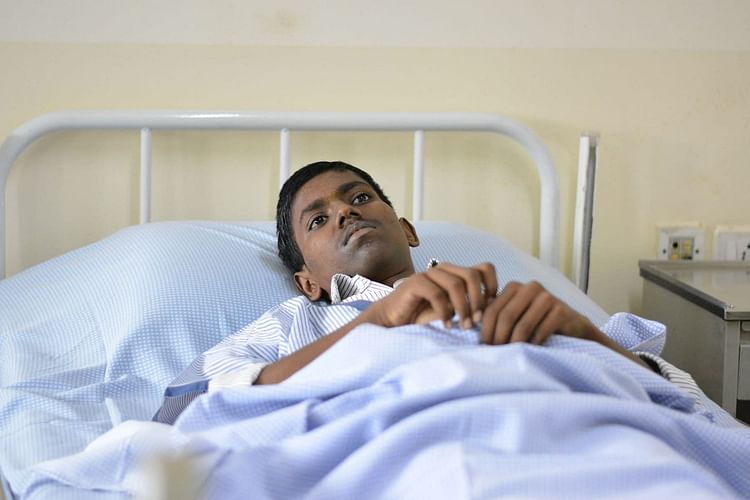 His only hope is a transplant his parents could never afford
Aplastic anemia is a condition that occurs when your body stops producing enough new blood cells. The condition leaves you fatigued and more prone to infections and uncontrolled bleeding. A rare and serious condition, aplastic anemia can develop at any age. Basanna has the absolute worst form of it: Very Severe Aplastic Anemia (VSAA). His only hope is to get a stem-cell transplant from one of his siblings within the next week, but the cost is just too high for his parents.