Malathi and Mallesh longed to have a baby and wondered if they'd ever have a shot at being parents. For over 3 years they'd been shuffling from one clinic to another, hoping to find answers to their problem. Though they kept telling themselves that it would happen when the time is right, they hoped it would be sooner rather than later. And when it finally did happen, they were over the moon.

Malathi learned that she would be a mother to twins and Mallesh was overjoyed that he'd have two babies to dote on. But as fate would have it, their babies were born prematurely and have spent every moment of their lives in the NICU. They were diagnosed with respiratory distress and need to spend at least another month in the NICU, but the parents are struggling to afford their treatment.


From her 4th month of pregnancy, she would bleed frequently
"When I just started my second trimester, I started having mild pains in my belly. Then I realised I was bleeding and it wouldn't stop. I was terrified I was going to lose my babies. When my husband took me to the doctor I was told that our babies were doing fine and that I needed to be on complete bed rest henceforth. I was even prescribed some medicines to stop the bleeding, but 15 days later it started again and lasted the rest of my pregnancy. Everyday, I feared that I would lose my babies, and spent practically everything we had on just the doctor visits.." - Malathi, mother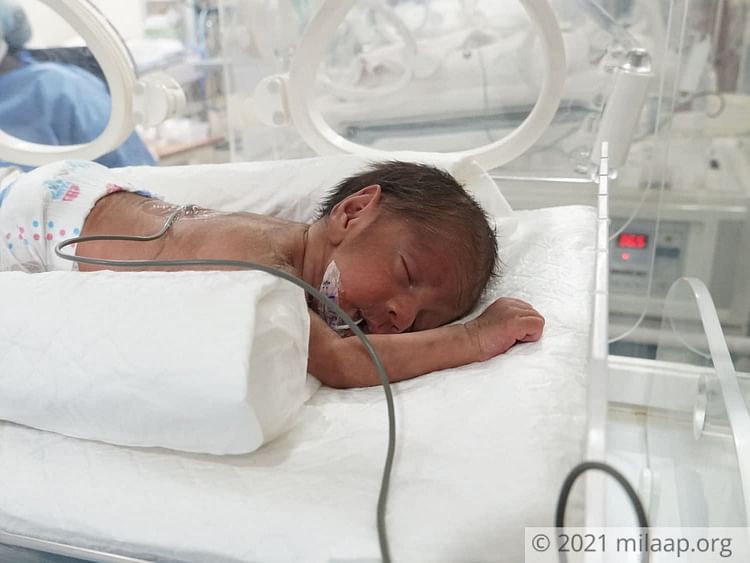 She gave birth when she was only 7 months along
By the time May rolled around, Malathi would bleed frequently, and one morning, she realised she was having labour pains. Her doctor advised that she return to the hospital immediately and undergo a c-section delivery, or she could lose her babies.


"We weren't expecting it to happen so soon. She was only a week away from her 8th month mark, and still had another month to go. But the bleeding wouldn't stop and every few minutes she would cry in pain from her contractions. Our babies, a boy and a girl were born at only 7 months, and immediately rushed to the NICU because they couldn't breathe on their own. They were so small and weak. They were placed inside an incubator where they will need to remain for the next month or so." - Mallesh, father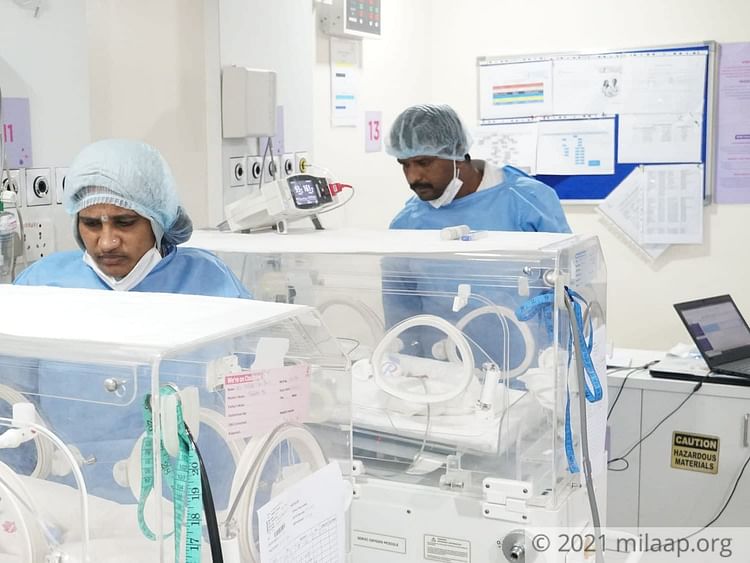 A farmer by profession, Mallesh cannot afford the expensive treatment his babies need
The babies are showing signs of recovery, but they need to spend at least another month in the hospital to be given a clean bill of health. Their parents have spared no effort and spent over INR 1 lakh so far by taking loans and selling all their valuables to pay the hospital fee, but it is not nearly enough.


"I am just a farmer, and barely earn enough to keep us going. My income depends on the yield from my small farm and this past year, the condition has been pathetic. I have been toiling away in the field hoping for a decent harvest, but with no rains it seems hopeless. 5 lakh rupees is an amount I could only ever dream about, where am I supposed to get it from? We have no one else to turn to for help, but you. Please help us save our babies…" - Mallesh
Malathi and Mallesh have waited years to be parents, and now that they finally have their babies they have to watch them fight for their lives. You can help them save their babies. Any contribution you make will support the babies in their recovery. Click here to donate!