Dear Supporters,
My child is currently admitted at the rehabilitation center. He is still in coma. He can't undergo surgery as his body is very weak and he will not be able to tolerate the surgery and recover from it. As of now, he is on constant medication for gaining strength.
It is very stressful that the surgery is getting delayed but there is nothing we can do about it but pray. Please pray for my son's health and recovery.
Thank you so much for all the support and love you have given to my son.

Regards,
Ravinayak, father
In an emergency procedure, doctors have had to remove a huge portion of this little boy's skull. Nuthan, Ravi and Lavanya's only son, has been slipping in an out of a coma for more than 4 months now.
"We just want to take him home... He has suffered so much, and he's just 10 years old. Doctors are saying his brain needs to heal for 6 months, but we can't afford so much medical care! Because of our poverty, our son is just going to lie here unconscious with half his skull missing, until he eventually passes away!"

— Ravi, father, overwhelmed with tears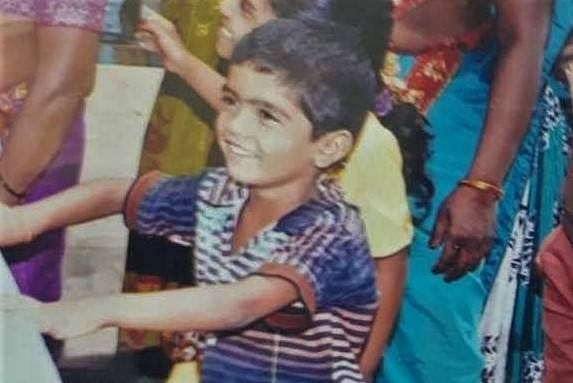 Little Nuthan was at his hostel, excitedly packing for Sankranti (Pongal) holidays in January, the first time it happened. His friends saw him suddenly freeze up, and then collapse onto the floor, having severe fits. By the time he reached the hospital, he was unconscious.
"They did so many scans and tests. With each one we got more scared and less hopeful. Finally, after a special type of MRI was done, we discovered that not only did he have a rare brain tumor, parts of his brain were dying!"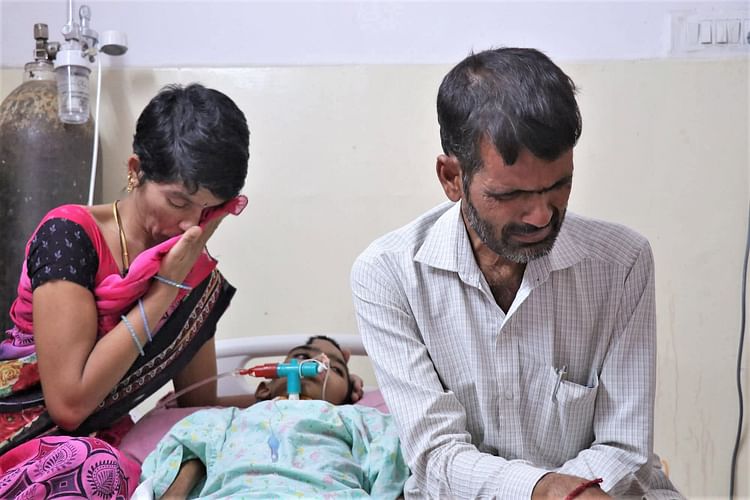 Their son's first brain surgery only gave him 1 month of relief
Over the next few weeks, despite medicines and ICU care, poor Nuthan suffered at least a dozen more severe seizures, each one greatly damaging his brain. He could no longer talk, or even sit up.
"Each time he had a seizure, we were losing more and more of our son! So we got him an emergency surgery to remove the tumor, and it did make him better for a month or so. He started talking again, and one time he even smiled! But just a day after we finally took him home, he was about to sit and eat breakfast when he suddenly had a seizure that lasted nearly 5 minutes. Then he went into a coma!"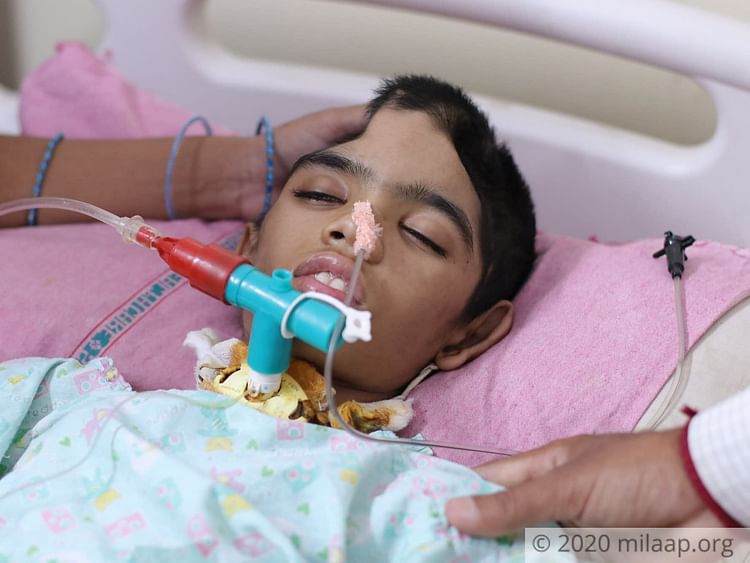 They had to remove half of their son's skull to keep him from dying
After such a severe seizure, little Nuthan's brain was so swollen that it was getting crushed inside his own skull. His parents had no choice but to let the doctors remove one side of his skull so that the extreme pressure on his brain wouldn't kill him. He's been in a rehabilitation center ever since. He needs to stay for at least another 6 months so his brain can heal, and then his skull can be replaced. These parents can get their son back. But Lavanya is struggling to afford all these costs. She already owes 10 lakhs for the surgeries so far.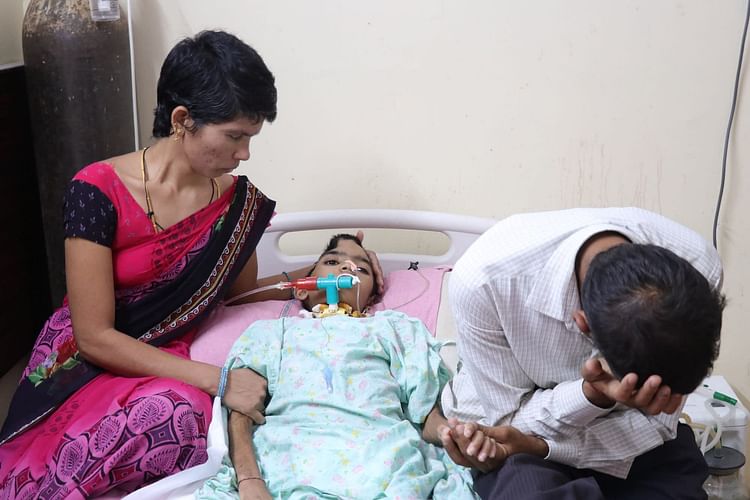 They're desperate and helpless, they just want to get their son back
"I have polio and can't work, so it's my wife who farms and does manual labor to support our family. She has afforded all of our son's treatments so far but... we've run out of money now. She's so used to being strong that even now she's trying to be so, for him and for me, telling us it'll all be okay. But

I can tell how distraught she is! I am too, but we're helpless now! My whole life I've had to struggle with the fact that I can't earn or do as much as other people can because of my legs, but this is just...

"