After 3 years we finally know what my daughter is suffering from. They say it's a genetic disease, that any children we have will have it.

This means that... that Aliya is the last child I'll ever have, I can never be a mother again! And yet she's dying right here in front of my eyes, and we're unable to save her...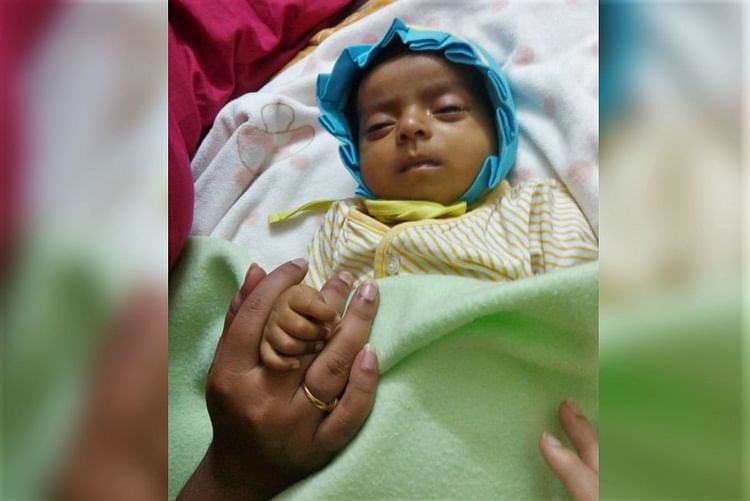 This little one has been suffering since she was born
Aliya was born to Ali and Kashifa with her life already in danger. Her eyes and skin yellow, she was diagnosed with jaundice. Thankfully, 5 days in the ICU had seemingly cured her, so she was sent home.
"But within the month she was sick again, and doctor said it had something to do with her liver.

For two weeks we got her all sorts of tests, until eventually he told us that it seemed like a very serious issue because he still wasn't able to diagnose it.

He said that we should go to Hyderabad immediately."

— Ali, father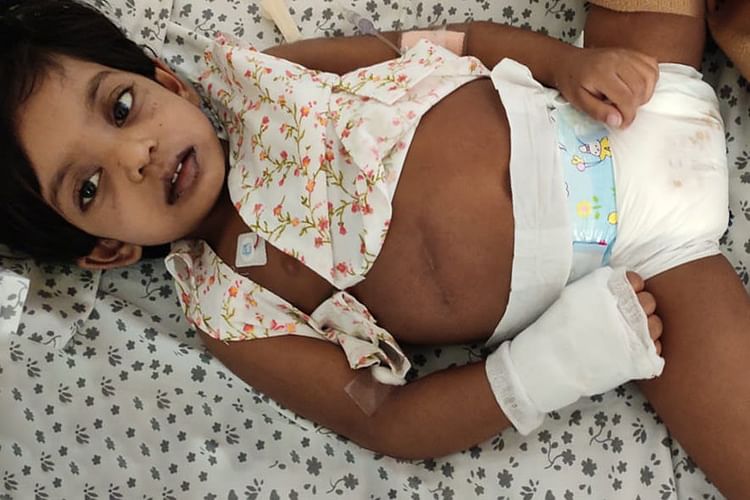 Aliya still carries the scar from her first surgery
She was just 44 days old when she got her first surgery
"We reached Hyderabad around 4am the next day and rushed her to the hospital our doctor had recommended. They ran more tests for 2 days so they could do a proper diagnosis and cure her with just medicines. But even they couldn't!

They said we shouldn't risk waiting any longer as she was getting weaker and weaker, and so she was taken in for liver surgery. But then that failed too! We thought we were going to lose her then, but my brave angel kept fighting.

"

— Kashifa
They celebrated her 1st birthday with great pomp and ceremony because they thought she had defeated whatever her disease was
Each time they thought she was cured, she'd fall sick again
Over the past 3 years, poor Aliya has gotten critical multiple times. A year after the failed operation, it had seemed like the worst was behind her. When she turned one, it had felt extra special because not only was it her birthday, nobody had predicted she would survive that long. And yet just days later Aliya fell ill, her stomach bloating painfully — a common symptom of liver disease. After trying a different treatment she recovered, only to fall sick yet again. This cycle of 'sick, then healthy, then sick again' happened so many times over the years that even when she was healthy, her parents would worry it was only temporary. They lost all sense of peace and contentment, living their life in the constant fear that, at any moment... their daughter could die.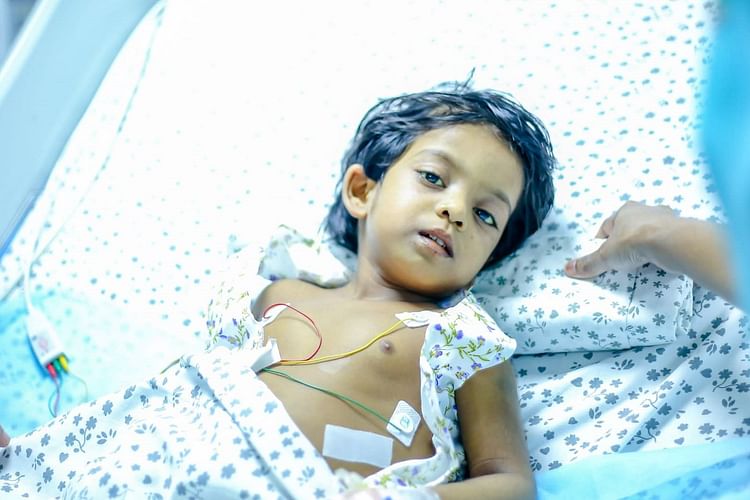 She's now more critical than ever, needs an urgent liver transplant
"Last week Aliya became more critical than she has ever been before. Doctors did some tests and were finally able to diagnose what her disease is, but it's too late for medicines now.

They're saying if she doesn't get a liver transplant in the next 24 hours, she won't make it! After fighting for 3 years, we don't want to lose her now. I also lost my mother to a heart-attack just a few weeks ago, I cannot take any more pain. Ali has decided to be the donor, but we can't afford this expense!

He lost his job working in a coal factory when the pandemic hit. You're our only hope now!"

— Kashifa, pleading