Bhanu held the little baby in his hand and looked happily at Julie. The baby was absolutely healthy, 3.5 kgs with no health issues. The couple took him home and named him

Akshat

after Lord Shiva. They were extremely happy but their happiness lasted only for a while.

Akshat couldn't breastfeed or digest milk and it was 2 days since he had any at all. Worried, Julie and Bhanu took him to the hospital where they were told that Akshat has Ileal Volvulus, a rare but life-threatening surgical emergency for which he underwent immediate surgery. But the condition also led to sepsis, bacteria infecting bloodstream and pneumonia, which is too severe for this little baby.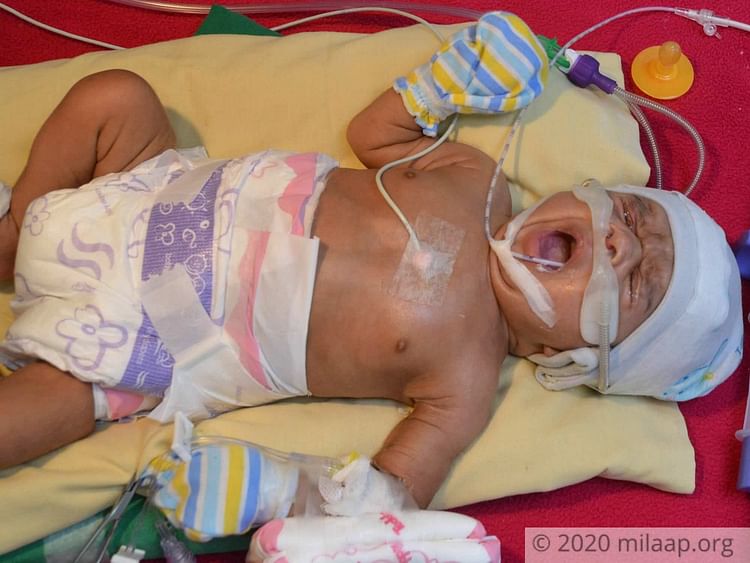 I cannot imagine life without him, I don't want to
Even after the surgery, Akshat faced a lot of trouble digesting the milk. Whatever was given to him, he would vomit and glucose alone was not enough for his nutrition. For two entire weeks, the doctors tried different kinds of milk to see if anything suits him. They finally found one supplement but just 400 ml of that costs them Rs 3000!


"I watch him gasping for breath sometimes and my heart starts beating fast out of fear. I just don't know what to do at the moment. Doctors say he will be okay but how do I calm myself when I watch him like this? I cannot imagine a life without him and I don't want to…we can't even afford a milk packet for our baby how will we..."- Julie, mother

3 weeks more in NICU to fully recover
"My wife is allowed to see the baby, so she stays with him till evening 5 o'clock. After coming back home, she eagerly waits to see him the next day. She stays very silent you know, we both do… and whenever we try to talk about him, tears fall down unknowingly,"- Bhanu,father

Akshat's condition is getting better now, but he still needs to be in the NICU for at least 3 weeks to completely recover. But Julie and Bhanu cannot afford even a day's stay anymore. They have already exhausted all they had and borrowed all they could, they are helpless.



I am failing to save my son, I don't deserve to be a father
"After my parents passed away, Julie and I started afresh. My little boy Akshat completed us and I was confident that my income was enough for us to live happily. But all of this is so unexpected I am failing to save my son...I feel like I don't deserve to be a father."

Bhanu works at a printing press as a machine operator. Every day he comes to work with a heavy heart and all he has in his mind is his little boy. He longs to see him and prays that he will be alright by the time he gets back. He fears every second that he might lose him.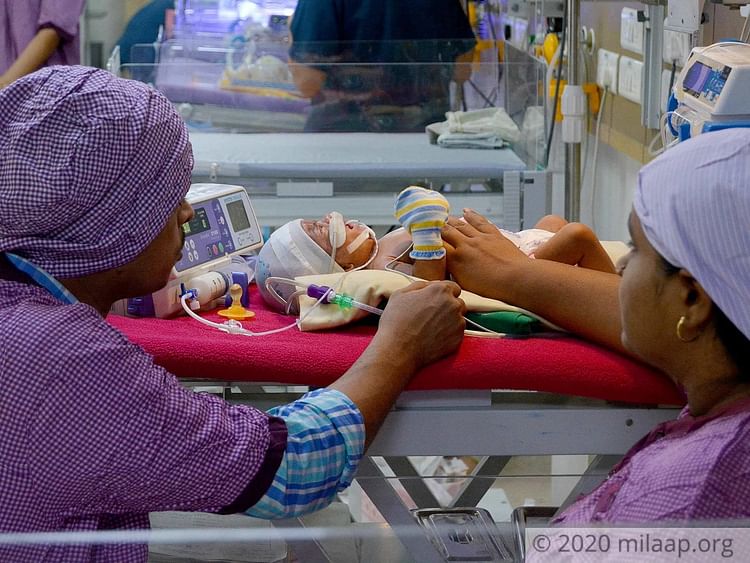 You are their only hope. Your generous contributions can save little Akshat. Click here to contribute.