"Suddenly he lost interest in his studies and always complained of feeling tired. I thought he used to cycle to his tuition in this heat so it could be because of that. Once when we were all having dinner then he vomited blood all of a sudden and shouted 'Ammi, I can't see, it's all black'! At that moment, I was terrified and rushed him to our friend who is a doctor." - Rahmatun, mother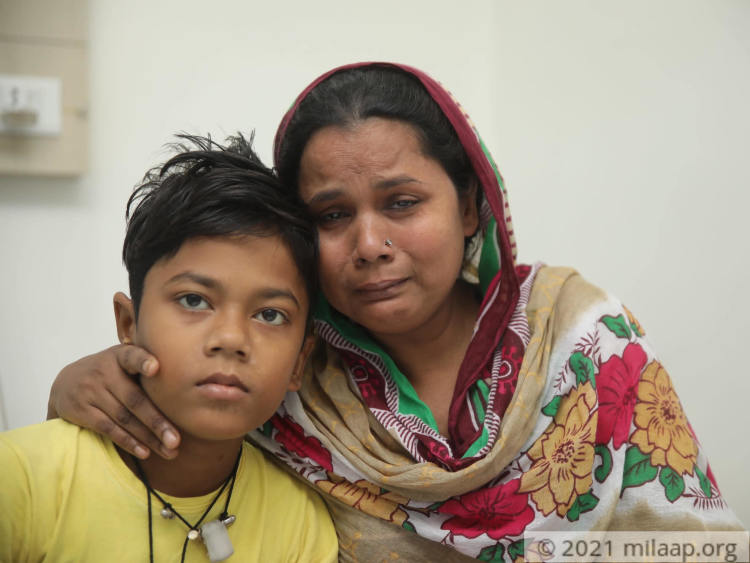 The whole family crumbled with Abdul's devastating news of cancer
Abdul's parents, Abrar and Rahmatun, have no idea how their son fell so sick overnight. He is just 12 and has an active lifestyle so how could he have Blood Cancer? But Abdul's reports said otherwise and confirmed that he is suffering from Acute Leukemia. Now, he needs Chemotherapy and Blood Transfusions to battle his cancer.
"My friend broke down in front of me after seeing Abdul's reports. He wasn't telling me anything. He just looked me in the eyes and said he was sorry. I couldn't understand anything but seeing him cry like this and utter the word 'cancer' made my wife faint. Even before I could process anything, I saw my whole family crumble before me hearing this devastating news."- Abrar, father
Her sister dropped out of college to save her fees for his treatment
When Abrar got to know that

Abdul's treatment would cost them 10 lakhs

, they immediately asked their relatives to help them out. Being a tailor, he could hardly arrange more than a couple of thousands from his savings. Having no other option, Abdul's sister agreed to drop out of her college to save some money for Abdul's medicines. She sold her phone that she had got to attend her online classes during the lockdown.
"Nothing is more precious than my brother's life. I wanted to study hard and become something in life just so that I could give a comfortable life to my parents and brother. They have always struggled to fulfil our dreams and now with Abdul's treatment costs, they are blaming themselves. I wish I could ease their pain away. If my brother won't be alive to see his sister do well in life, then my dreams hold no meaning."- Aljiman, sister
His cancer symptoms are showing up all at once now
This family has been trying to stay strong but seeing Abdul get so weak and feeble, is making them question God on what mistake their young son had made for making him suffer so much.

Abdul's appetite has gone and he has lost more than 5kgs in just a week and frequently keeps bleeding from his gums and nose. His fever and headache don't come under control despite medicines

. All these symptoms of cancer are ravaging Abdul's body.

It has been a few weeks since Abdul was diagnosed with Blood Cancer. With prompt treatment, he can recover very soon. His parents have been begging in front of every person they know to help their son out. But their financial condition is preventing them from being able to provide for Abdul's chemotherapy.
Their only chance of saving their son is now in your hands. Please help these parents afford Abdul's chemotherapy by clicking here.