Picture this: Your school is closed, your parents have lost their jobs, there is zero learning accessibility, no one to guide you, and you are exposed to domestic violence and substance abuse. Do you have a high chance of pursuing your studies or would you be more likely to drop out?
Unfortunately, this is not a thought experiment; it is a reality for children in the Saradhapali and Munda Sahi slums of Khandagiri and Baramunda, Bhubaneswar, Odisha, where the crisis is exacerbated by the COVID-19 pandemic.
A real-life story: Ravi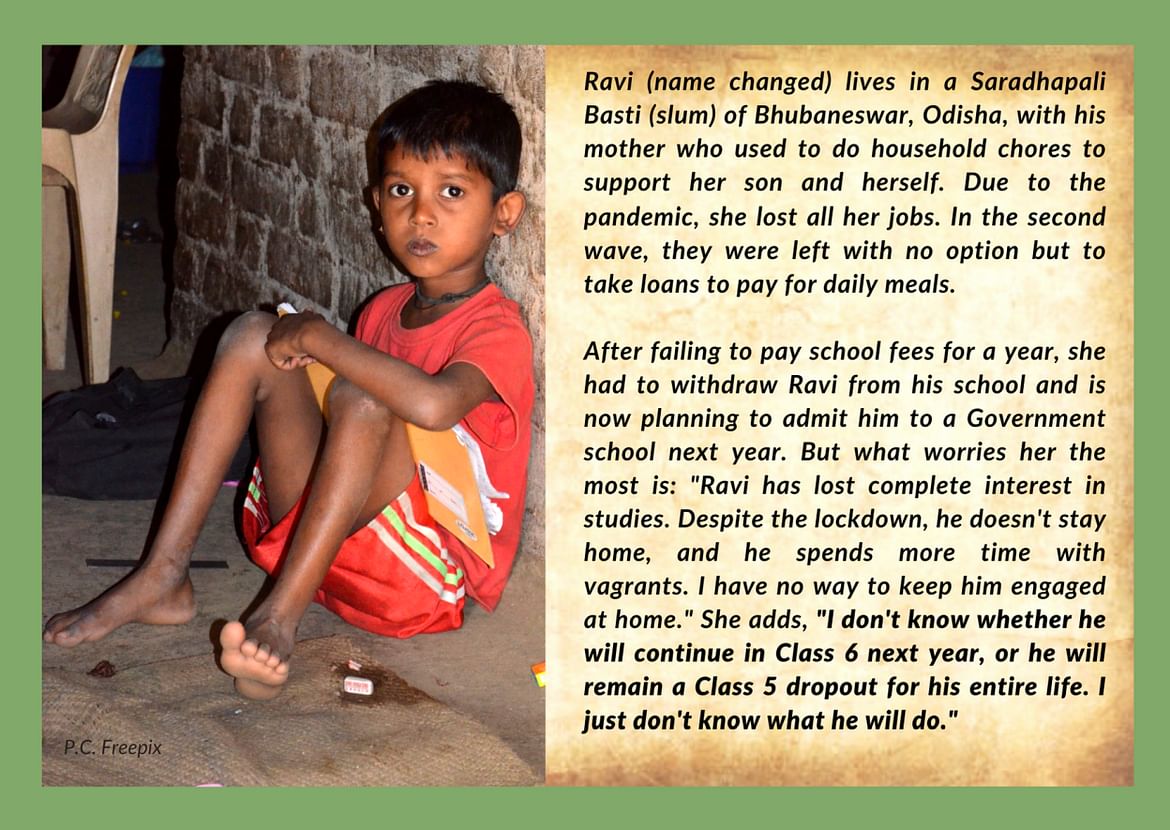 During a crucial moment of their formative years, thousands of impoverished children in Bhubaneswar—like Ravi — have lost their means of education as well as their essential social connections. Further, according to the Annual Status of Education Report (ASER) 2020, only 50% of children in Odisha had access to smartphones during the pandemic.
Despite the glaring challenge faced by these children, there were minimal to no interventions in place addressing their needs
.
Our COVID-19 response: Accessible, fun, quality education that develops creativity
Since April 2020, Unmukt has been continually working to impart education by engaging children from urban slums and an orphanage in Bhubaneswar through two projects - one online and the other offline: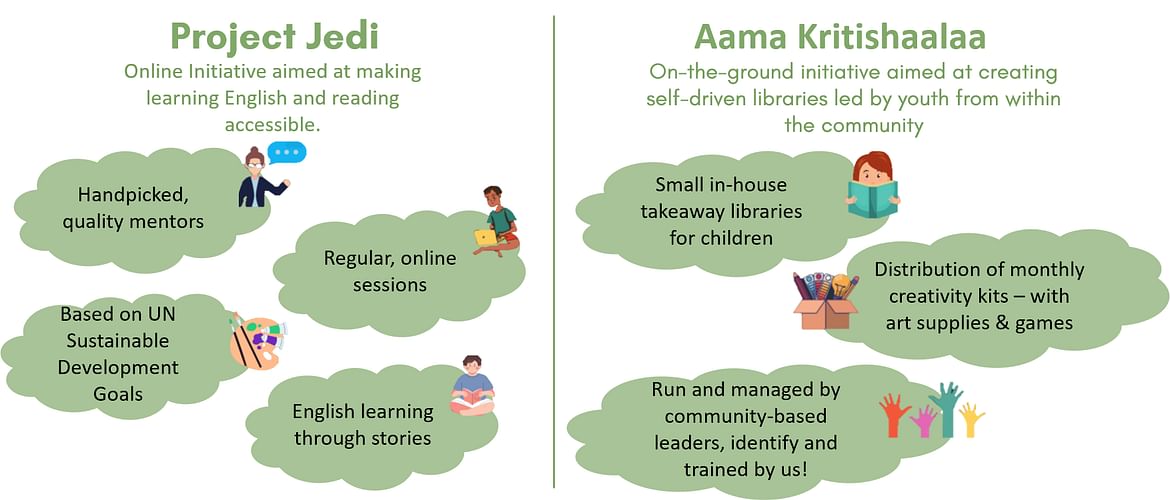 Unmukt's Online Initiative: Project Jedi
Aiming to provide these children with ongoing mentorship as they learnt English, the project connected each child with a "Jedi" mentor armed with empathy and solid professional qualifications (MBA, B. Tech, etc. from IIMs and IITs) looking to make a difference at the grassroots level.
Read more!
Impact of Project Jedi
Children enrolled in Project Jedi have markedly improved their cognitive, reading, and communication skills. Some of them are even learning to code!
Thanks to collaborations with NGOs including U and I, Back to Village, and Aarambh, we have expanded the Project Jedi programme beyond Bhubaneswar and into rural areas of Bihar and Jharkhand.

Unmukt's On-the-ground Initiative: Aama Kritishaalaa
Aama Kritishaalaa, or, 'our creative library' in Odia, was launched to counter the lockdown's deleterious impact on the education and mental health of underprivileged children. This project transforms community youth into dynamic leaders who lead and manage community libraries, each of which caters to the creative learning and reading needs of 20-25 children.
Read more!
Impact of Aama Kritishaalaa
Within one month of our pilot community library project, children had borrowed
100 books to read
, and had spent
over 2 hours daily solving puzzles!
Several of them finished their drawing books and are now eagerly awaiting their next kit. And, gratifyingly, their parents are relieved to find their children safely and happily engaged in quality learning at home.

One of our success stories: Ankita!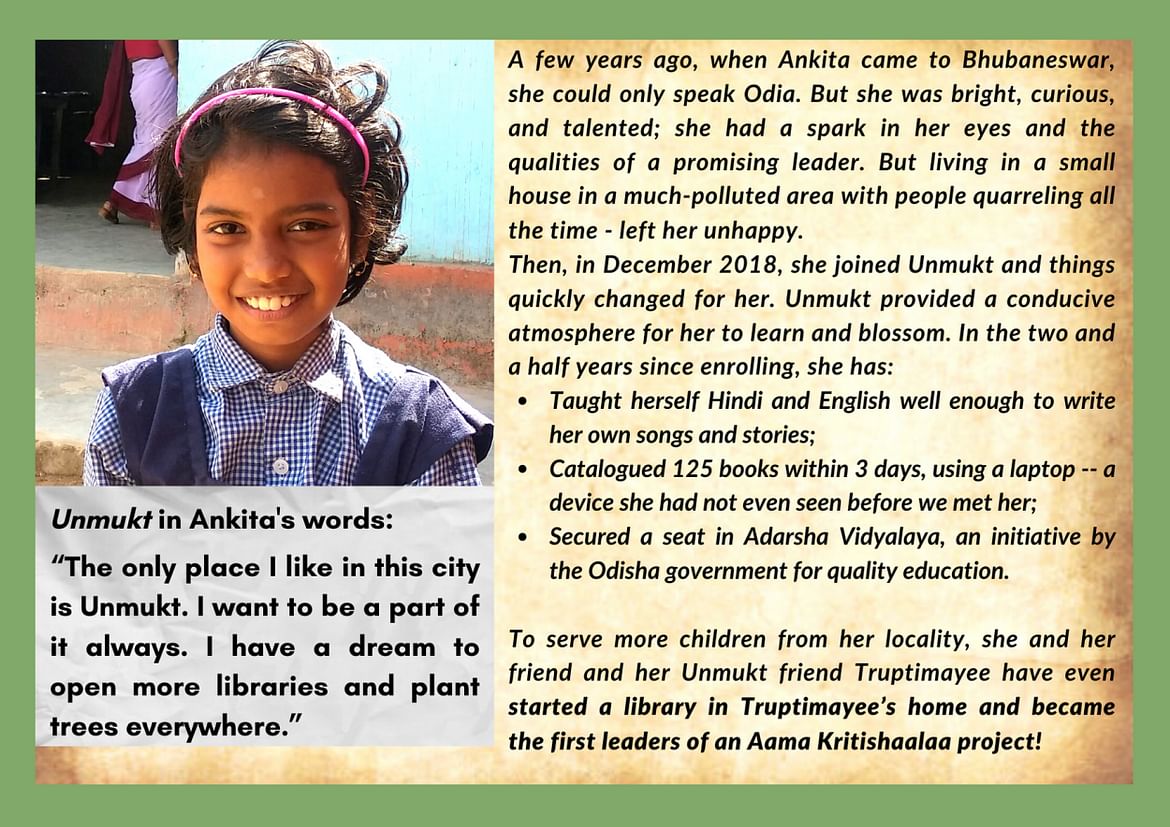 Here's what we can do with your support:
Develop comprehensive, sustainable, and long-term projects that ensure under-served children do not miss out on quality education and cognitive development due to the current crisis.
Ensure that the children remain emotionally stable by always having access to learn from a friend/guide they can talk to and share with, and ensure they are not subjected to child labour, abuse, or neglect.
Increase the number of children under the umbrella of each of our two projects.
So far, we have reached more than
130 children
through these programs, who engage regularly with us and are creating wonders each and every day.
Now, with your help, we aim to expand our reach to at least
500 under-served children.

How can you contribute?
Working in the urban slums of a Tier 2 city comes with its own challenges where the resources are scarce and people lack awareness. Therefore, we need to raise
INR 21 lakhs
in order to sustain these
crucial projects aimed at ensuring that the children have access to quality education.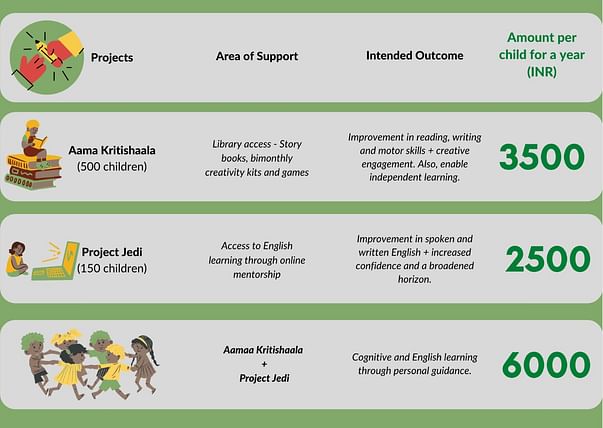 Your contribution of INR 6,000 will help turn around a child's life right when it matters the most.
We believe these times require an extraordinary effort from a multitude of people and organizations to ensure underprivileged children have access to education. Join us to make this world a little better than today
About Unmukt Foundation

Founded in 2017
in Khandagiri, Bhubaneswar, and
registered as a Trust under the Indian Trusts Act, 1882
, Unmukt Foundation works through Unmukt Learning Centre (ULC), which provides under-served children access to formal and non-formal education to supplement their schooling. Unmukt reimagines education with a core belief that motivated, inspired children find their callings, develop their skills and talents to contribute to resolving the crises dominating their lifetimes.
Unmukt is one of the few non-profit educational entities in Bhubaneswar, Odisha dedicated to this important cause.
To date, Unmukt has run on a completely voluntary basis. Right now we are seeking funds to expand our reach in this dire, pandemic-induced crisis where the well-being and learning of economically backward children has been tragically ignored.
Know more about us