Mountain Village Foundation started in 2018 to empower children and youth by providing access to opportunities for skill development and entrepreneurship.
The Challenge
Our Programmes
- LITTLE ENTREPRENEURS: Educational program aimed at equipping children with 21st century skills (collaboration, creativty, critical thinking, communication and problem solving) and develop an entrepreneurial mindset through a project based learning approach
- PRARAMBH: Youth Skill Development Program that trains village youth on how to make marketable products to earn a livelihood.
KEY HIGHLIGHTS
MVF has partnered with 5 schools to train their teachers to conduct the Little Entrepreneurs Programme with their students. The schools are spread across Berinag, Uttarkashi and Nainital. Due to the ongoing pandemic, we too went online to train teachers from 3 of our Partner schools online.

MVF also runs 2 after school learning centres to provide a number of opportunities to children. Children learn English speaking and reading, maths, computers and learn 21st century skills (creativity, collaboration, communication and critical thinking) along with developing an entrepreneurial mindset.

We participated in a program by Pratham Books' Storyweaver. This helped us to bring to children stories related to life skills along with learning English.
Students from our partner school, Cantt Board Primary school, amplified their voices on the importance of no-plastic use and re-use waste with a diverse audience at Himalayan Echoes 2019 (Kumaon Festival of Literature and Arts) by displaying Himalayan themed planters created by them during MVF's workshop.

In order to teach students the importance of soft skills like teamwork and creative thinking, MVF organized a week long workshop that prepared students to organize a puppet show sharing self-created stories in front of an audience.

Students at our partner school, Cantt Board Primary school organized an entirely student led event for parents and local citizens on the importance of re-using waste. Through our workshops, students learnt how to write their own poems, prepare their own skit and exhibit their work in front of an audience.

Through our initiative, Entrepreneur Connect, Several young entrepreneurs from fields like restaurant and hotel, travel and tourism, film making etc. and have been invited to share their entrepreneurial journey at the village centres. The interactive sessions were created to inspire and motivate children.

Parents are major stakeholders in their children's development and so monthly home visits have been carried out to educate parents on their children's progress.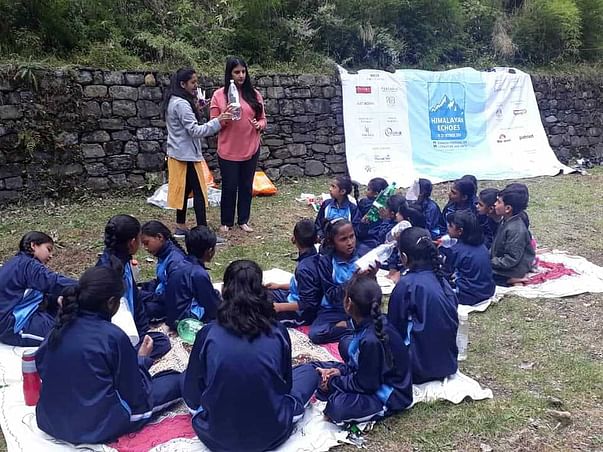 Youth Empowerment Programme: Prarambh
Programme Aim
: Prarambh is a Youth Empowerment Program aimed at equipping skills in the youth in villages in Uttarakhand so they can make marketable products and begin to become financially independent.
Projects:
Aipan Project: Young unmarried girls have been trained in the tradition art form, Aipan. They have been taught the art and how to use it to design and produce quality marketable projects. MVF has trained them and they have showcased their products at Himalayan Echoes the Kumaon Festival of Arts and Literature and at the Sterling Holiday Resort, Jokhia and several local restaurants and cafes.
Quilling Project: Started in 2019, young girls are being trained to make quality marketable products through this paper filigree art form.
For this Diwali, they worked online with our trainer to prepare the quilling products
MVF Clicks Photography Project: Young boys are being trained to take photographs so they can have the skill to earn a livelihood through photography and eventually videography skills.
Why are we raising funds?
We are raising funds to take our projects on skill development and entrepreneurship to many more children and youth. Seeing the success of our projects , in 2021 we aim to support 100 youth and 1000 children by providing opportunities to develop 21st century skills like problem solving, creativity, entrepreneurship, communication, critical thinking and collaboration through our project based learning approach
Children's Programme Funds needed = INR 6,70,000


How can you help?
Support 1 student for 1 month - INR 100
Village Centre
Support 1 Village Centre for 1 month = INR 10,500
Support Computer Training for 50 children for a month = INR 2500
School Project
Support 1 School Project for 1 month = INR 3,000
Support a yearly student event
(end of the year showcase and competition) = INR 50,000
Youth Programme Funds needed = INR 3,30,000

How can you help?
Support 1 Youth Skill Development Project
= INR 5,500
The youth projects are: Quilling, Photography, Aipan Art, Videograhy, Computer Training, Candle Making

If you'd like to know more please visit our website www.mountainvillagefoundation.org. For regular updates, follow us on Instagram, Facebook and LinkedIn.
Thank you so much.