The ongoing COVID-19 pandemic in India, didn't spare our family and we lost our beloved father "Mr. Devinder Singh Dadwal" due to COVID related complications on April 26, 2021. Extremely devastated and shocked, we stand deeply grieved by the loss of one of the pillars in our family. Our father
was/
is
the greatest man, we have ever had the blessing to know and live with. His was the voice that never failed to give us the comfort we needed as well as the best of advice.

This fundraiser is an effort to raise funds for Aryan Dadwal son of Late Mr. Devinder Singh Dadwal to finance his higher education.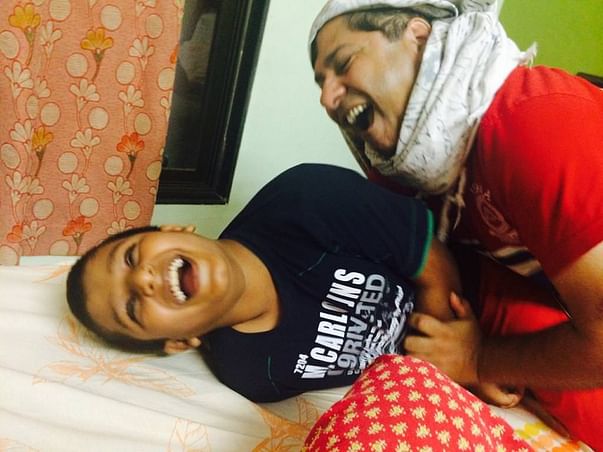 A bit about Dad
Hailing from a modest background, a small village (Mehtiana) in Punjab, father being a farmer, he charted his course through hardships to enter the corporate world. An IIM Calcutta alumnus, he earned himself a successful career rising to be a Marketing Head at a Multinational Company. A man of principle and courage, my dad was always firm for what he believed in, and it is from him that we have learned to stay strong. But Dad was more than just a strong figure, he was also a man of gentle smiles. A jovial persona, everyone who has met him knows how much he loved making people laugh. He was the very essence of compassion and of duty making him the perfect dad in the entire world.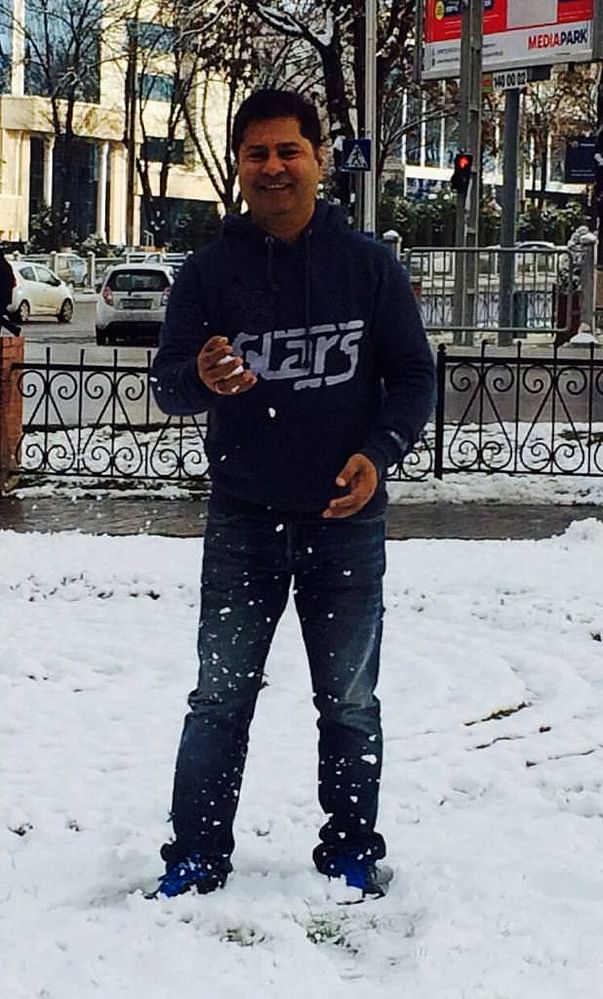 Supporting his son to continue his education

Aryan Dadwal, Dev's youngest child, very recently got admitted into the esteemed McMaster University, Canada for its computer science program. The family's income has dropped exponentially and they are not eligible for loan. Aryan has worked exceptionally hard for the admission into this university, and the only hurdle in his admission is the huge shortage of funds!
Below is the offer letter from the University: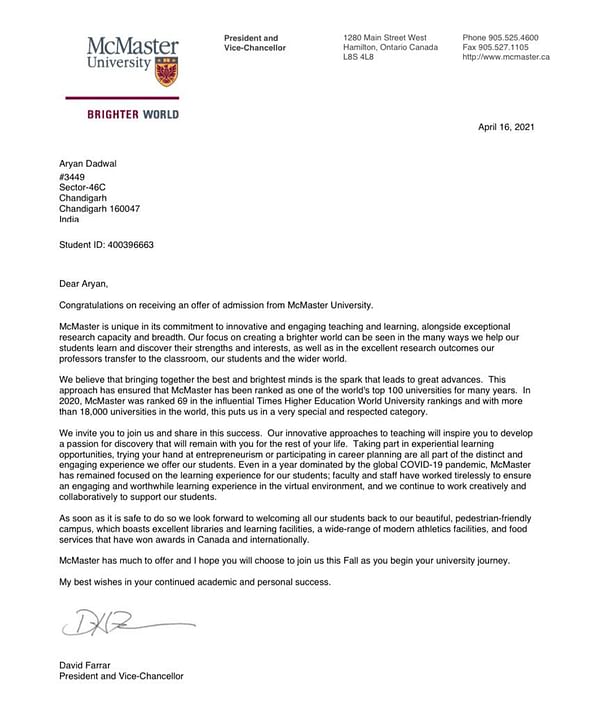 Please Consider Helping! No amount will be small!
FAQ's

Is this genuine?
Yes it is. You are welcome to reach out to the person who is directly connected with this effort:

Aryan Dadwal- (Grade XII Student at Ryan International School, Chandigarh)
Email: aryandadwal2002@gmail.com

How much should I donate?
Any contribution is welcome.

How will the funds be used?
The funds will be used to pay tuition and higher education associated expenses for Devinder's son.

How much money are you targeting to raise?
We are targeting to raise ₹ 1 cr. We've come up with this based on the current funds available to the family, their current pressing loans and the expected expenses to ensure that his son can get a graduate education of their choice in a university abroad. We believe this is what Devinder would have loved to do for his family.

Life as seen through my Dad's lens

Life takes you to different places and through different experiences. It makes you soar new peaks and fall deepest. It makes you happy and it makes you cry. End of the day it makes you realize that you can do only so much. And I am no exception!

Given all the constraints, there is still so much one can achieve. Always reach out to unexplored possibilities and cherish the journey to unknown destinations. You never know, how beautiful the life will turn out to be. Many of you have already been through this, some of you are going through it right now and some of you will surely go through it someday. And I am no exception. Everyone believes and expects a life full of joy, very few really experience it. Because most of you look for your joy in how successful you are in driving your personal goals. Never ever you think about the joy that you get by helping a needy soul, because you think that's not a priority right now, someone else will do that. And I am no exception!
So what I am is no mistake....