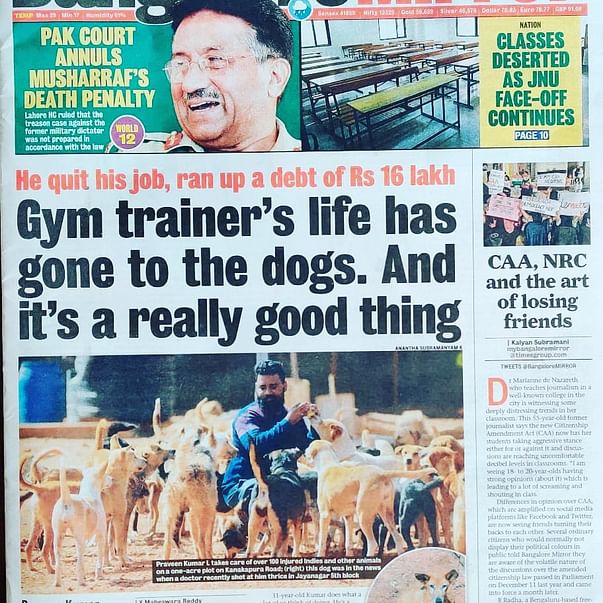 When you see an animal injured that is in dire need of help by the side of the road, do you stop and try to help? Could you even imagine what that voiceless creature goes through?
ABOUT THE FOUNDER

Praveen Kumar L also affectionately called Rider Praveen, is an ex-gym instructor who gave up his job, his means of livelihood, all his and his family's assets and savings to start We Save Animals (WSA) Welfare Trust. From paralyzed, blind, old-age animals to accident cases, cruelty cases, and terminally ill animals - he takes them all in, giving them happiness, food, and a home in his shelter.
HOW IT STARTED

It started for Praveen in 2013, when he rescued a kitten with a spinal injury. He nursed it at home, but it passed away after a week, leaving Praveen to wonder what he could do to help numerous animals like this, that suffer in silence. So he started by rescuing injured animals and keeping them at home. Soon, as the number of rescues increased, he started looking for temporary shelters to house them. Eventually, the news of his rescue got around and he started attending to approximately 4-5 cases in a day where People Use to tag him on social media Like Facebook, etc.

He took the help of Dr. Girish from Blue Cross and Dr. Lohith from Maruthi pet clinic and started an account in their respective clinics so that injured animals could be attended to, without a delay due to the finances. So as the number of rescues went up, so did the bill amount in the clinics. But that did not deter Praveen.
The word spread, and Praveen, who was initially contacted for rescues only around South Bangalore, started getting calls for help for cases in Mysore, Mandya, Chikmagalur Hosur, etc. To manage things better, Praveen started a WhatsApp group With Just 6 People And started attending To these cases full-time. He had no option but to give up his job, financial help was low, but with his family standing behind him, Praveen kept doing whatever he could for the animals.

He has rescued over 600 animals and counting, including monkeys, snakes, cows, goats, cats, and especially dogs. He started a shelter 3 years back by putting in all that he and his parents had only so that they can take care of animals and not say no to anyone. They sold their gold, car and so much more only because they could not see the animals suffering.
Today the shelter is home to over 200 animals. Most of them have been with Praveen for the longest time due to medical issues, accident cases that caused them to be paralyzed for life, and so on. With only 4 workers to help run the shelter and incoming rescue cases on a daily basis, along with medical and food expenses for each dog, it costs around 2-2.5 Lakhs a month.

Now that beautiful home to all the rescued animals is at risk as Praveen has to vacate the land he rented for the shelter within 6 months. He needs to shift to another place along with all the animals he rescued. His aim is to dedicate his whole life as he has in the past 7 years to the voiceless, but without our help and the public's support it is nearly impossible for him to move on and build a shelter in a whole new place.

Every penny matters, Every life matters.
Please contribute in every way you can - financially, physically, via known networks, and by spreading the word. Time is less and the goal is big.
Insta: We__Save__Animals


Please come forward to support my cause. Share this campaign link with your friends and family.