My name is Vivek Gurav. It gives me an immense pleasure to share that I recently got an offer to study MSc Environmental Policy and Management from University of Bristol commencing from September, 2021.
Being an active volunteer in the field of ecological restoration and climate activism I felt my inner calling to pursue a Master's Degree in the same field and I am taking this major step to change my field of career from Computer Engineering to Environmental Management.
I believe this is another concrete step towards achieving my dream of a sustainable future for communities to survive and thrive.
It is an honour to study one of the most crucial topics of sustainability at an international institute. With this course, I will get the opportunity to gain expert domain knowledge in the field of conservation and environmental management.
Thank you for taking out time to read about me.
Background:

I was born in Jaysingpur, a small town, close to Kolhapur. I belong to a family of farmers. My father supported my mother and helped her become a teacher in a primary school. That's how the transformational journey of a lower-middle-class family from a remote area in Maharashtra began.
Since the school supported me in my education, I made sure that I topped the result chart every year. The actual struggle started later when it came to choosing the right career. I always wanted to be a techie and had a great passion for recent trends and technologies. Keeping my career aspirations in mind, I chose to be a Computer Engineer and enrolled myself at MIT Academy of Engineering in Alandi, Pune. College life was a rollercoaster journey with all my friends and academics.
Like every other engineer, I had a big dream and passion in my mind and it never allowed me to settle for anything less. A very small but impactful thought played on my mind when I was in Class 4: if a man is a social animal, why is he so selfish? I always felt we owe everything to society we are a part of, be it our school, family, country or even mother earth. And thus began my journey from a techie to a full time volunteer.
What have I done?

I was appointed as 'Global Youth Ambassador' by Theirworld, London for my work towards UN SDG4 - Access to Quality Education through my 'Tree School Initiative' for slums and underprivileged sections of the society.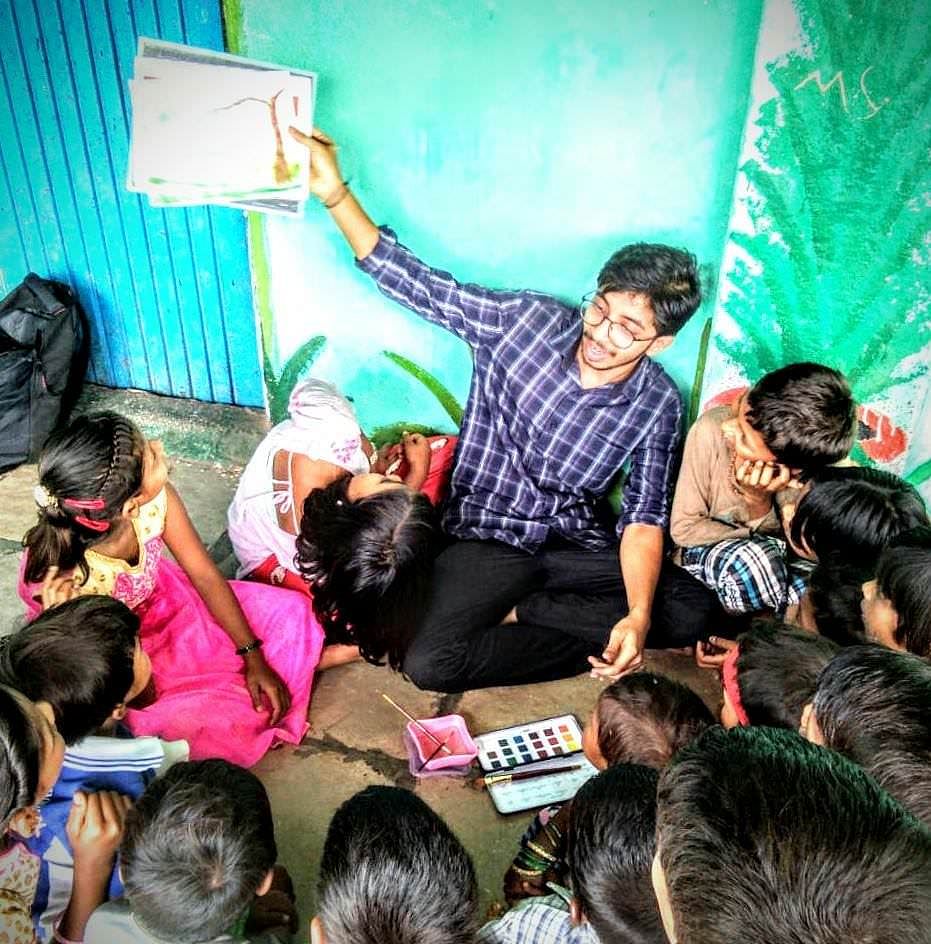 I represented India at a 'Field Advocacy Program' by UNDP, Bangkok for my advocacy work in raising awareness about UN SDGs.
I served as a 'Global Peace Ambassador' at Global Peace Chain and 'Assistant Country Director' at International Youth Society. Both these organisations aim at supporting the causes of global peace, social justice and youth development.
I was also awarded as the 'Best Outgoing Student' by my undergraduate college for my academic achievements, contribution to social development initiatives.
I am the Founder of 'Pune Ploggers' and 'Visionary Fighters', communities of active volunteers involved in ecological restoration of Rivers Mula-Mutha, Indrayani and Pawana in Pune , India.
In the last 2 years, I have been able to drive a massive campaign through which more than 5000 tonnes of waste was extracted from rivers through clean up drives and diverted from reaching landfills.
I was invited as a speaker for the topic ' Gamifying Volunteerism - Transforming Social Initiatives' at TEDx Kothrud, Pune.
I have received an opportunity to talk about the campaign on national media channels like BBC Marathi, NDTV and All India Radio as well as through more than 100 virtual sessions to raise mass awareness about littering and waste management.
I represented the community at 'South Asia Youth Skills & Solutions Forum' organised by UNICEF South Asia, where I promoted the need for youth skills development and entrepreneurship opportunities.
Received REX Karmaveer Chakra Award , instituted by the United Nations in association with iCONGO for the social change I have been able to drive through this community.
My Future Plans:
I believe, through my years of experience in the IT Sector and my work in community initiatives, my primary goal is now to bridge a gap between my field of technical experience and my passion for environmental development. I have a firm belief, collaboration of these multiple disciplines will be a key to my career prospect and way forward.
I am planning to work on below aspects after returning to India:
1. Scaling up of existing Plogging communities in India.
2. Restructuring of all the sustainability campaigns we have been working on.
3. Free consultancy to NGOs and communities working for ecological restoration.
4. Sessions for School Kids since they will be our future generation.
5. Petitions and campaigns against the development projects that pose a threat to environment as a whole.
Switching my professional field of work as a software developer to a full time environmental activist and consultant will be a challenging journey I am embarking upon.
I plan to work closely with international development organisations and governments for their sustainability initiatives making an impact in a larger perspective.
How Can You Help?
I have always struggled to fund my education and I was able to complete my education till bachelors on the basis of education loans I have taken. With the few savings I had from my 4 years of corporate job, I have been able to repay my bachelors loans and look after my parents and family.
For my further studies I have applied for a partial loan as well as I have few savings to incur basic costs like course deposit and living expenses. I have also applied for a scholarship from the university and the results will be out after 9th July which will reduce some burden of expenses.
My mother being a primary school teacher retiring next month and dad staying at home due to health issues, I am the only earning member in my family.
I don't have a co-borrower for education loan. Also our property cannot be mortgaged owing to its age and ownership in the name of my grandfather who is 84 years old. I am getting a partial loan on the basis of current job I have.
Owing to the pandemic a lot of foundations have shied away from giving scholarships which have resulted in a huge dearth of funding opportunities.
I need your support to help me raise remaining funds for my tuition fees. Even if 4000 individuals can support me with funds as low as 500 INR, I would be able to achieve the basic target for my tuition fees.
Requirements:
Below are the estimated expenses I am going to need for the duration of the course in INR: 23,50,000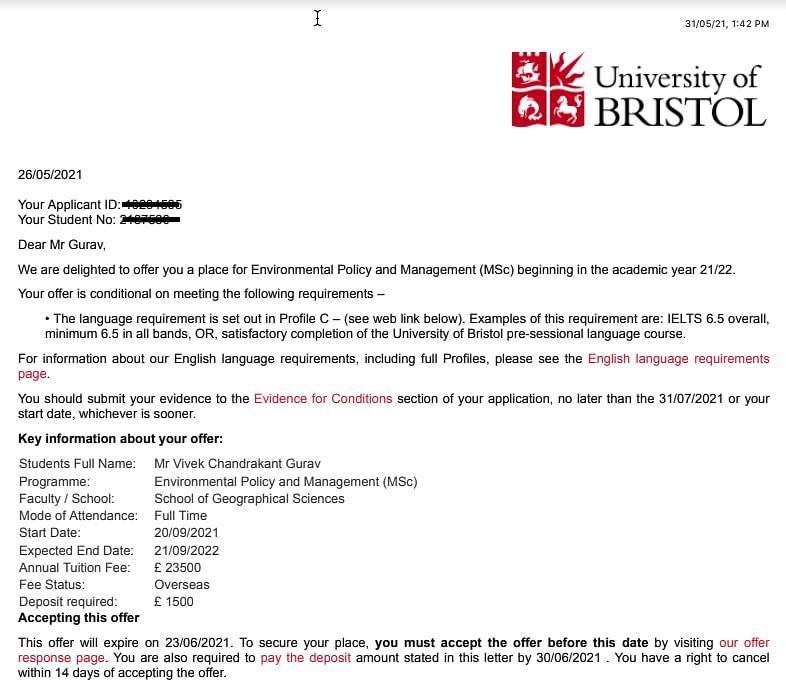 I would humbly request you to support me in the best of your capacity and share my word with friends & family. Your support can change lives and inspire youngsters like me to dream bigger and fly higher.
Please drop me an email if you've donated to this fundraiser and I would like to get in touch and thank you all in person.
I believe in the idea of Pay It Forward and I will make sure to value every single penny raised through this fundraiser and support students in need and communities looking for funds in future after I complete my education.
Lets all create a ripple effect of kindness. Much Grateful!