CONTEXT
I am Dr. Veenapani, a certified Professional Leadership and Life Coach and a talent development professional. The Shakkar Paara Project (TSPP) came into being during the lockdown with a vision to alleviate hunger with dignity. Through the support of family and friends and their family and friends, we provided relief kits to more than 8800+ families across India. We went to the invisible communities that were bereft of attention in deep forests, in villages where the PDS had not kicked in. We could raise approximately INR 40,00, 000. As if that was not enough, Cyclone Amphan hit the communities that we were working with, in Odisha and West Bengal. TSPP could help in rebuilding activities for the communities as well.
The project got some media coverage. Links presented below:
1. The Print: 'The Shakkar Paara Project is a sweet group of volunteers feeding India's most vulnerable.'
https://theprint.in/features/the-shakkar-paara-project-is-a-sweet-group-of-volunteers-feeding-indias-most-vulnerable/428118/
4.
https://www.thetrialbox.com/from-distributing-shakkar-paara-to-giving-out-full-ration-kits-in-covid-19
A NEW VISION
A short term project that was time bound, turned into a long term project with a new Vision - To help vulnerable communities lead a life of self reliance and dignity. The new goals to achieve that are Sustainable Livelihood and Quality Education. With this in mind, TSPP is engaged with the following:
Tailoring and embroidery project is being put in place in Golmunda, Kalahandi district, Odisha with the help of Dorai Foundation. Sewing and embroidery machines from Singer are being procured. 15 women to begin with, will be trained by the teacher in sewing and embroidery.
Three schools that have been at the center of our efforts. All the three schools are in different phases of evolution. They are the following:
1.The Birsa Munda School, Latehar district, Jharkhand, run by the Birsa Education Trust: Latehar is known for its starvation deaths. This school caters to the Particularly Vulnerable Tribal Groups (PVTG) and the MahaDalits. The school's biggest achievement so far is that it has managed to remain open and running without any sustained funding. While the school has a separate hostel facility for the boys, the classrooms double up in the evening as a hostel facility for the girls.
With the involvement of TSPP since July 2020, the following has been achieved:
- Donation in kind - two laptops, books for the library, toys, games, warm clothes, TV
- Digital learning in terms of Teacher's training and English teaching online through volunteers
-Dirubhai Ambani International School students volunteer for extracurricular and sports training
- Academy of Martial Arts provide karate training for the students
- Solar Plant (3KWA) that meets the electricity requirements of the school and the boy's hostel has been installed on January 14, 2021
-Teacher's salary through donations amounting to INR 21,000/ for 18 months have been pledged and is received every month. The required amount is approx INR 45,000 per month.
2. Navadha School, Dehradun, run by the Building Dreams Foundation: This school runs on a rented premise in Dehradun. They have a 'Bridge the Gap' program that is run to integrate children from the bastis, rescued from child labour, into main stream schools. They also run the ' Doorstep School' program by taking the school to these bastis. They provide mid day meals through collections in kind and through community fridges that they have set up in the area, and from restaurants,
families etc . They have recently initiated the the Kaizen club, where the students learn about child rights and try to solve the problems of their community.
Since TSPP has been involved, some of the things that could be achieved were:
- Raised INR 83,000 through the sale of hand painted diyas in Mumbai during Diwali. That money was used to procure a TV, a projector, a mobile device with a good camera for photography lessons, a desktop to ensure editing and cinematography classes
- Donation of TV, toys, games, woolens to the school and the community
- Promoting the bottle bricks project through out India and providing the same to Dehradun for construction
-Class on coding done for the chosen children by volunteer students in Mumbai
3. Navadha School, Kalagacchia run by the Building Dreams Foundation:
Kalagacchia is a coastal village in Purba Medinpore, West Bengal where TSPP was involved with hunger relief work during Covid. A need was felt for a school with the belief that the school will create a basis for upliftment of the entire village. Lack of basic infrastructure like road and water, and lack of employment opportunities make the villagers migrate to the nearby town to take on jobs in factories. A school will provide hope to the village, empower the community through its community development programs, and will also lead to infrastructure development in terms of roads, electricity, water, broadband connections.... The school is an inclusive school that caters to children with special needs as well.
Land has been gifted by Ranjit Bar's (Director, BDF) father. While we are currently engaged in survey of land, take permissions and get ready for construction by raising funds, we decided to kickstart the school using existing resources on December 15, 2020. Two rooms in the house adjoining the land had been refurbished for the pre primary school and 45 kids have taken admission in the pre primary section. Since the demand is high, we are quickly building a community hall and toilets to accommodate more children with the view to not turning anyone away.
Some things the team have managed to achieve so far with the support of TSPP are:
- Refurbished the house and the two front facing rooms to start pre primary classes. Community hall and two toilets are under construction.
- the children of Navadha School gifted a TV and projector to the school in Kalagacchia from the money raised by selling the diyas
- Donations in kind in terms of groceries for mid day meals
- Donation of educational toys, cycles, books, games, stationary for the school
- Donation of wheel chair that was critical to make it an inclusive school
- Volunteer teachers are in place
- Broad band connections have been set up to kick start the digital
- Letter for development of roads have been written to the authorities and a positive reply has been received
-Water connections are being explored
WE NEED YOU
With a vision to include the excluded, and make the invisible, visible, we have achieved a lot since TSSP came into being on March 30, 2020 - Covid hunger relief, Amphan relief, sustainable livelihood and quality education. As we move forward, the importance of sustaining these efforts and becoming very focused in our direction, is what we need to do in 2021. We divided the efforts into two. One that need funds, and those that don't for the time being.
Some efforts that we are striving towards that do not require funds at the moment have been identified - Education through digital platforms; volunteer subject experts teaching the kids; teacher's training; product design experts to help with crafting products that can be sold though online platforms or stores; donations in kind of devices, groceries, toys, books, games, programs to include the community that the school kids belong to etc are some top of mind ideas that we are working on.
Some that need funds for sustaining the efforts are:
- Teacher's salary for all the three schools as in two schools out of three, there is zero provision for salary... approximately INR 75,000 per month of which we have INR 21,000 pledged for Birsa Munda School for the next 12 months remaining
- Rent for Navadha School, Dehradun where we are always running short and have to rely on the landlord's understanding (INR, 18,000 per month)
- Mid day meals for Kalagacchia school (can be ordered as groceries through Amazon that directly delivers to Contai, a nearby town) . The cost still needs to be calculated as we are in our first month since inception. So far we are relying on help through grocery collection and local goodwill.
- Construction of the new school building in Kalagacchia where the first phase will come to approximately INR 65,00,000 out of which INR 5,00,000 has been pledged.
We have experienced the magic of how a whole group of people through support, can transform the world and make impact. With this we reach out to you for your continued engagement.

Let the comfortable be a little uncomfortable, so that the uncomfortable can get a little comfortable.
Pictures of Birsa Munda School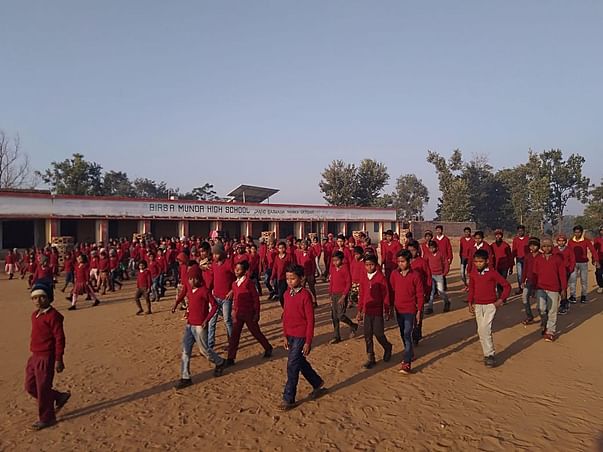 Pictures of Navadha School Dehradun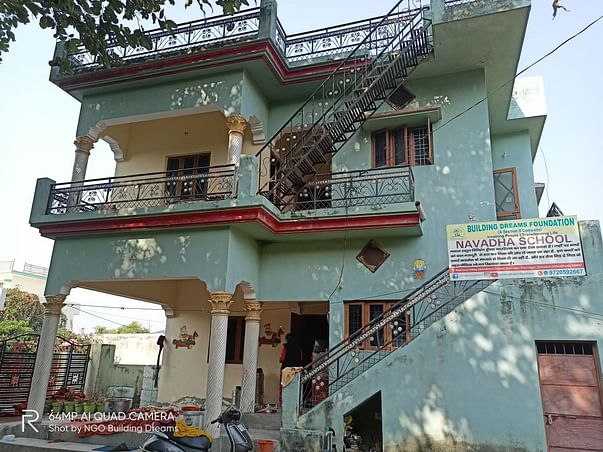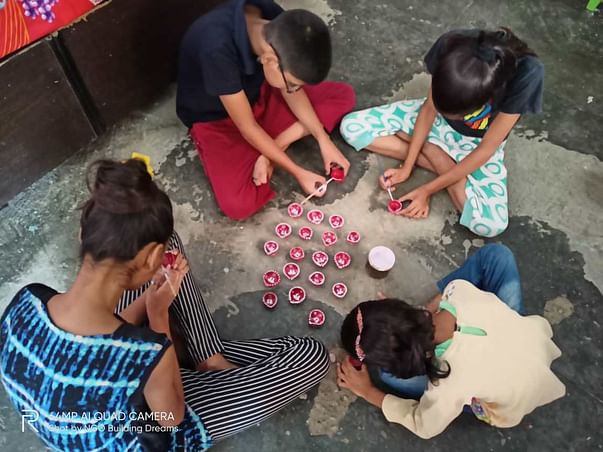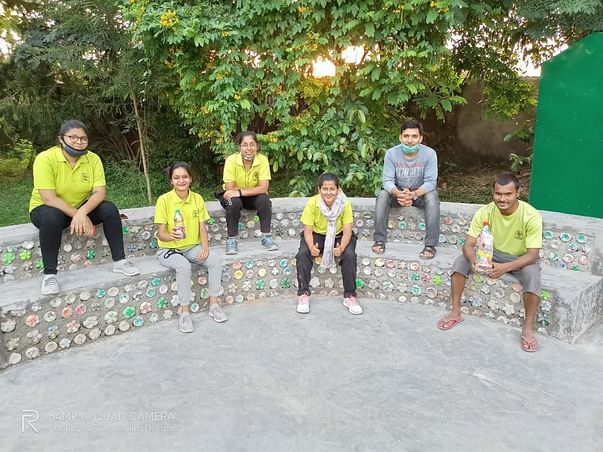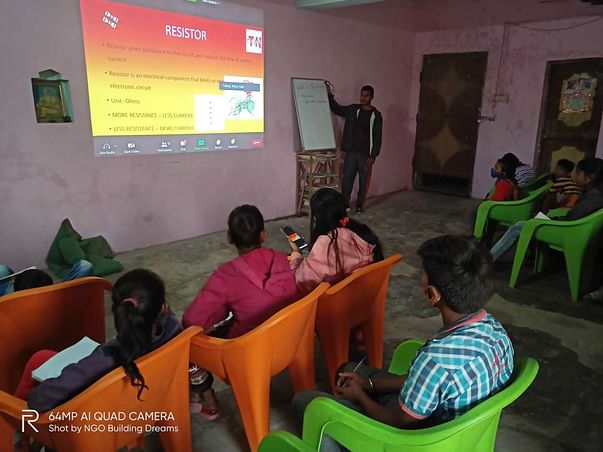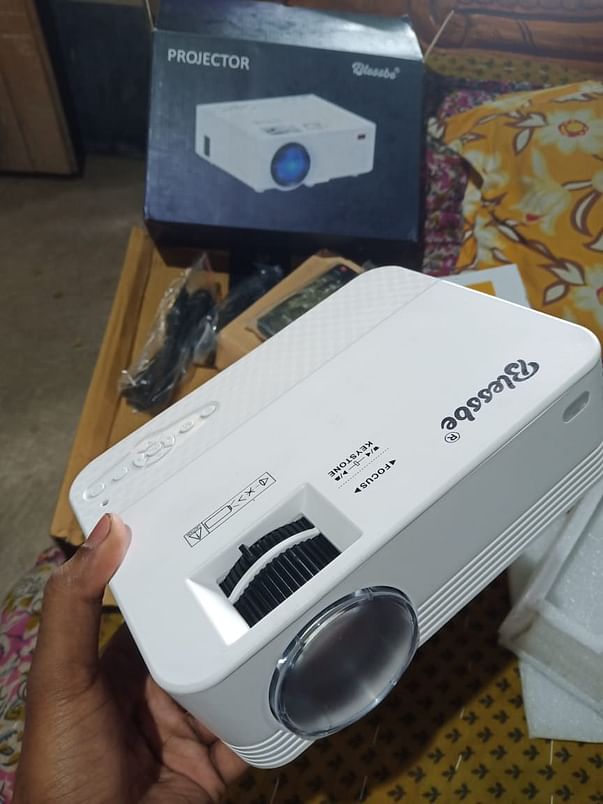 Pictures of Navadha School, Kalagacchia