"We are in the same storm NOT IN THE SAME BOAT". Imagine you are a child coming from one of India's most backward districts which are also affected by Left-wing extremism (Naxal violence)? What are your chances to access to any kind of learning opportunities?

Let us read one such child's story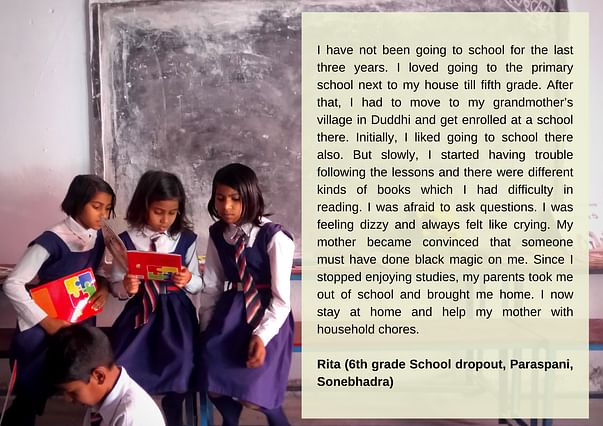 All of us like the idea of an equitable society. In a populous country like India, where even the basic living necessities are not met for a vast majority, education is nothing less than a dream. The COVID crisis has brought the inequities of society into a full glare as it has never before!
Mantra4Change and Upkram started working passionately at Sonebhadra, Uttar Pradesh, which is one of the bottom 20 districts on Education ranking on NITI Aayog's baseline ranking with a vision to bring educational equity and change the narratives to a positive one.

UPKRAM

Every child irrespective of their caste, ethnicity, and geography has the right to quality education and to reach their highest potential. In 2018, we initiated an organized effort with a focus to engage with students from marginalized communities and create a contextual learning environment for them. We do this by focusing on three areas – providing opportunities for experiential learning, exposure to diverse pedagogical practices to develop critical thinking skills, and ensuring the emotional wellbeing of students.


Our Approach
Our Impact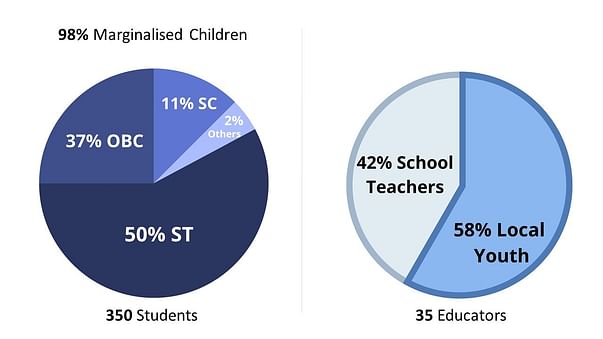 School Program
We managed to have
three times more children
come to school during the first month of our partner school reopening in comparison to the previous academic year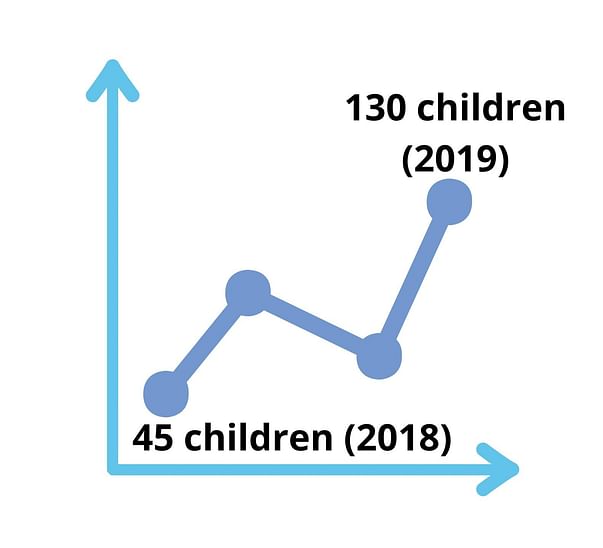 Our intervention has saved 185 instructional hours in our partner school that was lost during annual day preparation by collectively developing and implementing new timetable 45 days prior to the event.

45% of teachers started planning their classes with lesson plans, quarterly themes, and academic year plan

During COVID
We've facilitated sessions on
Foundational literacy and library education for the i-Saksham and Ayang team who work with children in vulnerable geographies of Bihar & Assam
respectively impacting more than 1000 children
taking our impact beyond our geography through partnerships and helping organizations navigate their interventions during unprecedented times
We started the '
Dialogue Series'
webinar where eminent speakers from the field of
child welfare and education
like Udayan Vajpeyi, Rakesh Senger, and Rajesh Utsahi talk on the larger discourse on education and the implications of COVID on children. It was streamed on Upkram's YouTube channel which has
1.6k views
and has helped educators and others to reflect and learn about best practices which were also shared by the
Teachers of India portalWhat do we want to achieve?
During COVID we are currently able to
reach 200 children regularly and want to extend the reach to 600 more children by taking our work to two more villages through our weekly offline foundational learning program to ensure their education is not discontinued due to the closure of schools, lack of digital access and COVID restrictions. Also, keep them away from dropping out of school altogether, engage in child labour, and subject to child marriage and abuse.Join us in creating opportunities!
Working in tribal regions comes with its challenges. Starting from manpower to the availability of resources.
We want to raise Rs.15 lakh to sustain and create learning opportunities for 800 Students from marginalized communities in Chopan block to continue their education during COVID-19.The cost of our program involves
Set of three workbooks along with a stationery kit, 1500 more books to our existing children's literature collection, and a dedicated team that lives the mission of bringing smiles on children's faces and support their social-emotional wellbeing.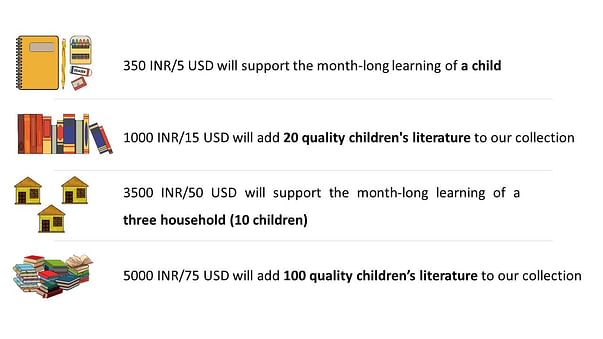 Your contribution of Rs. 350, can impact the life of a child. With every donation small or big, you will be taking a smaller step towards an equitable society.

Though Shakespeare never said it, yet we believe that 'sharing is caring'. Walk the extra mile with us by donating to this campaign and share it with your friends and family!
This fundraising campaign is done by both Upkram & Mantra Social Services. The tax receipts will be issued under the name Mantra social services. For queries, please write to us at upkram@outlook.com
Know more about us