Pennathur Government school is located in Pennathur, a remote village in Vellore, Tamil Nadu. It has around 900 students many of whom come from a humble background: the parents of these children are mostly laborers. The school comprises of talented students who are eager to learn, and passionate teachers who strive to nurture the lives of the students in every aspect of their life.
The school provides several opportunities for the students apart from academics to ensure their overall development. It has produced some great minds over the years. Below is a picture of D. Devendiran, a young scientist whose project is now supported by The National Design and Research Forum (NDRF) and Vellore Institute of Technology (VIT).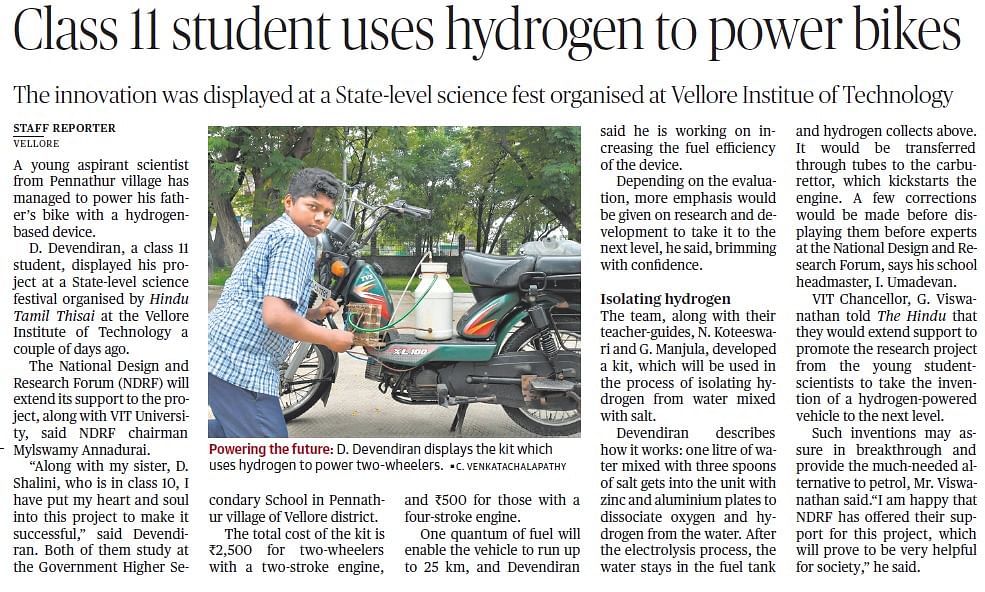 With most of the students' parents being uneducated, awareness programs are an integral part of the school. Awareness of legal literacy, education, and diseases are some of the many programs conducted in the school. Such programs serve as an important means of bringing awareness among the community.
While the school is always actively working on delivering a complete learning experience, the lack of a proper stage to conduct events on is a hinderance the school is facing right now.
The school believes building a stage will be an important step in the direction of progress. Not only will it improve student interaction, it'll allow students to explore their interests and showcase their talents through several activities that will be conducted by the school. The stage will be primarily used for the following purposes:
Morning assembly
National celebrations like Independence day and republic day
Award ceremonies
Competitions
Annual day celebration
Medical Camps
Cultural events
Sport events
One of the important features of the stage is that it is a green stage: the stage will be decorated with live trees and plants. This is one of the school's many green initiatives to encourage environmental care among students. Others include a mini-forest, a garden, and a herbal garden.
Due to the lack of sufficient funds, we need your help to build the stage. Your contribution can help improve the quality of the education offered at the school. We are most grateful for your support.
About Beneficiary
Mr. Umadevan I is the current headmaster of Pennathur Govt School. He's currently doing his Ph.D. in physics and has published 8 textbooks for the matric board. He's won the best social service award from former honorable Vice President of India, Shri Hameed Hansard and has won 10 best teacher awards. Along with supporting orphan children in their pursuit of higher education, his contributions to society are remarkable.