My name is Shilpa Gavane and I am an architect and photographer. I am an ardent tree lover and looking at trees and observing them is the greatest delight.
In these times of ecological crisis, trees are our saviors. But these saviors need us. The trees on Ahmedabad's streets need to be protected. Each tree is important, no matter how old or young. To protect them, we need to get to know them. Hence there is a desperate need to map all trees, which will raise awareness and help protect important and old trees. We can actually calculate the total cost in rupees of saving done by the trees for the storm water interception, air pollution removal, energy conserved and carbon di-oxide sequestered. This has been done by cities like New York and Singapore.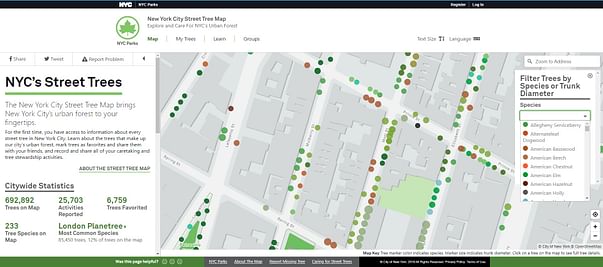 Screenshot of NYC tree map website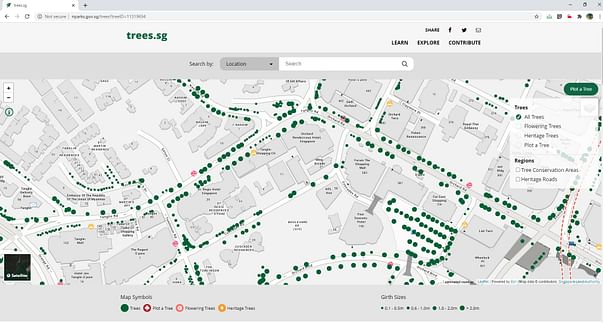 Screenshot of Singapore's tree map website.
While researching about trees of Ahmedabad, I met many experts like taxonomists, landscape designers and tree lovers who have become my friends and now we have formed a small group called Trees of Ahmedabad. Our goal is to map all the trees of Ahmedabad along public roads and make it available online for everyone to see. Each tree will be photographed and their GPS location, species name, age, height, canopy diameter and trunk diameter will be measured.

At the end people can get information on trees in front of their house. At a city level, one can get location of rare trees, old and notable trees and even analyse diversity and frequency of a particular species of tree. It would be possible to know the tallest tree or the biggest tree and all this information will help protect these important trees.

Ahmedabad has 2580 kms of road length and roughly 2 lakh trees. But ideally should be about 10 lakh trees so the map can also tell where there are gaps and plantation needs to be done as per priority. Cities like New York and Singapore have done detailed mapping of trees and also maintain the data. Japan has a list of heritage trees and an act for their protection. Few attempts have been made in Ahmedabad to document the total number of trees, but there is no map. The reason why mapping is not done is because there is no monetary benefit from it, but there is a huge environmental benefit which only a few people understand.
Our Team
Our mentor and guide: Shri Nagendra Purohit
Our tree identification expert: Taxonomist and Botanist: Santosh Yadav
Our graphic design expert: Jaimin Bhavsar
Our storytelling and copyright expert: Ishita Modi
Our field surveyor and photographer: Shilpa Gavane
We are all volunteers and working for this project pro-bono. If you wish to join us, let us know.
Testing phase- Completed
We have mapped about a thousand trees in an area of Ahmedabad, i.e. Bodakdev. But the project needs to be organised and formalized. Hence we are fundraising to complete the map. Follow our instagram account to see updates: instagram.com/trees_of_ahmedabad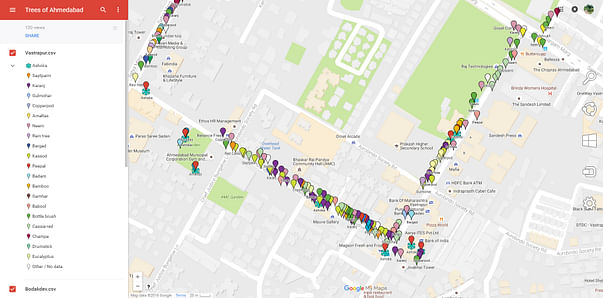 Screenshot of Ahmedabad tree map- (Testing phase)


Phase 1: Mapping Pilot zone
In this pilot phase all street trees of one area of 5sqkm will be mapped, which means approx 20,000 trees. A team of 2 people is required in which one has knowledge about trees and one person to assist in the measurements. After the ground survey, the data will be required to be put on the open street map with photos & info of each tree.
Fund requirement: 80,000/-. Estimated time to complete is 4-5 months.
Detail cost break-up of Phase 1
25k - Equipment cost (2 Garmin GPS(12k) and inclinometers for two teams) This is a one time cost only.
25k- Travelling cost covered for surveying the areas. As per document density is 60 trees/ha. Taking 1/3rd on streets, there are 20 trees/ha. So 5sqkm (500ha) will have 10,000 trees. Assuming 40 trees/ day/team, it will take 120 days to survey 5sqkm for two teams. Cost of travel Rs 100/day flat per team. So for 120 days will be 25000rs.
20k- Digitize the data for 5sqkm. This should take 1 month.This includes data operation and online storage cost.
10k- Overheads for platform fees and other expenses like stationary.
There is no personal payment or profit.All work will be done by volunteers.
Subsequent Phases
For every additional 60k raised, another 5 sqkm can be mapped. So if a fund goal of 5L is achieved, 40 sqkm of Ahmedabad will be mapped.Once the data is mapped, most important trees will be identified as per categorization (rare, heritage etc). We will approach the local authorities to mark them and raise awareness. We will make a priority map of sequence of plantation on roads, based on density and frequency.