Note: Donations accepted in any currency. Credit card, debit card and bank transfers are all accepted.
Parivartan Genesis

Shocked by the gangrape of Dr Priyanka Reddy in Nov 2019 , 4 alumni of IIMs and two change makers were drawn together to eliminate this scourge from India.
The Parivartan initiative was born.

Our Mission
Reduce the incidence of sexual violence in India over time through:
A gender sensitization curriculum that nurtures dialogue over healthy gender norms and empowers children and young adults to make informed choices
Teaches girls and boys to treat each other with mutual respect
Instills healthy masculinity in boys and a healthy self-confidence in girls

Our Approach
Envision an experiential program that could be delivered to children in schools
Research and review gender sensitization curriculums for children available globally and in India and select curriculum partners to impart the training.
Engage 3-4 established NGOs with aligned objectives to assign dedicated facilitators for the pilot roll-out of training children in schools in and around their base locations. We are partnering with NGOs such as Vasavya Mahila Mandali, PVCHR Asia, and Center for Health and Social Justice.
Enable facilitators through a 3-4 month training with esteemed content providers such as SOA's esteemed faculty
We believe that the approach to train multiple NGOs in a curriculum toward a common purpose is a unique approach that can be scaled nationally
School Locations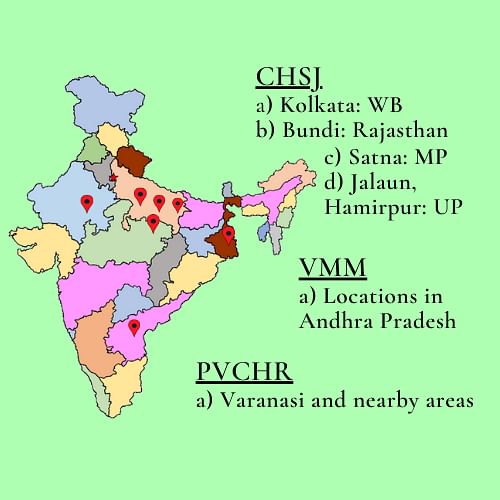 Beyond the pilot

We will work towards scaling our program nationally beyond the pilot through the following mechanisms:
Have the facilitators with strong conceptual, experiential and facilitation skills develop and train other facilitators who could work with kids
Engage NGOs in other geos/cities
Work with governments in incorporating the program into their curriculum
Our long term vision is for every child in India to be empowered and educated to protect themselves and others from abuse and to grow up to be adults that stand up for gender equality, mutual respect and rejection of violence.

Call for funds
We expect the initial batch of facilitator training plus fieldwork to cost around Rs 25 lakh. The initial batch of trainers will reach nearly 3000-5000 kids. The costs include:

Instruction and Compendium
Training and material costs
Field work with children
Travel and incidentals

How can you help
If your emotional response to rape is anger, shame and helplessness here's your chance to do something. Please help us make Parivartan a mass movement. Contribute to change so that together we can bring a Parivartan.