The Khichdi Project by Foodlink

Poor, hungry migrant labourers and daily wagers are among the worst affected in the Covid-19 crisis. Foodlink along with many partners and the Mumbai police has activated its central kitchens and is feeding over 25,000 (as of 28th April, 2020) people every day. We have served over 500,000 meals thus far

This is among the most efficient, large scale, hygienic meal programs that is serving Mumbai in this crisis.

PLEASE HELP. EVERY LITTLE BIT MAKES A DIFFERENCE
Operational Details of The Khichdi Project
Building a large platform to operate at scale is very important
The Foodlink Central kitchens are built for scale and are HACCP compliant and that allows the entire operation to be built for scale. WE ARE AIMING TO RAMP UP TO 100,000 MEALS PER DAY.

The main meal served is 450 grams of KHICHDI - a nutritious and tasty staple Indian dish made out of rice, pulses, vegetables, turmeric and spices. This is now being expanded to a few other options but the core principle is to serve food that we would eat ourselves and food that will fill a hungry stomach with good quality nutrition.
We are sanitizing everything twice a day including the loading bays, garbage areas and the main door to the premises.
We are working with Police stations from Sion to Navi Mumbai and from Deonar to Mulund - for all Naka Bandi duty staff, and at police stations and other posts including those monitoring red zones.
We are also distributing through some amazing partners including
NESH Nobody Ever Sleeps Hungry a Giant's Initiative
Jio Roti Bank
YMCA
Roti Bank
Project MUMBAI
The Tehsildar's office and Land Survey office.
Why Khichdi ?
We are currently supplying Khichadi in 450 gram individual packs. Khichdi is a complete meal providing simple carbohydrates that are easy to digest and provide energy over extended period of time. Vegetables provide extra nutrition and fibre. The whole product is also easy to eat.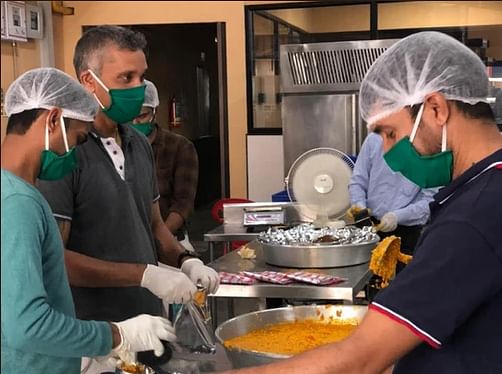 Central Kitchens to bring Scale
Maximise Impact through a full-fledged factory operation which is cost effective, hygienic and operates at a scale that maximises the impact of your contribution.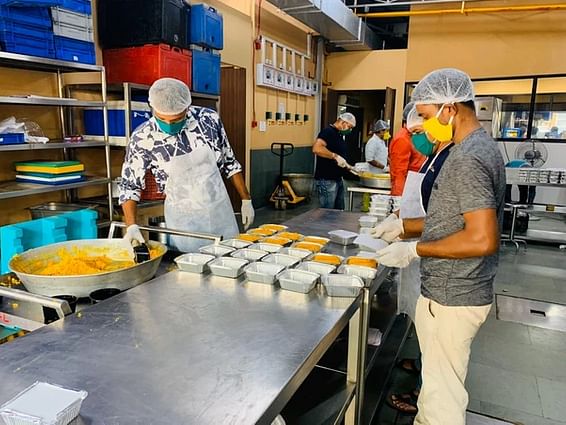 Mumbai Police helping Distribute
A big challenge is effective distribution through the lockdown