Greetings from T. Selvaraj, Managing Trustee of Synthika Trust. Synthika Trust is a charitable trust in Lalgudi, Trichy that gives special education and rehabilitation service for all types of differently abled (visually impaired, hearing impaired, mentally retarded, orthopedic handicapped) children since 2006. Our home which houses about 30 children, is currently running with the help of donations from local people and well wishers. Please refer the following webpage for more information about our home.

https://synthikatrust.com/index.php

Due to the Covid-19 pandemic, a few donors are unfortunately unable to support us and hence we are unable to meet our monthly expenses. While we have been running on deficit for a very long time, the current situation
has become even worse, that it has come to a point of even thinking about closing down our home.

To be precise, our monthly requirement is roughly about INR 77600 and the current sponsorship amount is about 45600 and hence we are running a deficit of about INR 31400. The exact details of the split up of our monthly expenses and the deficit can be found in the table below: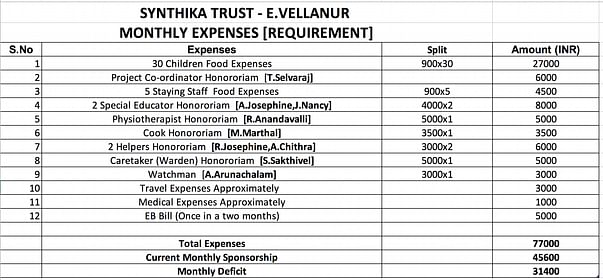 We are looking for timely help in the form of monthly donations from well wishers. In fact, we ran a successful campaign on Milaap in 2018 to raise funds for completion of construction of a new floor in our building in order to meet the new government regulations. We hope that we will also get support the second time around. You can refer to details of our earlier campaign in the following link.
https://milaap.org/fundraisers/help-synthika-trust
We have been very fortunate to have had frequent interactions with students from NIT Trichy for almost 8 years now. Various clubs from NIT Trichy like the Festember Social Responsibility and Aarushi have visited our home on many occasions and have spent quality time with our children along with providing some monetary help for our home. This brings us to NIT Trichy which has always been special for our home children in our need of the hour. Whatever little yet timely help that you could extend can together create a huge and ever lasting impact in our children's lives.

WE MAKE A LIVING WITH WHAT WE GET, BUT WE MAKE A LIFE WITH WHAT WE GIVE...

Thanking You,
Yours sincerely,

(T. SELVARAJ)
Managing Trustee
SYNTHIKA TRUST