In India, LOCKDOWN means no work and no foods for the poor
Lockdown is hard for us but it is unbearable for thousands of daily wagers.
We seek your support to help end this Pandemic
With the lockdown suspending all forms of work for weeks, India's poorest from some of the country's most underdeveloped regions now face penury and deprivation.
With very little savings and a poor social security net, families in rural India are having fewer meals, borrowing money and braving the threat of police violence in order to go out and work.
Most informal workers earn anywhere between 100 rupees and 300 rupees, depending on the work, the region and their gender, just enough to make ends meet.
The possibility of near-starvation is now being discussed in many rural areas in India.
In times of such life threatening situations cause by the outbreak of COVID-19 and the entire country lockdown, we at ISDA, take the responsibility to offer assistance to those who are in extreme need by providing free GROCERY KITS which includes rice, flour, pulses, edible oils, spices, salt etc. HYGIENE AND SANITATION KITS which includes hand gloves, mask, hand wash/soap, sanitizer etc.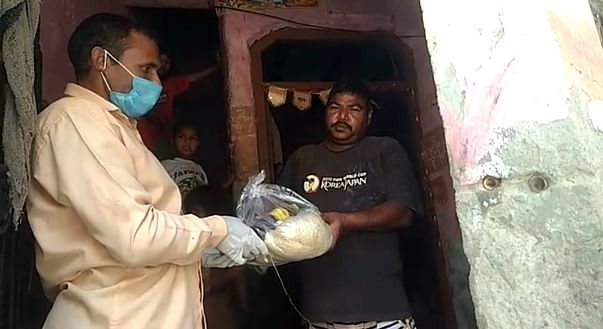 These two simple intervention will help limit the spread of the disease and help the poor to end their wary days of Hunger due to the country lockdown. Presently, we have reach out to more than 4000 families through this campaign and our target is to reach atleast 5,000 families more in pan India. We are seeking your support to help us raising Rs.50,0000 for this cause.
How can you help-
Grocery/Ration kit (1 packet salt, 5kg atta, 5kg rice,2kg pulses,1 litre cooking oil, 100 grams turmeric powder, 100 grams chilli powder + packaging & distributing) cost- Rs 800/-
Hygiene & Sanitation kit (Hand wash, sanitizer, 4 mask 3 ply, soap) cost – Rs 200/-
This is a not for profit campaign, all the financial reports or receipt regarding the donation will be shared to the donors with full transparency.
All donation are tax-exempted under section 80 G of the Income Tax Act,1961.
About ISDA
ISDA (Infrastructure Skill Development Academy) is a not for profit organization committed for undertaking activities benefiting society at large. Presently, we are working at the grass-root level in Karnataka, Haryana, Tamil Nadu, Kerala, Uttar Pradesh and Bihar with 55 experienced staff. Till date we have impacted lives of more than 10,000 people through our interventions in area of Skill development, Quality Education, Rural Development, Women Empowerment, Water Sanitation & Hygiene, and Livelihood. Our core values are Innovation & Integration.
For more queries please mail us on info.isda@yahoo.com/partners@isdadelhi.com
To know more about us, please visit our website www.isdadelhi.com