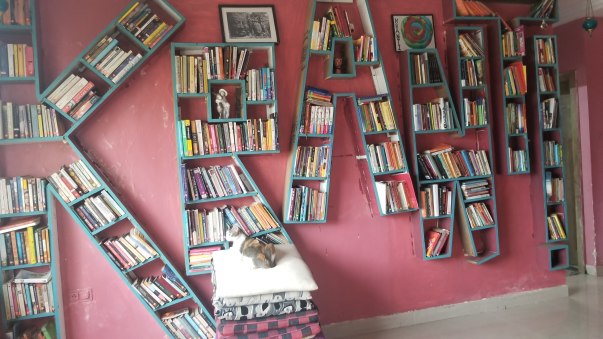 Kranti NGO empowers girls from Mumbai's red-light areas to become agents of social change. We currently support 25 young women who are all survivors of trafficking or daughters of sex workers. In the past ten years, Kranti's girls have: become the first girls from India's red-light area to study abroad, received UN awards for their social justice work, given 50+ TEDx and other speeches around the world, and been featured on dozens of international media platforms. They've also written, directed and performed their own play in front of a million audience members which was covered by the BBC in 2017. Kranti's alternative school was named a Top 10 finalist for the $1 million Global Teacher Prize, and seven Krantikaris are currently studying in the US & Europe.

While it brings us great joy to brag about the Krantikaris' accomplishments, it hasn't been an easy road. In the last decade, we have also dealt with endless crises such as a girl suffering from BPD who went missing for five days, another girl jumped off a train to commit suicide, and a girl who went back to the red-light district to return to sex-work. These situations arise during a mental or emotional breakdown, but the Krantikaris always come back because they know Kranti will not judge them but will accept them back with open hands and hearts.

Several Krantikaris also struggle with depression and self harm, especially those who were forced into the sex industry at a young age and those who faced severe childhood sexual abuse. We recently admitted one Krantikari to a mental hospital and another into a program for troubled teens battling addiction, truancy, etc. As you can imagine, these situations create long-term financial burdens on Kranti's regular functioning - we are often late with our rent, we can't pay the mental hospital bill, and we often struggle to provide regular medical care for the Krantikaris.

Even our shelter home, a 3-bedroom flat (with 15-20 residents!) is leaking water everywhere. We know people are struggling everywhere during this time of uncertainty, and we know it's not easy for people to support NGOs on top of their regular obligations. Even at Kranti, we often argue about whether or not we should take in new girls because the cost, time, and energy it takes to support one more girl is so high. But, in the end, we look at that girl's face, we listen to her story, and we end up saying yes. Maybe we can't provide her the best quality healthcare, but at least we can provide her a space free of stigma, violence, and sexual abuse. A place where she can live among people who WANT her there, where she can have healthy meals, regular classes, and basic therapy.

So yes, maybe we're stupid for continuing to take in new girls. But we invite you to join us in our stupidity and support at least one girl's journey from victim to Krantikari. Thank you for your continued support thus far from the entire Kranti family.
We know we would not exist without your love, support, and generosity.Media Links: In her Shoes Documentary: https://www.youtube.com/watch?v=2NZMkVu5nns
Taniya Yadav Josh Talk: https://www.youtube.com/watch?v=SjHcmwfKLoM
Global Teacher Prize: https://www.youtube.com/watch?v=0igmMoE1pWc&t=102s
BBC News Lal Batti Express: https://www.youtube.com/watch?v=Ab07XKC9_WE
UN Award: https://www.aljazeera.com/features/2014/11/10/from-mumbais-red-light-district-to-un-award/
Sandhya Nair Article: https://www.indianwomenblog.org/discriminated-for-being-the-daughter-of-a-sex-worker-sandhya-nair-is-only-proud-of-her-mother/