Do you know WHO estimates that about 7.5 per cent Indians suffer from some mental disorder and at the end of 2020 roughly 20 percent of India had suffer from mental illnesses ? According to the numbers, 56 million Indians suffer from depression and another 38 million Indians suffer from anxiety disorders but for people seeking help there is no easy and efficient way to deal with it.
I am more than happy to tell you how we aim to revolutionize the way people deal with their mental health with a click through our All new app but prior to that I want to share how it all began?
Hi I am Suraj Sawsakade and I am a final year BTECH student of Delhi Technological University.
How all it began?
It was summer; I was spending a usual lockdown afternoon by surfing on the web
and I encountered this NEWS on a WhatsApp group. I treated it to be a random rumour and paid no heed to it. Like this, I moved to Instagram and saw the feed to be flooded with the news, which left me numb. Wearing a frown face my heart thumped faster and made this conformation that "The renowned actor Sushant Singh Rajput committed suicide". This shook me awfully.( Since he had passed out from the same college in which I am studying. I have a special place for him in my heart. More than a senior he was an inspiration to me and my almost every friend.)
He is no more but what made him do so!
I was unable to stop myself to know more about it, and soon it was on air. While introspecting his actions, activities on Social Media and conversations with friends, it was learnt that the late actor had suffered depression. My heart wrenched when I read on his Instagram post, where he mentioned his mother's absence in his life.
He was fighting something great inside!
After spending days and thinking about all the possibilities, which could help him in that situation and stopped him from taking that step. I felt a sudden urge. Whenever I would think that it may happen with anyone again, I could not resist doing this.
What did I do?
Thereafter, I made an Instagram page and named it Virtual Bae. A page where if anyone wants to share something or feel wrong about, can share on this page, without telling the identity. We promised to keep the identity anonymous.
The whole idea is to provide a virtual entity by being an available person to all of their emotional needs. When they are sad, lonely, depressed or just want a friend who supports them in their hard times.
And as a result, I was stunned to see people actually needing this help. The page received a great response and numerous people signing up for free chats.
Every good step has to go for several tests
With a lot of people signing up at the same time, I was taken aback because to hear someone pain you need to be in a state of mind. We did not want people to wait to be heard because I can't take a chance!
The page asked people to volunteer and fortunately we could handle a lot of people at times initially, but as the days passed the people stopped coming for emotional support by stating that they did not feel that they had been heard. Something was wrong!
Training before Volunteering
The reason people remained unsettled, even after talking to volunteers was the way and words volunteers were using while interacting with the people . This, I realized when I had really gone through their chat boxes.
It does not come in a day, to hear somebody you need to be skilled, patient and stay in their shoes. It is a lot of hard work and trained in active listening.
The learning that I acquired after doing several courses on communication and active listening, would now be a tool for my training kit. It is my time now to give it back to the humanitarian in the most amazing way and that is by imparting my learning to them.
According to me, connect, trust and express are three integral points. I let the speaker connect and trust which helps them to express. Trust me, the effect was extreme.
By providing sufficient videos and helping each volunteer and helping them with words and ways which lets the speaker connect you and once they do; they feel settled when they are around you but don't forget it takes time.
Now, we are a team of 5 people and more than 80 people have found hope after talking to us. It gives me immense pleasure to state that we have come up with an application(app) which is as fast as a click. Now, the moment you feel low you just need to move to our app and you are heard. The app will make it easy for people to talk to volunteers and also listen to ASMR audios.
ABOUT OUR APP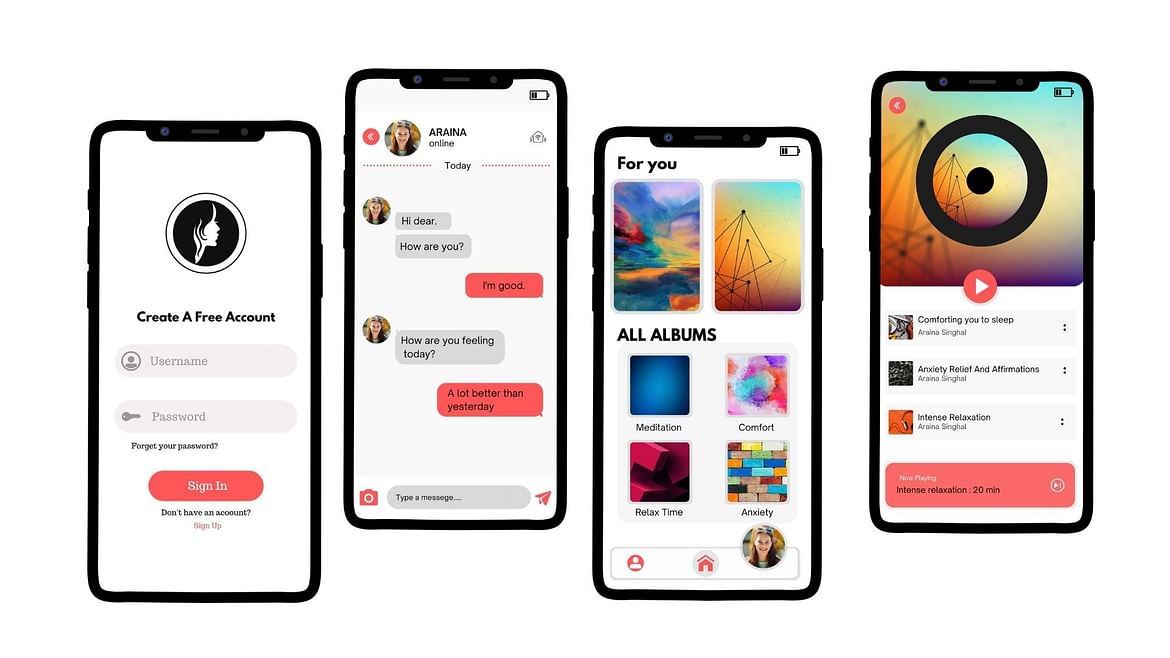 Virtual bae
Virtual bae is an online companion/friend which hosts an anonymous person. It is designed in a way that it handles and understands human's feelings and senses emotions, love and care.
Someone that makes you feel heard without being judgmental.
ASMR 2.0
ASMR Sounds helps you to sleep better and gain positivity. The studies say that people who experience ASMR have actually improved their mental health. The sounds also help you to meditate.
People will listen to audios when they feel any type of health issue like anxiety, depression, loneliness or any other unsettling issue.
Why I turned to crowdfunding?
When our page started growing we started facing difficulty in volunteering new people, training them and allocating to people who want emotional support. I had to work all day to manage our volunteers and people wanting support. I started to realize my limits This is when we got an idea to build an app to ease our work and help even more people. Initially I planned to use my money to build but after dedicated planning and talking to an outsourcing software development company where they revealed that it will take more than
10 lakh just to develop and maintain
such an app and the
cost which for preparing training modules
and ASMR audios will be more than the app development.
I didn't want to go to investors who are ready to fund because they will start finding ways to earn out of it. This is why I decided to go for crowdfunding.
How are funds planned to be utilized?
The funds will be divided into 3 parts.
To justify the limits of an Instagram page, we have developed an app to take our initiative available to multiple users at the same time.
1. For developing and managing app
Keeping the maintenance of the app and its users, we have hired the best developers which carry a profound experience. We intend to make the user experience for both the volunteers and the end-users incredibly smooth.
2. For training and recruitment of volunteers
Training is one of the crucial parts of recruiting and ensuring every volunteer is well trained, becomes equally important. Every person who wants to be heard is a case to us, therefore, we have set a process of recruiting to have appropriate people for our project. The process is a learning session and will have animated training modules followed by test series. In order to develop a complete technical process, we would need professionals.
3. For making ASMR content for people.
It is one of the parts of our app which requires a great portion of the funding. In order to provide the best, we have to hire professional voice artists and writers who will develop the content which needs serious attention. ASMR in itself is a very difficult thing because every human is different and to develop content which caters to the needs of everyone should be given sound financial funding and time.
Thank you for reading this. Support with as much you can because the sooner our app is available to people for free the sooner we can help people who are having hard times and no hope or support in their lives.
At last I want to thank my sister for helping me writing this and supporting me in every step of my initiative. Even if I am able to save live of few people by providing support I will consider my life to be worth it.
Support and share with people who you cares about.
Thank you