COVID - 19 Artists Fund
Over the last one year, the pandemic has disrupted the lives of artists and artisans across India. With almost no financial income over the last year, the second wave of the COVID 19 pandemic in India is proving to be disastrous for the artist community with little or no financial aid.

Since March 2020, Sumansa Foundation has been running a COVID-19 Artist Fund that reaches out to artists and artisans in need of financial support. We have so far distributed 1.05 crore rupees to over 3000 artists representing over 250 art forms. This has been a pan India effort, spanning over 22 states and 2 union territories. We have been fortunate to receive donations from over 1300 people across the globe, and look forward to being able to reach out to many more artists across the country.
Initiatives like these are the need of the hour, and we urge you to come forward and donate to our campaign, where 100% of the contributions will go towards helping artists and artisans tide of these uncertain and difficult times.
We thank you for all your support until now and look forward to your continued support in our endaevour. Please do contribute to our campaign!
Margazhi Manch - An online performing arts festival in support of arts, artistes & communities
We are extremely excited to present Sumanasa Foundation's Margazhi Manch, an unique online platform that presents diverse art traditions, many of which remain outside the digital economy and the December music season. This time of the year has largely been associated with 'classical' artforms. Margazhi Manch is an effort to include all artforms in this new virtual Manch (platform) and make Chennai's music season diverse and inclusive.
Please do support the artists by making a contribution to this ongoing campaign.
Supporters will receive an email with access and details to view the festival.
100% of the proceeds will go towards supporting more artists and artisans affected by this pandemic.
Thank you and keep supporting
Sumanasa Foundation.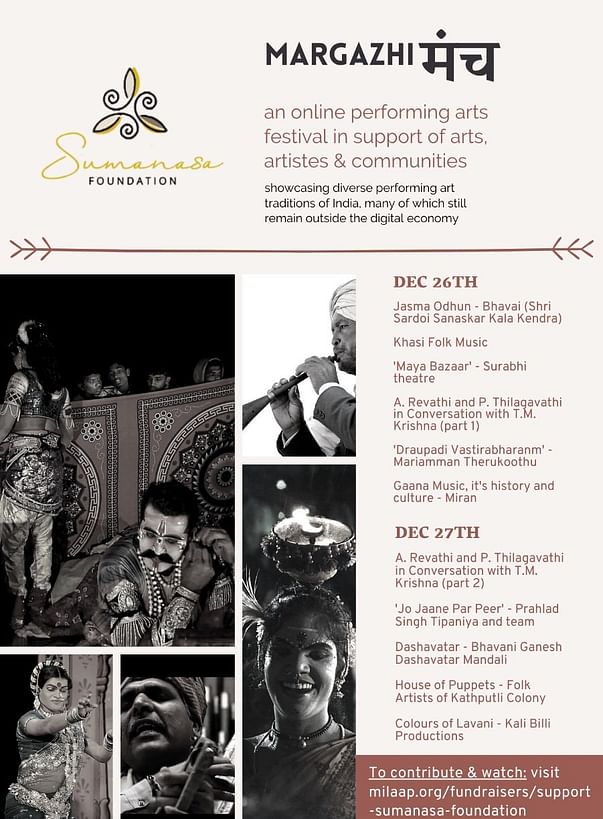 Online Performing Arts Festival
We conducted an online festival between 10th June 2020 to 14th June 2020 which showcased diverse performing art traditions of India, many of which still remain outside the digital economy. We believe that it is important to cultivate an ecosystem where we can appreciate and pay for all art, and as a step towards this, only donors received access to view the festival. Due to the overwhelming support we received, we are keeping this campaign open to help continue the work to support the many artists still in need.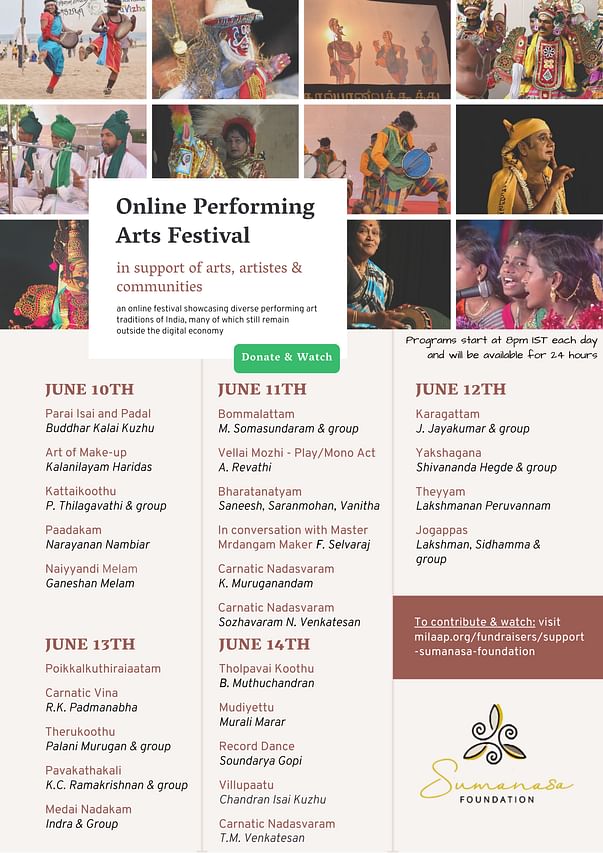 About Sumanasa Foundation
Sumanasa Foundation was established in 2005 with the objective of engaging with the arts and the community. Sumanasa supports projects that help in reimagining art and culture, thus enabling communities, in fostering culturally vibrant spaces, engaging in serious conversations across social groups and creating platforms for artists and art forms from marginalised backgrounds. It provides different avenues for artists to engage in socio-cultural dialogue, and in building appreciation and interest in the arts. For more information please visit
sumanasafoundation.org
This initiative is supported by Sumanasa Foundation and Bhuvana Foundation. All Indian currency contributions will be deposited in the account of Sumanasa Foundation, a registered Trust working in the areas of arts, culture and community.

All foreign currency contributions will be deposited in the account of Bhuvana Foundation, a registered trust working in the area of Education, Art and empowerment.