Shreeram Gaushala Trust came into existence in 2016. Although the shelter officially became a trust in July 2016, Sonu, the founder of the shelter has been rescuing animals for the last 28 years.

Since childhood, it has been his hobby to bring injured animals and birds home and apply oil available in his village on their injury. As he grew up, he left his job as a taxi driver and dedicated his full time to rescue the animals from butchers, especially cows which were being taken for slaughter. Once he even had to indulge in a fight with the goons just to protect the innocent muted creatures. After that, there was no looking back. He decided to dedicate his entire life to the welfare of animals.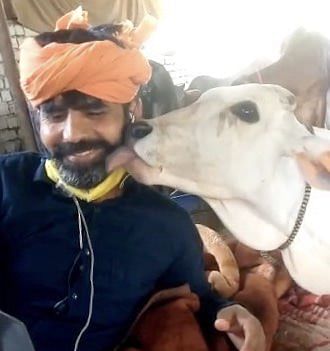 With time, the number of animals grew and Sonu ran the shelter on the land that govt provided him on a temporary basis. He spent the savings he made from his job along with the few donations he could muster from friends and family who believed in his cause, to feed the animals.
Now, the govt. is pressuring him to vacate the land but unfortunately, Sonu doesn't have any place where to move his family of 2000+ animals. The trust is looking for sponsors and partners who believe in the cause of animal welfare as passionately as he does.
Every animal at Shreeram Gaushala has been rescued from a difficult past and has a story to tell. Today there are so many animals which include, cows, camels, goats, dogs, cats, donkeys, monkeys, pigs, peacocks, and even wild creatures like deers and snakes.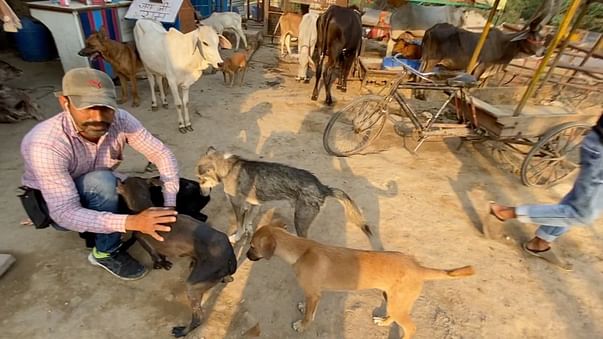 The monthly cost of running the shelter

We try to keep costs at a bare minimum without compromising on the quality of life of the animals. But it's a hard task as we run the Gaushala on donations that are not regular. We are looking for sponsors and partners who can donate regularly to our cause.
Monthly expenditure goes up to 3-4 lakhs which includes staff salaries, vet bills, food, fuel for ambulance, and maintenance costs all over. We are stuck neck-deep in bills and debts. Sonu would like to have regular donors, as that takes the pressure off in handling the daily costs of running the shelter.

We urgently need ambulances and piece of our own land, our own home for these babies. Also, the feed that is bought from outside proves to be very expensive. With the help of land, Sonu can grow the feed needed for the grazing animals which will significantly reduce his burden of buying expensive feed from outside.
However, he is a long way from owning his own land and he is looking for donors who can support him and help make his dream a reality. Please do come forward and donate whatever you can.
You can donate here or even donate the food/cash directly to the Shelter.The address is - Narela Singhu Border Road, bees sutri gram sabha colony, Khasra no. 37/24, Narela , Delhi-40
Phone- 7373739231, 9582673839