Introduction
Sri Sri Swamy Ayyappa Seva Sangam (Sri Sri Swamy Ayyappa Social Service Society) is a non-profit organisation, based in
Guntur
, Andhra Pradesh. It was officially registered in 2012, and has been active ever since. Historically, since 2002, the founder B. Radha Krishna Murthy along with a group of 100 members used to conduct food donation / free-meal services for four days in the month of June, for approximately 10,000 people on each day, on
Sabarimala
hill. This work had been continued successfully until 2017, and was later discontinued due owing to new regulations from the Government of Kerala regarding food distribution. Despite our efforts to resume back this practice, things did not go in favour. This practice has been reinstated in the resident town of the founder, Guntur. In 2019, food was distributed to 1000 people, on an occasion.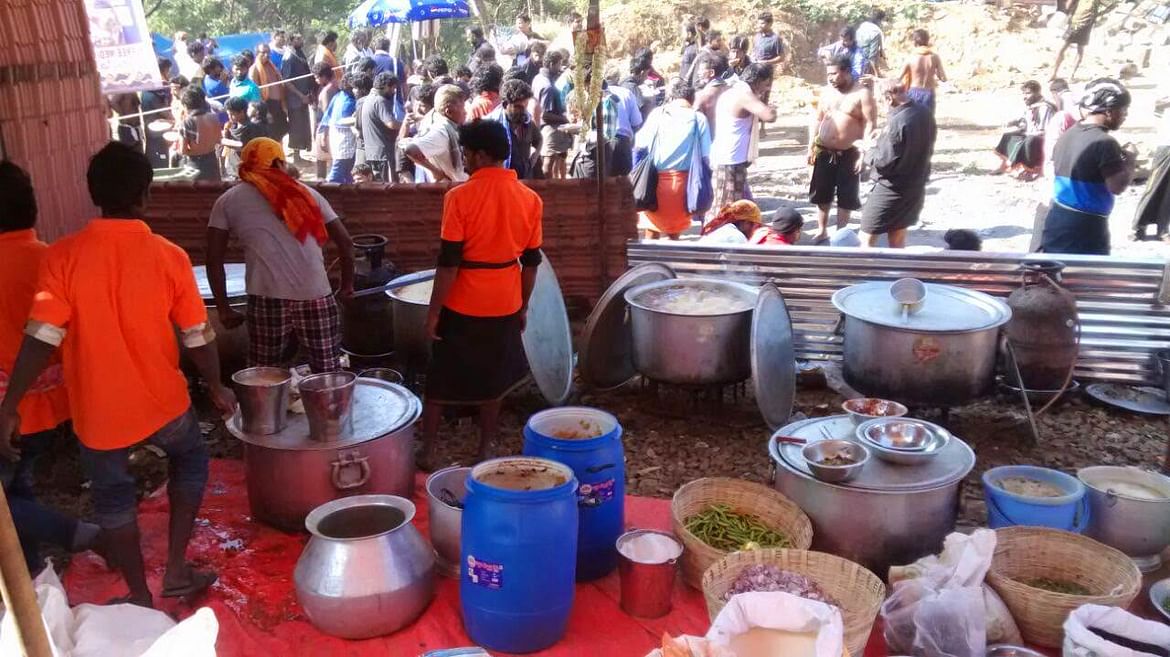 (Food distribution at Sabarimalla hill, from 2015)
Work during lockdown due to COVID-19 pandemic
Moved by the challenges faced by migrant workers during the nation-wide lockdown imposed due to COVID-19 pandemic, in March, we decided to organise extensive food donation drives. Post-understanding the situation in the city and with permissions from officials, we started to distribute breakfast to approximately 1000 migrant workers and homeless people, everyday, for 60 days until 31 May. In total, about sixty thousand meals have been served, and on average, ₹20 was spent on each meal. Apart from these daily drives, we also supported migrants travelling back to their states. From 19 May, the government resumed Shramik trains. We have distributed snacks, groceries, and water, in trains, on three instances, to about 4800 people (1600 per train).
Images
Breakfast distribution to migrant workers and children

Support to migrant travellers in Shramik trains: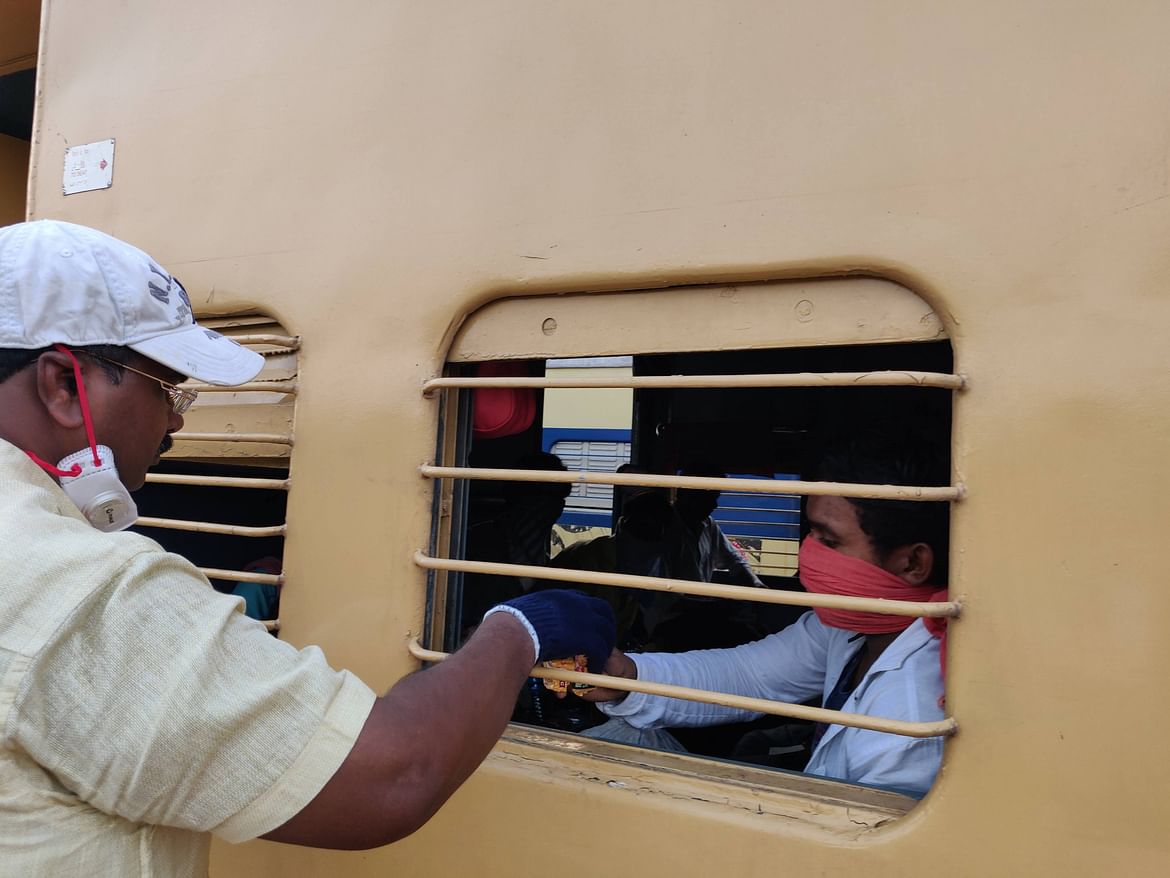 Press coverage: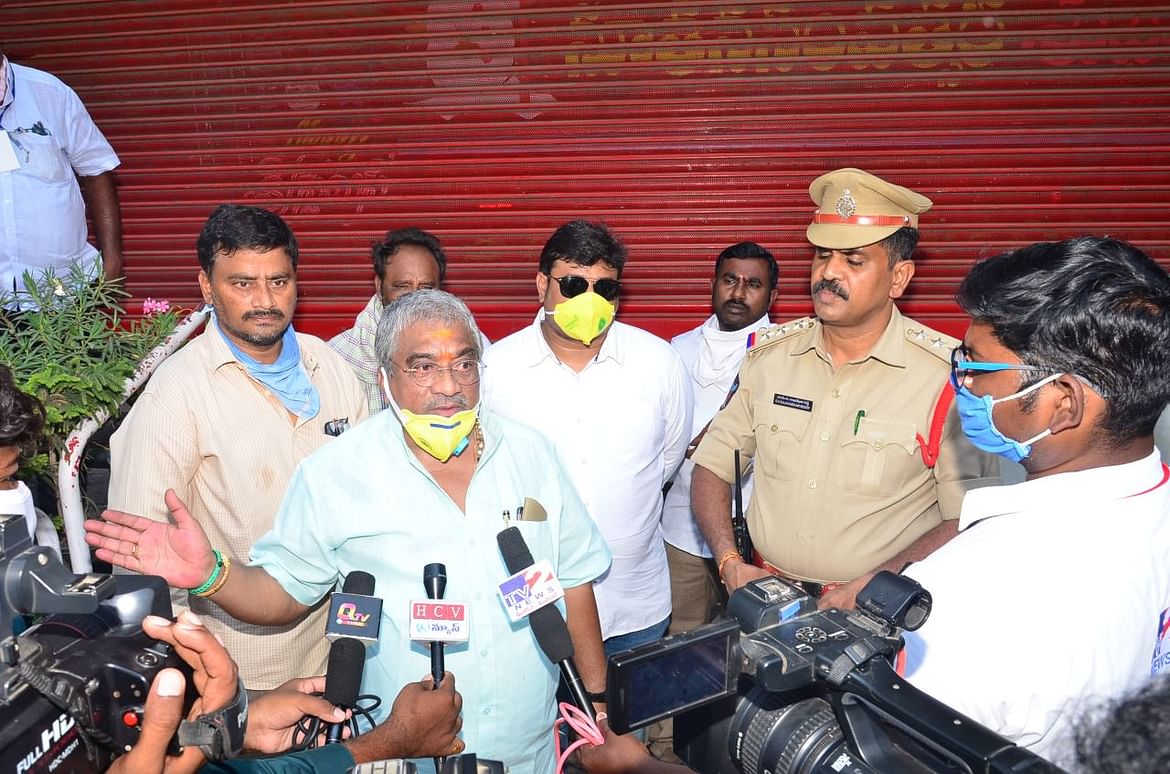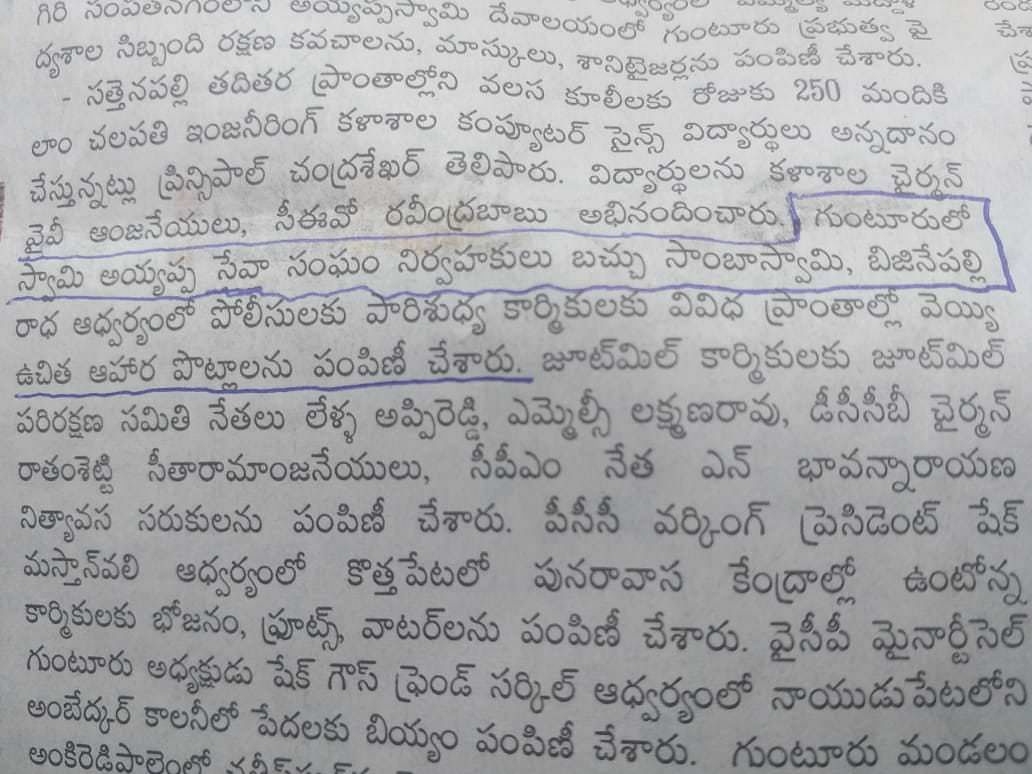 (coverage in a local news paper about స్వామి అయ్యప్ప సేవా సంఘం:
https://www.andhrajyothy.com/telugunews/welfare-service-202004180334311
)
(news coverage about distributing homeopathic immunity boosters to police)
In videos:
Finances
To conduct all these activities, we had received a total of ₹8,50,000/- during the span of two months, from friends, family members, well-wishers, and groups such as Albany Andhra Association and Guntur Agricultural Officers Association. All of this was received as we shared about our activities on various social media platforms, without any organised fundraising efforts. All these funds, combined with ₹1,20,000/- from members of the society, have been used for buying groceries, packing material, cooking utensils, workers, and cooks.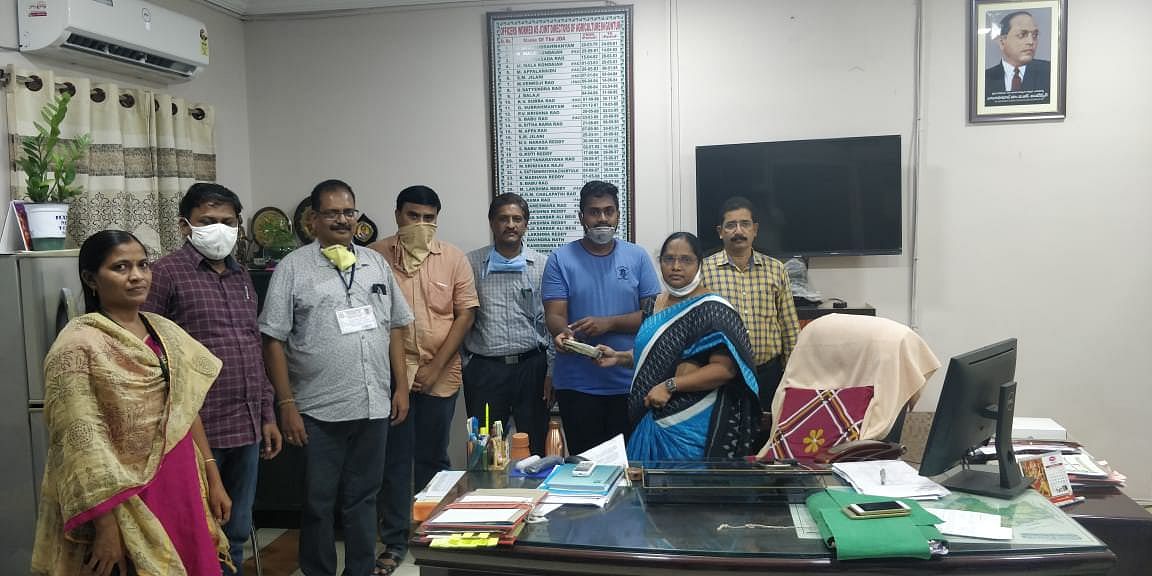 (receiving donation from Joint Director of Agriculture on behalf of Guntur Agricultural Officers Association)
Intended use:
We have temporarily halted our activities as we are looking to raise funds, and expand our activities from next month. With the funds received from these fundraisers, we will be serving
twenty-five thousand meals
, benefiting about three to five thousand people overall. These meals will be served at an approximate expenditure of ₹30/- per meal. The number of meals intended to be served and people benefited is according to the initial goal of ₹5,00,000/- and these will be increased if the goal is increased. Regular updates regarding the same will be provided.