Cause
Jivanamasteya Trust ("जीवानाम्‌स्तेय") is an NGO founded by the Father and inspired by his two Daughters, Cherry (Naomi), and Kiwi (Daomi), and their life experiences.

Jivanamasteya Trust working on Solving the most challenging problems that India is facing. It works in the area of Children's best interest, Family Welfare, Women Empowerment, Human Rights, Entrepreneurship, Livelihoods, Education and Healthcare.
The fund you donate will be utilised towards

(1) Children's Education, Nutrition, Legal rights and Protection of children from child trafficking, domestic violence and children who are in conflict with the law, (2) Helping those families affected by covid - 19 lockdown whereas children suffer from poor health, disturbed education and hunger. We have helped childrens so far from owned salaries, income, local donations and

generous help from Zomato - Feeding India

. They have donated 8 Lakh+ INR rupees equivalent meal kits which we have further supplied to covid-19 lockdown affected families. We have also received

support from International NGO Vitamin Angels

to ensure nutrition and safety of children's and pregnant women through medical and multivitamin supplies.
One Year expenses of 242 Children/Family potentially met with this fundraising. We intend to negotiate with vendors to provide us with efficient rates as low as possible in order to benefit 350 Childrens. For these tasks, we have also discussed with local donors, food vendors who have agreed to support to meet the additional need of children.
We believe If we continue our help and support to children's in need, they will have prosperous and secure future. Direct financial support may meet their present need, but lack of education and monitoring may expose them to a dark future.
We have received numerous requires for support from local people to help children's who are abused in domestic violence by their relatives, parents or physically abused. We also handle cases whereas children commit crimes and they are treated as an adult. Such children need proper counselling and treated under the juvenile justice act, otherwise, such experience of the criminal justice system may change their future and adulthood with adverse effects. Such children's need legal help. We have approached senior lawyers for their 24/7 basis help, and to set up this project for the children's and meet expenses, we require funds.

Children are also being economically abused to bag and sell toys like ballon because their food and health needs are not met. Lack of awareness and short of educational fund deprive them of education. If students receive continuing education, at least for vocational or skill-based education/training, they can expect better employment prospects, healthy and happy family. Their future generation will prosperous as well. We all need to come together and take care of their present to ensure they at least uplift from their present life which has no safe future.



This campaign will be a part of the NGO Project: Dear Cherry Kiwi.
- Putting Child Rights, Welfare & Best Interests on the top priorities, Protection of children from domestic violence, abuse and parental Alienation. Helping Juveniles in conflict with the law, and addressing issues such as child labour, child trafficking, child prostitution & pornography, and promoting child awareness and education. Programs links are provided below;
Website
I
Facebook
Anticipated Utilisation of Funds (Per Children Year Basis)


Multivitamin Nutritional Supply
300 PA
We also seek support from NGOs like Vitamin Angels to meet further increasing requirements.
Education
:
1500 PA
Fund will be used to meet tuition fees for school, to provide free education, skill-based training, to run the street school.
Legal Aid

800 PA
Child in Conflict with Law will be identified by NGO and Social Worker in a collaboration with Lawyer and Police. Legal, Paralegal expenses.
Meal Kit

300 INR per Month * 12 Month = 3600 PA per Child.
Further donation and local donor support will be sought to continue the program, and ensure benefits reach to more children's and families.
INR 6200 will go towards one child. Hence, the benefit will reach to 242 children. We are working towards facilitating more children to ensure they have crime-free life, they receive adequate food, nutrition and education and live quality life, become a good citizen and contribute in the economy, and help other children. This project has been stopped due to limited resources of Zomato Feeding India in terms of raising donation, and children are again affected, and their dreams of a better future may fade away. Your contribution will play a significant life-changing role in their life.
Any contribution will be of immense help. Do contribute and share this campaign link with your friends and family. Apart from Financial donation, you can further donate clothes, used mobile, computer, laptops, tablets, books for children. Electronic devise helps them attend online education.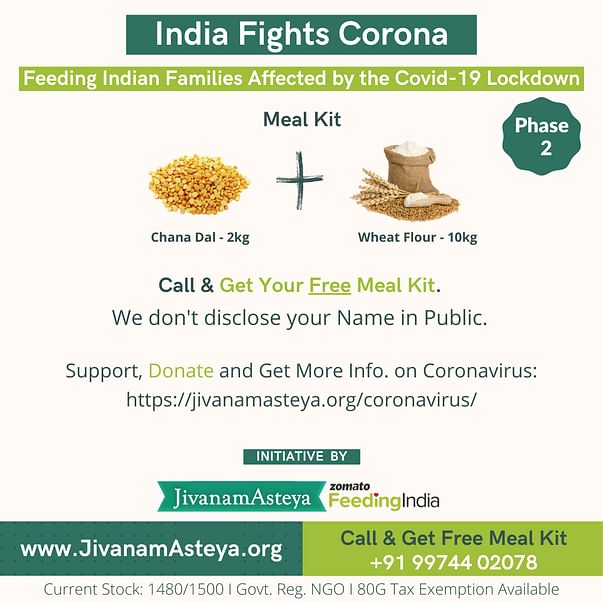 . Zomato - Feeding India Donation --- --- ---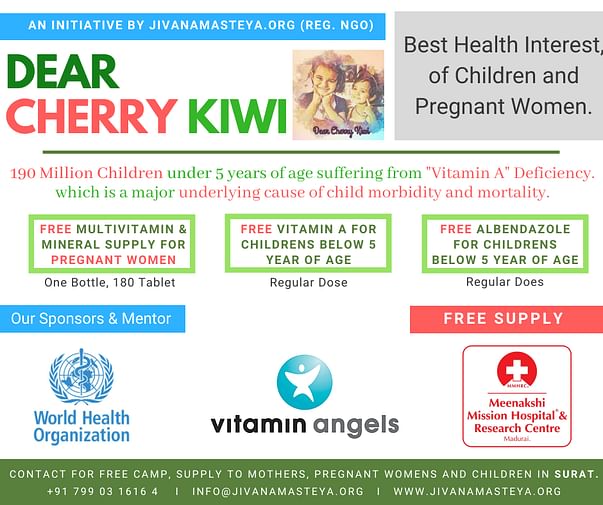 . Vitamin Angels Donation

Story of jivanamasteya NGO
Why Donate Jivanamasteya NGO

Jivanamasteya Trust is registered under The BPT Act 1950, Reg. No.: E/7385/Surat, Reg. u/s 12AA and 80G of The Income Tax Act, 1961, Government of India. Moreover, it's registered as a Volunteer Organization, NGO with NGO Darpan, Government of India, having its Unique id No.: GJ/2014/0072602 and Ministry of Commerce and Industry has its IEC registration certificate No.: AABTJ6566D.
The story of Jivanamasteya Trust begun from some of the most bitter experience of Karnav Shah from his life. Everything was changed in his daughter's and his life, be it personal or professional.
To learn what causes changes in a life of Karnav Shah and how he got inspired to start an NGO and its various programs visit
Quora
answer given by Karnav Shah, which made the social cause of Jivanamasteya Trust widely known and appreciated.
Karnav Shah is a founder of JivanamAsteya Trust NGO. He has grown through what he has gone through. He worked with Baptcare organization, an Australian based-NGO where he was working in the area of administration, community development and management of aged, disabled, dementia and palliative care facilities and, later he was promoted to a Team Leader. Despite he was selected in one of the
world's top 50 universities in Australia, he dropped out
of the university and
changed his career
towards the social work due to his life-changing experience with Baptcare Organization. Moreover, his
personal life tragedies
such as loved one turned against him for adulterous and monetary purpose and cheated with him, and later filed sixty-plus criminal cases, the false defamatory allegation against him misusing India's law, determined and shaped him to work in Legal social work domain with his self-learned skilled and qualified knowledge.
The series of events occurred in his life, had also affected karnav's two minor daughters, which triggered him to rise, and address the problems with possible solutions.

Karnav learnt, fought and stood up again successfully and won the worst battle of his life, however, he became concerned about the best interests of the children, and how Indian laws are being misused, and judiciary and police are misled affected constitutional and fundamental rights of its innocent citizens. Karnav started his groundwork, aggregated right resources, utilized and implemented his Professional skills, life experiences, social work skills and pursued donors to contribute in his social cause and programs to address each economical, legal, social, family, judicial problem he experienced himself, and millions of people in India and around the globe are facing. That launched the Journey of Jivanamasteya Trust, and all these cause-driven programs of JivanamAsteya Trust later became successful non-profit initiatives, and it has benefited thousands of beneficiaries now. Jivanamasteya Trust is focusing on the real-life solution and implementation, rather than keeping it limited with advising and, consulting Individuals, Societies and Government. It believes that if this NGO does not stand with a citizen, consumer, families, children and entrepreneurs when they truly need us, during their life's crucial issues caused by social-economic loopholes, weaker societal conditions and legal remedies, the purpose of help, support and empowerment can't be achieved. Jivanamasteya Trust exists to fill these gaps.

Returning to India, Karnav realized that the issues he learned about in Australia are different to the present issues India is facing. India is the fastest developing economy and quality of the life of people has been improved, however, people living at the bottom of the pyramid are still underprivileged and often abused.

Access to an adequate healthcare facility and legal aid is expensive; fair justice has become inaccessible to the victim. The government has introduced several reforms however the grassroots government employee and community require to be enhanced by training, positive intervention and support.

Children are also vulnerable from domestic violence, physical abuse, (parental) custodial battle, unmet educational, social and nutritional needs and sex trafficking. Their voice is not heard appropriately which cause them severe mental trauma, that last throughout the development of their brain, and life.

India is a young nation, however, this generation requires resources, training, and support to push up their start-ups which eventually create employment and boost economic growth, meanwhile social innovation and social entrepreneurship is an essential element of ever-growing entrepreneur generation.

Strengthening India family, customs, values, and culture were never so important than the present time. We as a society witness abuse of matrimonial laws to satisfy persona ego or gain. The misuse and abuse of the law are prevalent in India for wrongful gain, that harms families and community at the macro level.

Education, training, street school education, skill development, social justice, and empowerment are also important areas to work. At JivanamAsteya Trust, we focus on individual problems and the problem of communities and the public at large.

Overall, While India is developing economically, it has its own social, legal and national challenges which demand to be addressed and resolved. At JivanamAsteya Trust, we take up these challenges and encourage people of India to join us in this noble movement of change for happiness, peace, respect, and prosperity of citizen without discrimination of caste, creed, sex, religion and Gender.

That Karnav shah has learned from his life experience, and the hardship that his daughters have experienced, If he is not going to ignite reforms and changes, how could he expect others to do so. He quit his job and profession, and initiated a social campaign through an NGO and satisfied himself with limited personal monetary resources while donating everything to an NGO for a greater social goal.

He believes, the criminal justice system, law and Judiciary reforms, Positive change in our social systems, families and relationships, education, Children's best interest, Healthcare, sustainable livelihoods, women's empowerment and economic development are the primary challenges of our generation to ensure inclusive growth, safety, protection of constitutional and human rights and wellness.

Jivanamasteya is composed of two words i.e. (1) Jivanam – All Life, (2) Asteya – Justice to all being, non-stealing. Hence Jivanamasteya refers to "Justice to all life irrespective of discrimination of caste, creed, religion, sex, gender. Justice means economic, social, educational, legal empowerment of people.

JivanamAsteya NGO has initiated multiple program/project to achieve its individual social and non-profit goal i.e. Solving India's Most Challenging problems. Each project focus on specific problems of India. Below are details of each project in a summary manner, you can click on the link provided under the project to explore its goals, services and activities in detail.

(1) Chintaless Nagrik (चिंतालेस नागरिक)

Resolve Complaint Online Against Brand, Government, Police. File Cybercrime Complaint, FIR and RTI Online. File Matrimonial Complaint.

(2) Dear Cherry Kiwi

Child Care, Protection, & their best interests. Promoting welfare, education, & rights of children. Family & Women Empowerment.

(3) Live More Family

Monitoring & act to prevent domestic violence & injustice to women, & prevent false, fakes cases against men, women & family members.

(4) India Fights Corona

An NGO Initiative to provide aid, support & awareness to citizens affected from Covid-19 lockdown/economic stress, and to Fight & Prevent COVID – 19 Novel Coronavirus in India, & addressing citizen's socio-economic issues. To work in Research & Development related to Rate Disease, aid in support for Police Government Officials & Healthcare Professionals.

(5) Startup Entrepreneur

Start, Run & Grow Your Business with success Guarantee. India's First NGO empowering Startup & entrepreneurs without Risk.

(5) Gujarat Police Research and Development – GPRD

Empowering Police, Forming Citizen Friendly Police Services. Focus on The Police Welfare, Research, and Development.

(6) Karnav With You

An Initiative to empower and educate Individual, Families, Couples and Startup to build Happy, Prosperous, Safe and peaceful life, and More. Karnav with you deliver its services through Blog in English and Gujarati, as well as YouTube Channel is under process. We are also working on counselling, training and workshops.

(7) Avirat Meera – Direct Artisan

Direct Artesian is an NGO, inspired by Cherry & Kiwi, empowers local artisans through the promotion of handmade for generation livelihood in a partnership with Avirat Meera, a social enterprise.