My Husband Shyam Dubey is suffering from mucormycosis (Black Fungus) and hospitalized in Holy Spirit Hospital Andheri Mumbai since last one month. Before that, Shyam along with his parents was hospitalized in Jhansi for Covid treatment in April. Family has seen worst phases in past months, Shyam by now has lost both his parents -father due to covid and Mother due to black fungus.

Shyam's family and his little daughter is dependent on him. His daughter hasn't been able to see him since many days. Family has deplenished all their life savings in his parents treatment and insurance coverage as well has been utilized already. Now Shyam is facing financial crisis for his own treatment as total medical expenses for his treatment is rising to 18-20 lakhs (in surplus to 20lakhs spent on his parents already) ,out of which for himself he is getting around 3 lakhs support from his medical insurance.
Till 10th June , Shyam's hospitalization billing has already reached around 11 lakhs, in addition we had to purchase Black Fungus injection of around 4Lacks from various pharmacists, separately. Post discharge, further treatment would continue for next 3 to 4 months on tablet; that will costs approx. 2.5 lac per month with 2 lacks of tablet costs alone. Its not being easy for his family to arrange such an overall whooping amount. Family is in mental and emotional stress as well as facing big financial crisis.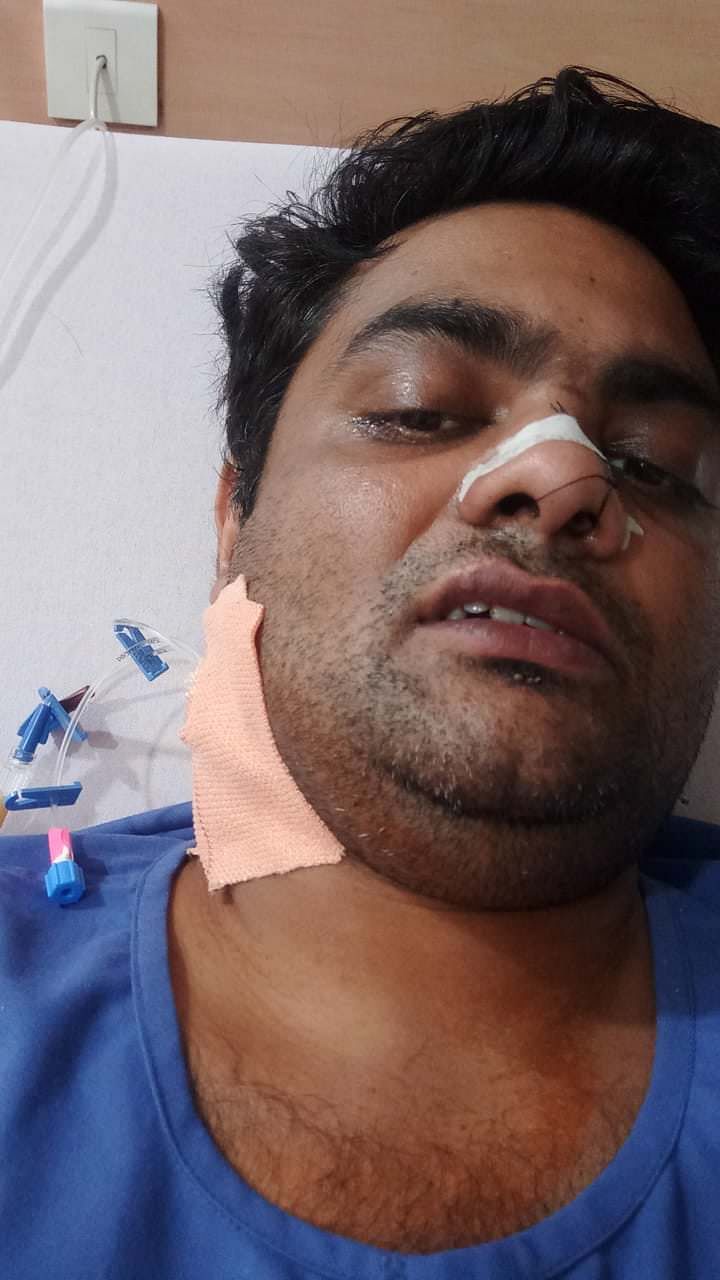 With folded hands, me and my family requests you to please support my husband Shyam to get treated and recovered soon to take care of his family. Any amount big/small will be accepted with immense gratitude!!

"Keep the Prayers ON and Help support to your best capacity, but also help share his story ahead and campaign for this noble cause."
Shyam Dubey Contact : +917898842624 (India)
[Please avoid calling him directly as he is being treated ]
Shyam's Covid Story !!
---------------------------------------------------------------------------------
Shyam Dubey, working in IT company in Pune, was badly hit by Covid in April'21. More to it, his entire family, including his Mother, Father, Brother & Family, Sister, Wife all suffered from Covid in last 3 months. By God's Grace, his little princess daughter was safe from symptoms and was sent to her Nani's (Grandmother's) home.
While Shyam and his family got serious symptoms and got recovered post hospitalisation few weeks later, they however got devastated while getting to know, Shyam's father (Late. Ramesh Kumar Dubey) had lost his life on 21st April 2021 after a prolonged battle with Covid. Adding to it, this incured huge expenses around for entire family, and they lost all their earnings and savings in the treatment. Despite this crisis, Shyam found courage to pick him self up from this devastating loss and felt happy to be back safe himself to care of his family and his little daughter.

But Life had more heartache in store for him!! Few days later, Shyam's Mother (Usha Dubey) started getting symptoms of black fungus and had to immediately get shifted to Mumbai Holy Spirit Andheri (East) Hospital. She had gone through a major surgery, at same time Shyam also developed black fungus symptoms and got hospitalized in same hospital with a critical surgery and various drip treatments.
While dealing with this devastating emotional situation, Shyam lost his mother on 21st of May after her prolonged fight with Black fungus.
Currently Shyam is taking treatment since one month and fighting with black fungus while his wife and his brother are there to take care.. His treatment with Liposomal injections has additionally shown various side affects including kidney functioning disruption and he is fighting it all each day.
Shyam has always been very helping, grounded, humble, supportive always as his friends call him. This time he needs your support to stand by him.
---------------------------------------------------------------------------------
Once again requesting you all to please Help & Support as much, small help will be life saving help.
#HelpDonate #HelpShare #KeepThemInYourPrayers
May God Keep you all Safe in this pandemic !!