Hi, my name is Shubham Pandey, I am on a mission to help feed those who cannot feed themselves and their family through this Coronavirus pandemic.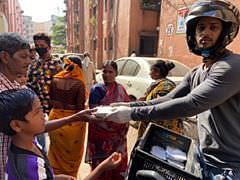 I am currently paying for all the meals myself, but this way is unsustainable. Our current target is 100-200 people daily but I would love to increase that number if possible. To feed 200 people per day, it takes an average cost of 4000-5000 depends upon the menu, sometimes I serve them with dal khichdi as it is easily digestible. Sometimes for a change, I also serve them vegetarian pulav. Food cost per plate is charged as Rs 25/head, so for the 200 peoples it takes around 5000 rupees per day (pulav) and when I serve them dal khichdi the cost is Rs 20/ head which makes the sum of 4000 for a day. Lockdown will be increasing day by day it has been estimated till 61days further. If I pay 4000 for one day for feeding 200 people (which is a very low number) then for ten days I have to put Rs 40,000. So if I set a target of feeding only for a month for nearly 5 weeks then I have to pay Rs. 200,000. Packing charges are different. As we have not been informed officially about any further lockdown details so I have set the target for
5 weeks only
.
I need your help to continue feeding the underprivileged families of Mumbai, we have many families who go days without eating much and due to lockdown it is hard for them to find employment to support themselves. It is my humble request to you all, any little donation from you can also save a life of a needy at-least for a day. Try to support me and our beloved city's residents.