Transgender Welfare Equity and Empowerment Trust (TWEET) Foundation is one of the leading Trans Community Based Organization serving transgender community for gender change support, education, employment, skill building and empowerment. TWEET has been pioneered in initiating transmen shelter home in Delhi during the crucial COVID19 times since 2020. Recently, the Ministry of Social justice Empowerment (MoSJE) & the National Institute of Social Defence (NISD) has awarded 'Garima Greh' in Mumbai (suburb), a shelter home for young and vulnerable transgender persons to develop skill building, seek employment and infuse aspirations towards a dignified life. Currently, the government is covering the basic cost for the shelter home support for 25 transgender people for one year.
However, the budgetary guidelines are not sufficient to run a full-fledged shelter home operation in a city like Mumbai. For eg. The rent for 3000 sq feet space is given INR 40,000 which is extremely low as per the renting norms in Mumbai city. We need your kind support to further strengthen the approved government initiatives with the 'additional cost' to run Garima Griha effectively in Mumbai Suburbs. (Read more about the government grant
here
)
We are seeking your kind support for the additional INR 6,00,000 (Six lakh only) to cover additional rent cost, program support staff salaries, infrastructure, advocacy activities for employment & skill building and other coordination mechanisms to ensure smooth functioning of the initiative. This is a pilot 1-year project and its success would determine the future action of the government in the same initiative hence making it extremely crucial for the community. A small amount from you can help bring about a long-term change in the system and support a very crucial project.
Background
Most of us are all familiar with the fact that the transgender community in India have been long discriminated ostracized in the society. The community has been pushed to the outskirts and has been one of the most marginalized communities. After years of activism and advocacy with the government bodies and after raising general public awareness, the government has started pilot initiative of 'Garima Greh' a shelter home that can accommodate 25 transgender persons and will enable them to pursue skills that will help them in securing a means to earning. During Covid the transgender community is facing a more of a catastrophic situation.This predicament has left them more endangered since they are in the brink of starvation as most of them earned their basic income through their daily occupation often begging and sex work.
Why do we need additional funds?Sufficient rent for required space :
The current fund of 40,000 rs a month (including maintenance) is not sufficient for a 3000 sq ft place required for the shelter space to support 25 persons in Mumbai. Hence we are looking for a public support to raise additional rent support to be able to continue the project
Project Director local and outstation travel :
Since the Project Director position in the project is on an honorary basis i.e no funds are provided for the project director, we are looking to raise some amount that will enable our board members and project directors to travel within and from outside of Mumbai to be able to set-up and manage operations for this project.
Funds usage :
Description

Amount (INR)

Months

Total

Additional rent support

30,000

12

3,60,000

Maintenance

5,000

12

60,000

Overheads : Initial repair/painting of the shelter space, infrastructure, community mobilization activities

90,000

1

90,000

Project Director
(Travel support) - inter state travel for Ministry coordination and oversight

15,000

6

90,000

Total (Six lakh only)

6,00,000
About Tweet Foundation

Tweet Foundation (Transgender Welfare Equity and Empowerment Trust), a community based organization (CBO) incorporated in India under the societies Registration Act, 1860, registered under Mumbai Charity Commissioner, having its registered office at Malad West Mumbai 400097. Foundation is a registered body under the Mumbai Charity Commissioner led by seven trans activists. Our mission is to build empowered, self-sufficient, and vibrant Trans movement in India by wholly caring for the welfare of trans persons; their education, medical treatment, legal standing, and culture and social upliftment.
While EACH penny matters and we are extremely grateful for your contribution. If you wish to donate more than 10,000/-, here's how we can honour your commitment.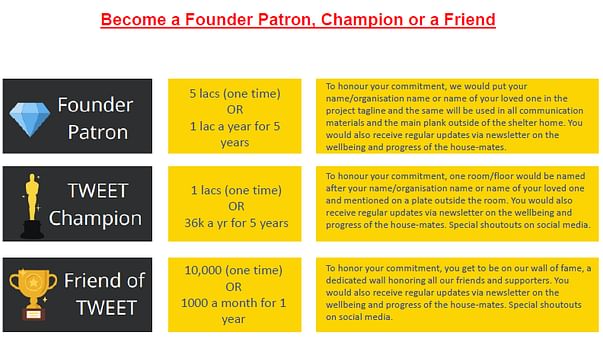 You can email us for bank account details at tweetfoundation@gmail.com or call us at 7060508125 for any other information

List of people endorsing Tweet Foundation and the project :
1) Mr Aditya Ghosh (Board Member OYO, Fab India, ex CEO, Indigo airlines)
2) Ms Anupama Easwaran (Founder in.Harmony)
3) Ms Krupali Bidaye (Founder, Anam Prem)
4) Ms Ashwini Naphade ( Inner Wheel Club of New Bombay Seaside)